Latest posts and articles
The standards commissioner who resigned and the scandals at the university where he is chancellor...
When Royalty and honours come calling. Unfortunately...
Is an extremist Welsh nationalist party in its death throes?
The candidate for an extreme Welsh nationalist party in one part of Wales has officially endorsed the Brexit Party (BP) nomination in another and the controversy has been highlighted on social media, The Eye can exclusively reveal. The former Carmarthenshire councillor Sian Caiach is the Gwlad, Gwlad GG (Land, Land) candidate for Cardiff Central in next month's General Election, yet is also the proposer for the BP nomination in Llanelli and the …

This is the story of Phil Parry's extraordinary and long career in journalism on newspapers, television, radio and online before he was diagnosed with a serious disability.
A compilation of posts by the Eye's satirist 'Notsogreatdictator'. Available now!
Paperback. Colour images. 148 pages.
TALKING ABOUT
These stories are linked to as a service for our subscribers. Click and read at your own risk.


The big story of the campaign so far has been the ascent of Elizabeth Warren.
Corbyn's Labour would crush civil society
Thirty years on, the same tactics employed in Communist central Europe are being mooted in Britain
Horse 'spooked by fireworks' impaled on fence
A horse became impaled on a fence after it was thought to have been spooked by fireworks, the RSPCA said.
UK Politics ... for anoraks!
Please note. Full attribution is declared on each post when you click on a link. Opinions and content are those of the authors of the pieces and not necessarily of The EYE or its editors.
Original hand painted cards and paintings
inspired by the beautiful Welsh landscape
at prices from £3.50 - £60
. CLICK HERE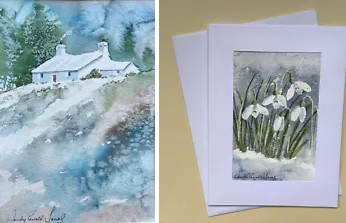 Our rates are very reasonable. To advertise here in this newsletter to a focused readership, CONTACT US NOW for a rate card.