The Vet Vocation
I've always known I wanted to be a vet and a large part of that is doing work experience to gain husbandry knowledge for working with animals and to see if it really is the job for you. As part of that I worked at a children's farm not too far from Birmingham where families come to interact with animals they wouldn't otherwise meet. I think it's really important children grow up knowing where their food comes from and it's a great way to introduce life cycles. I loved working with poultry so would often do the Chick Chats and get involved with incubation.
Passion for Poultry
We started keeping quail at home and chickens seemed an obvious next step so one summer I researched and designed an incubator in which we hatched our own chicks, which is where it all began. I already knew lots about poultry keeping and breeds from working at the farm but I read everything I could online, met lots of similar people and from that was offered a weekend job selling poultry and plastic chicken houses. I got to know the regular customers who would pop in or call for advice which is when they gave me the nickname Dr Chicken.
When I moved to Aberystwyth to study Animal Science I had a pet chicken in halls and bred quail, much to my housemates amusement!
A lady I met online asked me to run chicken keeping courses at her smallholding which we outgrew and is how I found Denmark Farm Conservation Centre near Lampeter.
After graduating from Aberystwyth I still had the burning desire to become a vet so I worked full time for a year to save up money, with every weekend and week off dedicated to gaining more experience in vet practices. As a graduate I would get no financial support in the form of a Student Loan so I chose to study abroad in Slovakia where the fees are much less than the UK.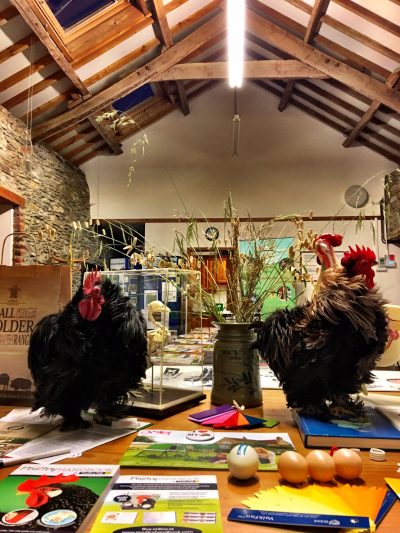 I'm about to start in my 5th year this September and have loved every minute of it, class sizes are small and very practical which suits how I learn. Exotics are really popular in Central Europe so I have been offered countless opportunities I wouldn't have been in the UK, both working with animals and also travelling.
My passion for poultry continues and I hope to specialise in exotics after graduation so I still run poultry courses when I'm in the UK which also helps fund my studies.
Poultry Courses
I ran chicken keeping courses for several years during my Animal Science degree from a smallholding just outside Aberystwyth. We quickly outgrew the venue and their facilities which is when I heard about Denmark Farm Conservation Centre. They are a 40 acre nature reserve and the ideal venue for workshops and courses with fantastic grounds and nature walks. I've been going to the centre for over three years and still discover something new with each visit.
We offer three courses with Getting Started with Chickens covering breeds, houses, feed and husbandry as well as where to source your hens. Participants get to grips with handling chickens and gain confidence to look after their own.
Getting More from Keeping Chickens is for keepers wanting to know more about their birds and how to help prevent diseases. We cover anatomy and physiology which is essential information to know how to prevent or spot signs of diseases and parasites as well as how to treat them. Lots of ailments and parasites can be treated at home and we also cover when you need to see a vet.
I'm a bit of an anatomy geek and a very visual learner so I have all sorts of props to explain diseases ranging from a real chicken skeleton, life sized anatomy model, antique posters and a giant Red Mite toy!
The last course is our Poultry Dispatch, Pluck and Gut Course, this isn't for everyone but is an essential skill for serious breeders and smallholders.
I receive numerous emails every month from keepers and schools who have hatched cute chicks not planning ahead for the resultant cockerels. I have a saying, "Don't hatch if you can't dispatch".
I try to help in these cases by explains how birds can be reared with a purpose and feed their families rather than going to waste.
I used to help out at a turkey farm where we would prepare 650 free-range turkeys each Christmas. We would invite families in to see the turkeys as poults and growers and the children loved seeing them grow. It would raise lots of questions which we were happy to answer, especially if they left informed about farming and where their food comes from, not just a supermarket!
The course covers breeds and rearing for the table as well as anatomy which is essential for rearing healthy stock and to spot signs of disease when preparing for the table.
We then dispatch birds individually, plucking and preparing birds for the table.
Every course participant is given comprehensive course notes and a goody bag including literature and product samples.
For those travelling from further a field, accommodation is available from £16pp in the Eco Lodge or if you fancy a bit of glamping, stay in Denmark Farms very own Yurt!
---
If you like my stories you can follow them here and on facebook. Sign up for the email newsletter.