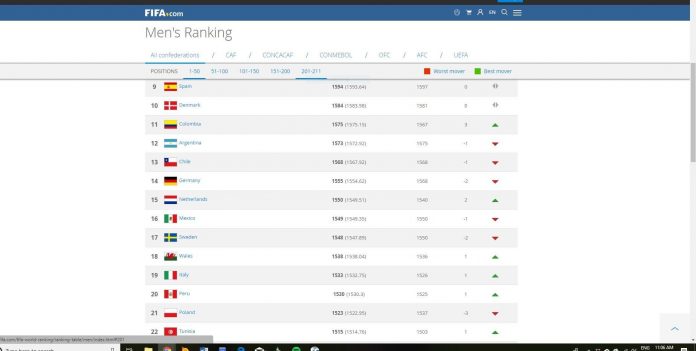 Graham is a well known sports writer in Wales. He shares with the Eye stories on his other blog at http://www.dai-sport.com
Latest posts by Graham Thomas (see all)
Wales have moved up one place – to 18th – in the latest FIFA world rankings.
The move follows Wales' victory over the Republic of Ireland in Dublin earlier this month in the UEFA Nations League tournament.
Ryan Giggs' side are still some way short of their top 10 high spot following their run to the semi-finals of Euro 2016, but they are now heading back in the right direction.
Wales are also some way ahead of dropping Republic of Ireland and Northern Ireland who are now 33rd and 34th respectfully.
Alex McLeish's Scotland have also fallen a place to 40th following two successive defeats.
England have moved up to fifth – their highest position for five years.
Last month, Belgium joined France in becoming the FIFA/Coca-Cola first-ever joint leaders. Now the Red Devils are in sole possession of top spot, albeit by the narrowest possible margin – 1733 ranking points to Les Bleus' 1732.
The top two remain out in front after a month in which each of them enjoyed a win and a draw, with Belgium and France beating Switzerland (8th, unchanged) and Germany (14th, down two) respectively in the Nations League and emerging with honours even from matches against the Netherlands (15th, up 2) and Iceland (36th, unchanged).
The Dutch rose on the back of a fine 3-0 Nations League win over their struggling German rivals, and other sides also profited from their success in the same competition. England (5th, up 1), for example, swapped places with Uruguay (6th, down 1) after winning 3-2 away to Spain (9th, unchanged), while Norway (48th, up 4) moved into the top 50 after back-to-back victories and Russia (41st, up 5) maintained recent momentum by staying top of Group 2.
Gibraltar (190th, up 8), though, were undoubtedly October's biggest Nations League success story, and their first-ever competitive wins against Armenia (101, down 1) and Lichtenstein (182, down 4) are reflected in a record Ranking position – and this month's biggest rise.
The post Wales Move Up FIFA World Rankings appeared first on Dai Sport.
Comments from Mastodon: