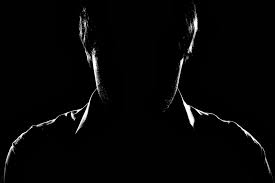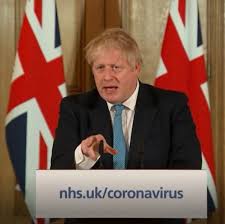 Our political columnist The Rebel casts his jaundiced eye over how our leaders are reacting to the present crisis about coronavirus (Covid-19).
The Rebel is a leading figure close to senior politicians in London as well as Cardiff Bay, and will always give readers the inside track on what is being discussed in the corridors of power.
The terrible reality is that our political leaders quite like this crisis.
For Boris particularly, he thinks it shows him in a Churchillian light and his adviser, staring-eyes Dominic Cummings likes that.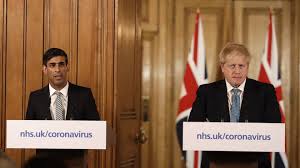 The Chancellor too has attracted some good headlines.
Rishi Sunak (who has announced measures which have been unseen in peacetime) was described in one UK newspapers as having "a good crisis".
Opposition politicians too have been quick to seize on it all, to say that not enough is being done by central Government, and devolution is the way forward.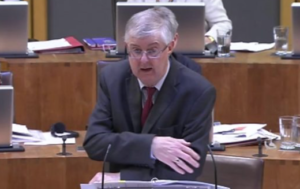 Mark Drakeford (the First Minister of Wales [FMW}) said the four Governments of the UK were:   "collectively in the best possible position to slow down the spread".
BoJo will probably disagree and may not even want it – he knows he is looking all presidential as he is beamed nightly into our living rooms behind that lectern and it is then shared on social media.
He is only too aware he appears on the front page of all the UK newspapers the next day.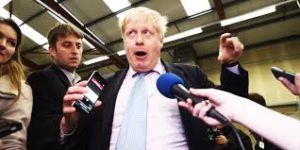 He's not going to give that up lightly, because it is publicity dynamite.
The latest 'information' is that he is considering introducing tougher restrictions, such as travel bans, if advice on social distancing is not followed, because huge numbers of people had flocked to parks, beaches and markets over the weekend.
Don't forget that it was only a few days ago when he grandly told us the next 12 weeks could "turn the tide of this disease".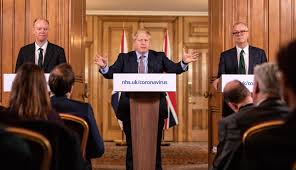 Mass testing and social distancing would make it possible to "send coronavirus packing in this country, but only if we all take the steps we have outlined".
We all look to our leaders (unfortunately) during times of crisis and Boris knows that.
He understands the fact that he looked very important, flanked by his Chief Scientific Adviser, Patrick Vallance, and Chief Medical Adviser, Chris Whitty, even though he did not actually announce any new measures then to keep people separated and slow the spread of the virus, such as a much reported plan to severely restrict movement in London.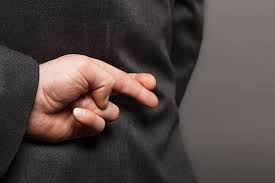 But the look, although he didn't actually say anything, was all he needed!
"We're guided very much by the science and whether we think the advice we have given is working", he told us.
And: "nothing is ruled out".
That meant precisely zilch.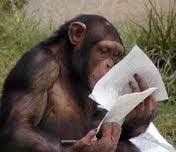 His ministers too have got in on the act.
Matt Hancock, the UK health secretary, said decisions would be taken "very soon" about whether to take more 'drastic' measures to prevent people breaking the rules on keeping two metres apart outside the house.
He told Sky News: "We may have to take further action.
"This is not the sort of thing anyone would want to do, but we might have to do in order to protect life".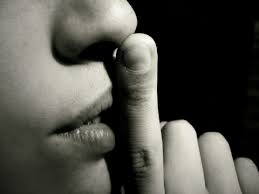 That also meant precisely zilch.
But Matty boy knows which side his bread is buttered – remember he wasn't part of Boris's fan club, but now, it seems, he is.
So be careful of these 'measures' – when politicians say things what do they actually mean?!
The look is everything…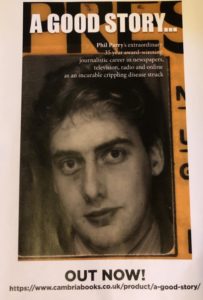 Our Editor Phil Parry's memories of his extraordinary 36-year award-winning career in journalism as he was gripped by the incurable disabling condition Hereditary Spastic Paraplegia (HSP), have been released in a major new book 'A GOOD STORY'. Order the book now! The picture doubles as a cut-and-paste poster!