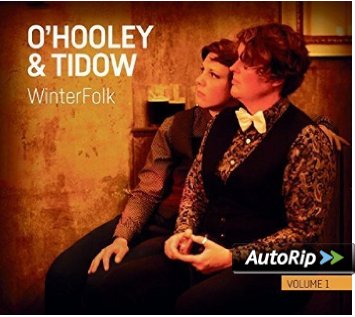 Latest posts by Mick Tems
(see all)
O'Hooley and Tidow live at Llantrisant Folk Club, Pontyclun Institute Athletic Club
Belinda O'Hooley and Heidi Tidow are a breath of fresh air in today's innovative music scene, which encompasses all sorts of genres including the wonderful world of folk-roots, the indie rock movement and high-art classical.
[amazon_link asins='B075L6FN8Z' template='ProductAd' store='thebridgegall-21′ marketplace='UK' link_id='0c5904af-b7ea-11e7-8500-236405387401′]Their latest album, Winter Folk, has just been released, and they are starting a promotional December tour, with shows within an easy reach of Wales in St Mary's Creative Space, Chester (December 1) and Bristol Folk House (8), and forays into Wales at the Museum Of Modern Arts, Machynlleth (9) and Bach Wen Farm in Clynnog Fawr, Llŷn (10).
A good number of shows are sold out; and Llantrisant Folk Club was full to the brim when O'Hooley and Tidow gave their all and completely swept us away with their unique songwriting slant, their mesmeric stage presence and their beautiful-but-giddy swooping harmonies.
Belinda and Heidi came to prominence with their 2010 debut album, Silent June (produced by Chumbawamba's Neil Ferguson). They quickly followed up with a prolific quartet of albums – The Fragile (2012), The Hum (2014), Summat's Brewin' (2015) and Shadows (2016). Belinda was a very fine piano player with prominent Northumberland band Rachel Unthank And The Winterset, who renamed themselves The Unthanks; Belinda and Heidi live in the West Yorkshire village of Golcar, two miles from Huddersfield, and they dipped into their vast repertoire of delightful and complex songs, plunging in to the first set with their life-affirming tribute to their home area, 'Colne Valley Hearts'. 'Made In England' showed the dark and sinister side of political organisations; the duo told how the BNP descended on Huddersfield, handing out leaflets calling for a ban on immigration. When the job was done, they all went to an Indian restaurant and swigged back European lager. Belinda is part Irish, part Liverpudlian and part Yorkshire, and she joked: "The BNP have changed their name – to the Tory Party." She joined in with Heidi – who is part German and part Irish – in adding the 'Made In England' chorus: "…and Wales!"
Belinda and Heidi mould and shape fabulous, fleeting songs full of love and joy of living, material that dips and dives but always comes up with memorable choruses that ear-worm their way into the audience's heads. They sing of the ordinary working-class folk who never considered that theirs was a tale to tell; Belinda inspires everyone with her keyboard work and her accordion playing, and Heidi uses her rock-tinged powerful voice to throw in many eye-popping harmonies.
'The Hum' tells the true story of a couple who bought a house in Huddersfield for the quiet life; unbeknown to them, it was the start of the summer holidays for the workers, and the nearby factory was having its fortnightly shut-down. The holidays ended and the factory came to life again with an all-pervading hum. The angry couple ripped up the contract and insisted on their money back – but their local estate agent said that when she hears the hum, it's the sound of prosperity, of people working; it's the sound of real life.
Belinda and Heidi celebrate pub tradition, real ale and alcohol in the knock-out songs 'Murphy's Saloon' and 'Summat's Brewin' ', from the album of the same title, and they artfully altered the verses of the traditional chestnut 'All For Me Grog'. What's more, they saluted the whimsical, funny songs of Loudon Wainwright III by performing 'White Wine'. They ended a stunning set by delivering 'Gentleman Jack', the rip-roaring story of Anne Lister, the 18th-century lesbian owner of Yorkshire's Shibden Hall, who dressed up as a man with a view to seducing young ladies. The first encore was the oh-so-lovely 'Two Mothers'; the second encore was 'The Parting Glass', their a capella voices blending and ringing into the night. Do go to see them on their December tour – but be careful to book up your tickets first!
---
Review by Mick Tems, FolkWales Online Magazine