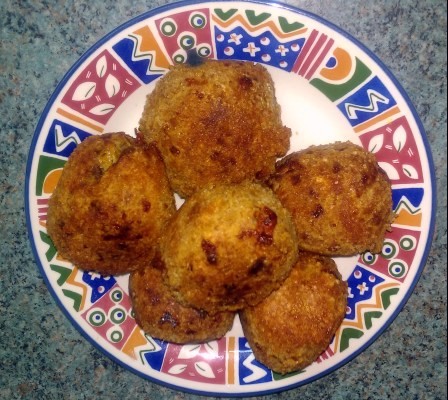 In anticipation of the 'shortages' expected, our chef has come up with some excellent recipes for you to try out in your kitchen and keep you and your family nourished in the coming food apocalypse!
This recipe is my variation on the well known, much loved in Wales, vegetarian recipe for 'Glamorgan Sausage'. Sir Gâr is a shortened Welsh name for Sir Gaerfyrddyn, the county of Carmarthenshire in Wales. Despite the name, no champion racehorse meat is used! Try it! You'll love it!
INGREDIENTS
This recipe will make about 8 veg balls (serves 4). They can be frozen. Preparation and cooking time 1h.
100g Leeks (finely chopped)
180g Breadcrumbs (fresh white or brown)
2 Eggs (separated into yolks and white)
2 tsp Thyme
1 tsp Cumin seeds (ground)
2 tsp Mustard (whole grain)
150g Cheddar (or any similar) Cheese (grated)
20 ml Single cream
50g Flour (plain)
25g Butter
METHOD
Melt the butter in a frying pan and add the leeks. Add the cumin and thyme and season with salt and pepper. Stir and cook until soft.
In a large bowl, mix about 3/4 of the breadcrumbs with the grated cheese. Add the leek mixture. Mix the egg yolks with the mustard and add to the mixture. Add the cream. Mix well.
Shape the mixture by hand into balls, place on a plate or in a bowl, cover and refrigerate for an hour or so.
COOKING
Heat the oven to 180C/350F/gas mark 4.
Whisk the egg whites until frothy. Roll the balls in the flour, then the egg whites and then coat with remaining bread crumbs.
Fry the balls in vegetable oil briefly and then transfer to a baking sheet and cook for about 20 minutes until a golden colour.
SERVING
Serve on their own, with spaghetti and a tomato sauce, cauliflower cheese or mashed potatoes and gravy.
Mwynhewch!
---
All our recipes are HERE