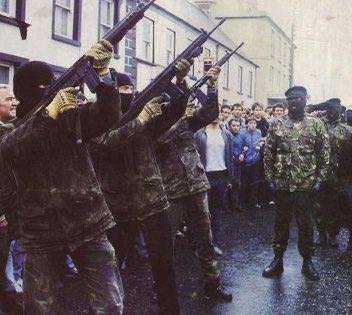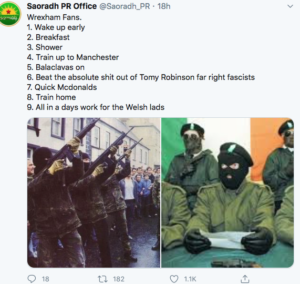 An extreme Northern Ireland dissident organisation has celebrated Welsh football fans committing violence, The Eye can disclose.
An alarming post on Twitter from 'Saroadh PR' has said some supporters of Wrexham AFC "beat the absolute shit out of Tomy (sic) Robinson (former English Defence League [EDL] leader) far right fascists" and backs the message with a picture of men in balaclavas holding guns aloft.
The tweet outlined a series of mundane actions which included waking up early and taking a train to Manchester before violence.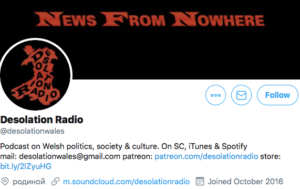 It then proclaimed:  "All in a days work for the Welsh lads" -197 accounts retweeted the message and more than 1,200 accounts liked it.
Saoradh, liberation in Irish, is a grouping which has the support of dissident republican organisation the New IRA, which was blamed for shooting journalist Lyra McKee.
Many observers consider it in fact to be the unregistered political wing of the New IRA, although members strongly deny this.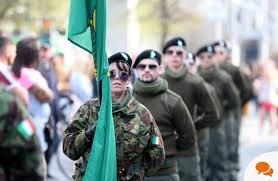 Meanwhile the alleged link with the shooting of Ms McKee has not been welcomed in all quarters of the republican community.
A tweet from the Irish Republican Council said:  "Didn't you lot shoot Lyra Mckee?  Wankers".
Formed in 2016, Saoradh is the most influential republican group opposed to the Good Friday Agreement.

Following a large commemoration on the centenary of the Easter Rising in Coalisland, County Tyrone, that attracted over 3,000 participants, Saoradh as a political vehicle was created.
The party is a Londonderry/Derry-based faction which has held a number of social media profiles.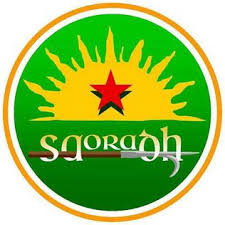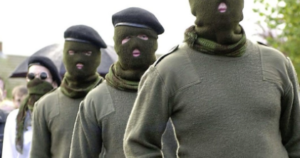 It is an attempt to give a political face to the growing republican dissent in nationalist areas north of the Irish border.
The New IRA recently claimed responsibility for parcel bombs sent to people in London and Glasgow.
However at one point the main Saoradh social media profile was suspended, and the Twitter site of one of their national executive members appeared to have been deleted.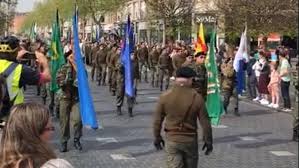 There has been enormous controversy about social media platforms like this organisation's being used with unacceptable messages.
Facebook removed Robinson's official page and Instagram profile in February of last year.
The one-time EDL leader was said to have been engaging in "organised hate".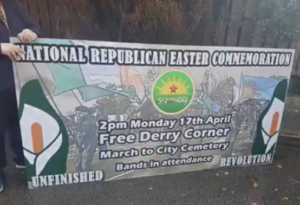 Saoradh too has been in the spotlight for pictures and messages which have been posted on social media, including photographs of men wearing balaclavas and commemorations of Easter.
Other tweets in the social media thread that celebrated violence by a few Wrexham AFC supporters, said:  "So, Wrexham came to Manchester and smashed the shit out of the racists?".
Another proclaimed:  "Wrexham FC supporters travelled to Manchester and beat the shit out of the far right.  Well fucking done lads!".
A further contributor declared:  "A hundred Wrexham fans went to Manchester and kicked fuck out the EDL. Loooooool".
A further controversial remark was made by 'Desolation Radio', in their own tweet, which is an anarchist group and does a podcast on Welsh politics as well as culture.
It said:  "Massive shout out to the people of Wrexham who've spent all day beating up English people".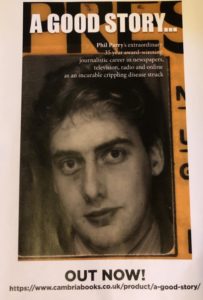 The comment was then responded to by the maverick Welsh Parliament/Senedd Cymru member Neil McEvoy MS.
Mr McEvoy said the tweet by Desolation Radio was "disgusting" saying it was an example of "ugly nationalism", and he hashtagged the word "bigot".
It is perhaps also a little 'ugly' that some Wrexham AFC supporters are backed by an extremist dissident group in Northern Ireland which celebrates violence.
Tomorrow – when 'foreigners' are unwelcome to a Welsh 'news' website subsidised by the taxpayer.
Our Editor Phil Parry's memories of his extraordinary 36-year, award-winning career in journalism as he was gripped by the incurable neurological disabling condition Hereditary Spastic Paraplegia (HSP), have been released in a major book 'A GOOD STORY'. Order the book now! The picture doubles as a cut-and-paste poster!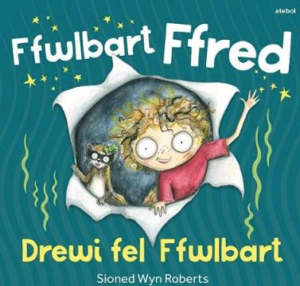 If you need something to keep the children entertained during these uncertain times (in Welsh) try Ffwlbart Ffred about the amusing stories of Ffred and his pet.