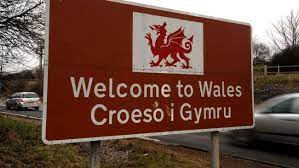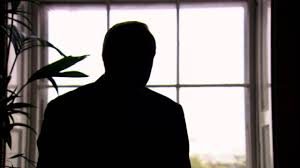 A leading academic connected with a university at the centre of a storm over Welsh language road signs has defended his colleague, The Eye can reveal.
Speaking to us on the basis of anonymity the academic linked to the University of Nottingham (UoN) said: "These comments are factually correct. This whole thing has been blown up out of all proportion".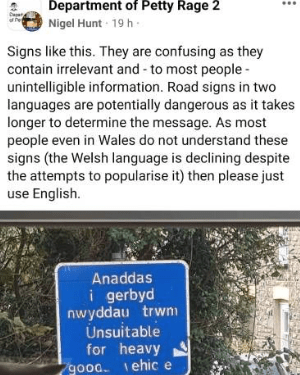 The remarks referred to were in a Facebook (FB) post by Dr Nigel Hunt, who as well as being an Associate Professor in Psychology at the UoN, is also a visiting professor at Wrexham University (WU).
Dr Hunt's post as reported by the Welsh language website Golwg360, included a photograph of a bilingual sign and was captioned: "Signs like this. They are confusing as they contain irrelevant and – to most people – unintelligible information.
"Road signs in two languages are potentially dangerous as it takes longer to determine the message. As most people even in Wales do not understand these signs (the Welsh language is declining despite the attempts to popularise it) then please just use English."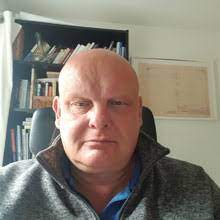 Although clearly inflammatory, these observations apparently found favour among at least one of Dr Hunt's colleagues in the world of academia.
The man declared to us: "I can quite understand these remarks might inflame those who believe strongly in the Welsh language. But the plain fact is that most people in Wales speak English, and it is utterly reprehensible to be pilloried for making these sorts of comments. I am only speaking to you anonymously because I am afraid of the reaction".
He also said the attacks on Dr Hunt were a restriction of free speech, and that while there may be an argument for certain areas to be off-limits, bilingual road signs are not in them.
Yet a fulsome apology has been made by WU, and on social media it was officially proclaimed: "We would like to apologise for the offence caused by recent remarks – and are in the process of investigating this matter internally. We are keen to stress that these comments do not reflect the views or values of our university or its staff".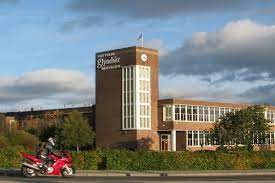 They have added: "We are proud to be a Welsh institution and are proud of our Welsh history and heritage. We are also committed to promoting and celebrating the Welsh language and are proud to say that more students than ever before have opportunities to study bilingually across a range of our courses, thanks to the implementation of our Welsh Language Academic Strategy and Action Plan in November 2022.

"We are also committed to the Welsh Language (Wales) Measure 2011 and as part of the legislation – the Welsh language has equal status with English and must not be treated less favourably."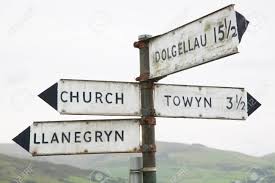 Bilingual road signs have a long and controversial history.
In Wales, they have been a legal requirement since 1983, including on safety signs (such as stop and yield).
Critics, though, have claimed to be confused by signs that feature both Welsh and English, to the extent that they have said that they have been delayed in their arrival at their destination.

They have called the whole project, especially where old signs need to be replaced, a waste of money, as well as being a nationalist 'cause célèbre'.
In a 2005 study by researchers at the University of Leeds (UoL), it was discovered that while two-line signs weren't a problem for drivers whatsoever, no matter what language they were in, longer signs did cause them to reduce speed slightly.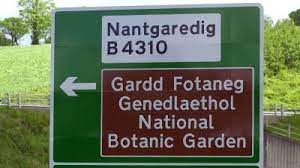 In essence, if a sign has four lines on it, whether they're all in English, or two are in English and two are in Welsh, that has an effect on the behaviour of drivers.
The study found that drivers may be forced to 'parcel up' the information on the sign and read it in multiple glances.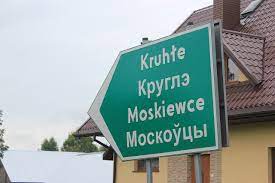 On the other hand, supporters of bilingual road signs say the policy is utterly fair, especially in a country with two languages, causes extremely minor issues, and that it has been gaining ground in popularity overseas.
They have also pointed out that visitors to Wales who do not speak Welsh, LIKE the bilingual signs because they emphasise that it is a different country, and the exoticism is appreciated.
The issue of these signs growing in popularity abroad is certainly true, and they are now widely employed in other regions and countries – in some states like Spain or Poland, for example, there are multilingual signs.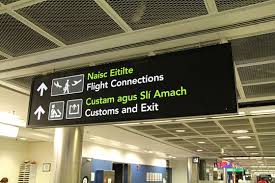 The use of such signage has experienced a remarkable expansion in recent years, and has been paralleled by increases in international travel as well as a greater sensitivity to the needs of ethnic and linguistic minorities.
Perhaps the anonymous academic's defence of his colleague's controversial comments may be a minority view. Or maybe others are just too frightened to say them…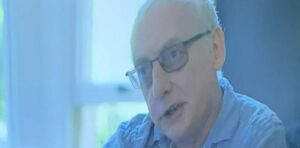 The memories of our Editor Phil Parry's remarkable decades long award-winning career in journalism (when saying the unsayable was always paramount) as he was gripped by the rare neurological disabling condition, Hereditary Spastic Paraplegia (HSP), have been released in a major book 'A GOOD STORY'. Order the book now!
Regrettably publication of another book, however, was refused, because it was to have included names.