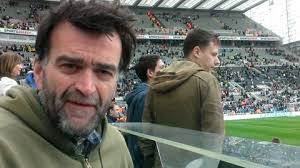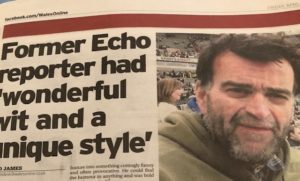 It is surely embarrassing to report a key event days after it has been published elsewhere – especially if it concerns one of your own former reporters.
Golden rules of journalism are to be first with the news and never to report matters which have already appeared.
But the South Wales Echo has driven a coach and horses through these rules by reporting the death of its own former reporter Steve Tucker THREE days after The Eye published the sad news.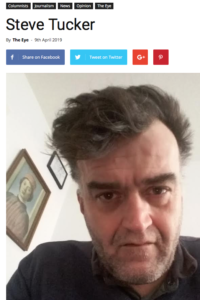 As well as being a controversial commentator on Cardiff City, Steve was also a fine writer on a wide range of topical issues, and we reported his death on Tuesday, reproducing links to some of his pieces.
But today (a Friday) the Echo reported the tragic news with a picture and the words:  "One of the Echo's best-known former journalists, Steve Tucker, has been remembered as a "true maverick" following his sudden death at the age of 52″.
The website WalesOnline (which can put out stories almost immediately) did only slightly better by publishing a report yesterday, saying:  "One of WalesOnline's best-known former journalists Steve Tucker has sadly died aged 52″.
Yet two days before this The Eye had said:  "It is with great sadness that we note the death of Steve Tucker".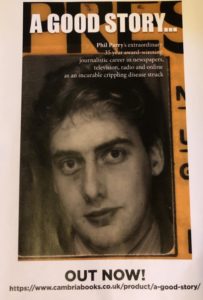 As a journalist Steve would have known only too well that repeating news days after it has been announced in another publication is something which should never be done.
He would also have been upset to know that his own death was the subject of this terrible error.
Our Editor Phil Parry's memories of his extraordinary 35-year award-winning career in journalism as he was gripped by the incurable disabling condition Hereditary Spastic Paraplegia (HSP), have been released in a major new book 'A GOOD STORY'. Order the book now! The picture doubles as a cut-and-paste poster!