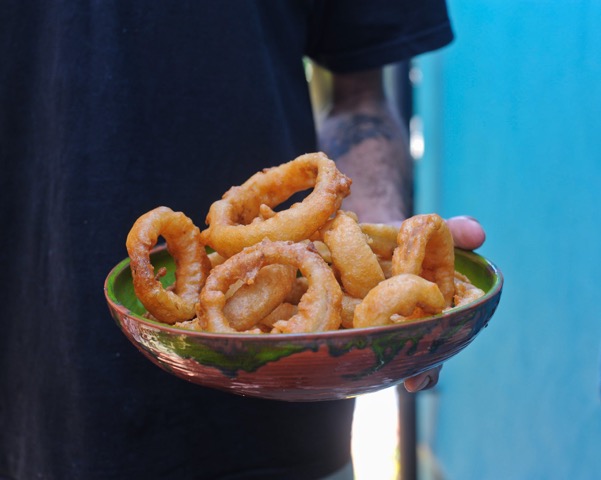 Beer Battered Onion Rings.
This recipe is courtesy of Kemi's in Cardiff. Perfect for binge watching Hay Festival talks online along with a glass (or two) of home brewed elderflower champagne (recipe soon).
Ingredients
1/2 massive spanish onion cut into 1/2inch rings. Cut the stem end away and peel back a few layers. Toss rings with 1/2 cup flour.
• 1.5 cups flour
• 1.5 cups beer
• 2 tsp salt
• 2 tsp smoked paprika / garlic powder / or what you fancy
• Whisk batter and leave for 10 minutes
Method
Fill a deep pan with 2 inches of oil, heat on a high flame until 180°.
If you don't have a deep fry thermometer, sprinkle a few drops of water if they sizzle the oil is hot enough.
Working in batches, coat the rings in batter, flick off excess.
Fry for 2-3 minutes, flipping once.
Remove onions, place on a kitchenroll lined plate.
Sprinkle with salt.
Mwynhewch!
THE LOCKDOWN CHEF