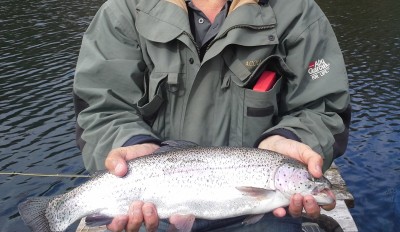 The LOCKDOWN chef has come up with some excellent recipes for you to try out in your kitchen and keep you and your family nourished in the coming food apocalypse!
As a keen trout fisherman on the reservoirs, like the Usk, and other still waters of Wales, I am always looking for new ways of cooking my catch. I fillet the trout as soon as I get home and freeze the fillets wrapped in cling film or freezer bag.
This recipe is one of the best. Try it! You'll love it!
INGREDIENTS
In the winter months, offseason, and when I want to cook, the frozen fillets are first thawed in the fridge overnight and then skinned, washed and dried on a paper towel. This recipe will make about 8 portions (serves 2). Preparation and cooking time 1h.
300g Trout skinned fillets (about 4 fillets halved)
100g Parmesan cheese (grated)
2 Eggs (whisked)
2 tsp Salt
150g Flour (plain)
100ml Olive oil
METHOD
Coat the cleaned fillets with flour which has been mixed with the salt. Dip the fish in the beaten egg mixture and then coat with parmesan cheese.
COOKING
Heat the oven to 180C/350F/gas mark 4.
In a frying pan, fry the battered trout fillets in the olive oil until lightly browned. Dab off excess oil on a paper towel and then transfer to a shallow oven pan. Bake for a further 10 minutes or so until golden brown.
SERVING
Serve with oven chips and peas, or with herb and olive oil enriched couscous.
Mwynhewch!
THE LOCKDOWN COOK
---
See all the nourishing recipes to get you through the CORONA BLUES! HERE