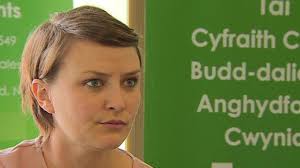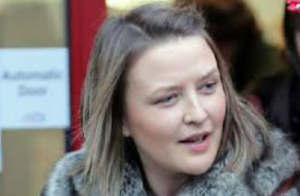 Words are difficult things.
The Welsh assembly member Bethan Sayed AM (nee Jenkins) has endorsed a tweet calling for 'challenging journalism' and state-controlled media.
But presumably this does not include the kind of 'challenging journalism' The Eye do where we have exposed her practice of selling her house online with a poster of IRA hunger striker Bobby Sands on the wall, how she was caught drink-driving in her pyjamas, or how she has still refused to apologise after claiming expenses when she went to see pop star Rihanna.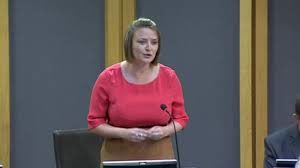 This is the kind of 'challenging journalism' she may not have been thinking of when she tweeted "Yes please" in response to the comment "So an independent Wales would have State control of the media?  No thanks" And "20 years of a Labour Government (in Wales) … challenging journalism hasnt materialised!".
Bethan Sayed has faced many challenges herself, disclosures of which doubtless she will also not include in the sort of journalism she wants.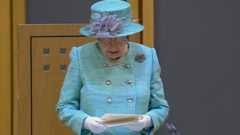 In June 2016 she refused to attend the Royal opening of the assembly because she is a "committed republican" and it was a "ceremonial event".
She preferred to do constituency work instead.
In the drink-drive incident she admitted being over twice the legal limit, and Cardiff magistrates court heard how she was unsteady, barefoot and wearing pyjama-style bottoms.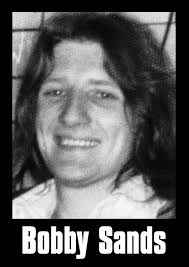 The South Wales West Assembly Member was given a 20-month driving ban, and said at the time she was "deeply sorry" about the incident. 
After the case, a spokesman for her issued a statement: "This incident is one I regret wholeheartedly and I am deeply sorry".
Her house with the picture of Bobby Sands in the lounge was put up for sale on Rightmove, for £125,000 with an open day due to be held on August 5 2017.
Sands was a member of the IRA who died on hunger strike in 1981 while in Maze prison.



In the same year that she publicised her house on the internet with a poster of Sands on the wall, Bethan Sayed was advertised as 'co-host' of a conference examining the future role of the media in Wales.
But her colourful past had been in the news, and after we disclosed more of the details, the event was shown with her name no longer on the panel.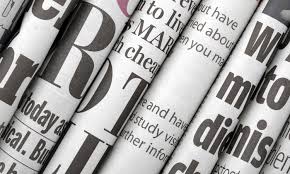 The only chair of the Policy Forum for Wales Keynote Seminar became Jeremy Miles, AM, a member of her committee, when before he was to co-host the conference.
The pop concert controversy where expenses were claimed and in which Bethan Sayed again became embroiled was reported in the Western Mail as well as WalesOnline.
Despite later paying money back, she refused to apologise and insisted that she acted within Assembly rules.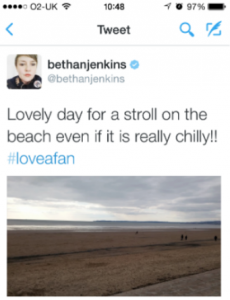 Before the controversy over the Royal opening of the assembly, she had boasted of how hard she worked, yet posted a picture of a beach on Twitter, declaring it was a lovely day for a stroll.
She also published a photograph of an empty street – with a message for her fans that it was a cold day for door-knocking.
Bethan Sayed therefore cuts an unlikely figure to be proclaiming her support for 'challenging journalism' or 'state control' of the media.
She is a leading Plaid Cymru politician and Chair of the National Assembly Culture, Welsh Language and Communications Committee, who has stated in the past:  "It will be no secret to many of the readers of this site (Nation.Cymru) that journalism in Wales – and across large swathes of the world – is facing a crisis".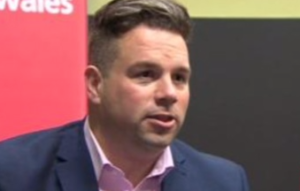 Another prominent AM – this time a Labour one – has quoted approvingly on Twitter a call for "… serious, challenging journalism and consistently high-quality radio programmes which make politicians nervous… " with supportive comments from the Editor of BBC Radio Wales (RW) Colin Paterson and the Director of BBC Cymru Wales Rhodri Talfan Davies.
But The Eye have reported that Mr Paterson has presided over record-breaking low audience statistics for his radio station even though he claimed he would achieve far higher figures by this point, and a leading former presenter has called for his resignation as well as that of his superior Mr Davies.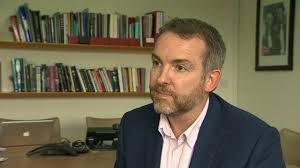 A few weeks ago we showed how Mr Paterson was forced to apologise after making false claims about one of the presenters in his controversial new schedules.
He said Claire Summers "will be the only female journalist anywhere in the UK to take on the role of solo presenter for a national breakfast news programme".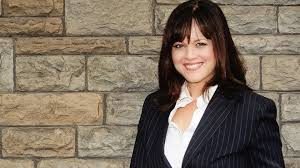 Yet the extraordinary statement immediately drew a response from Julia Hartley-Brewer of Talk Radio who tweeted ironically: "I guess I'm just the wrong kind of woman".
Other shocked radio listeners also pointed out Mr Paterson's mistake and he then said:  "Amended now, quite right. Apologised to Julia.".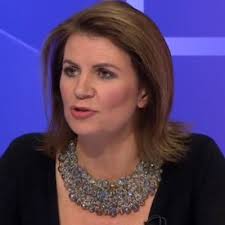 Mr Paterson has described the new line up which includes Ms Summers as a "creative challenge" and the figures last Autumn made the challenge clear, revealing that RW had an average weekly audience of just 317,000 listeners between July and September.
Commentators have noted his new presenter's particular skills, and it has been recorded: "In 2005 … Summers had to lead a Welsh Black cow called Ceridwen at the Royal Welsh Show".
We are happy to provide 'challenging journalism' which undoubtedly makes politicians such as Bethan Sayed and others nervous, although we are not part of a 'state control' media.
Following our earlier revelations about her we were subjected to a torrent of abusive messages on the internet – it seems that only some forms of 'challenging' journalism are deemed acceptable.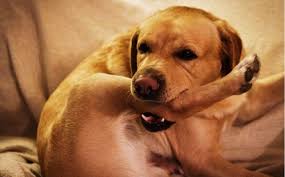 But our journalists wonder where the line is drawn.
If only restrained 'challenging journalism' is allowed of official policy in the manner of political discourse this would make for extremely boring neutered journalism which would be deeply unpopular.
The insults The Eye have endured show that perhaps we are doing our job in holding to account politicians as well as other power brokers, and they included one on Twitter, which was highly-libellous from a leading political commentator who wrongly accused us of bias.
The full text of the Twitter outburst was: "Severed links with @Wales Eye (our Twitter name) years ago. Unfunny, biased, personal, superficial, mysoginistic (sic), out of touch & bitter. That's Wales Eye, not me".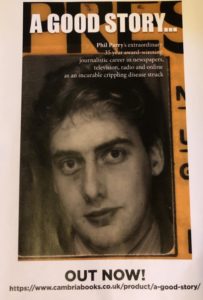 'Challenging journalism' attracts this kind of abuse and the problem with politicians calling for it is they do not want the sort we do.
And perhaps this is also not the kind Bethan Sayed would say 'yes please' to…
Next week – why The Eye's form of 'challenging journalism' is supported by some readers. 
Our Editor Phil Parry's memories of his extraordinary 35-year award-winning career in journalism as he was gripped by the incurable disabling condition Hereditary Spastic Paraplegia (HSP), have been released in a major new book 'A Good Story'. Order the book now. The picture doubles as a cut-and-paste poster!