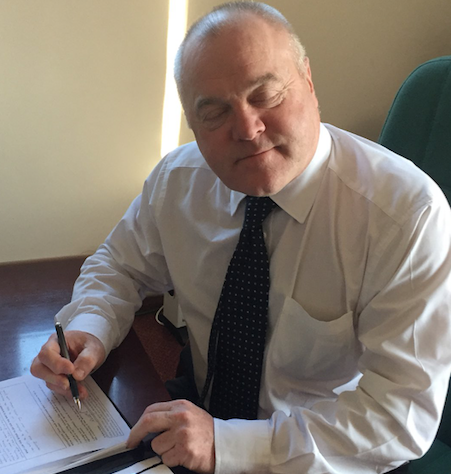 Phil Parry is a former BBC news and current affairs reporter. He is winner of the BT Wales award for journalist of the year, BT Wales TV reporter of the year and radio reporter of the year.
In our regular New Year competition, Edwin Phillips invites readers to supply a caption for this picture of the Registrar and Chief Operating Officer at controversial Swansea University, Raymond Ciborowski, where we revealed officials had employed a fraudster jailed for more than four years in America.
The Editor of The Eye, Phil Parry, had asked the university if Mr Ciborowski knew about the history of Stephen Chan before he was employed on a contract at the university's School of Management.
Following our disclosures, Chan's contract was terminated.
A cursory check would have established that he had been imprisoned by a court in America for four years and three months, as well as being ordered to pay over $12,500,000 in compensation after a huge fraud had been uncovered by the FBI.
But answers to any question about him, and why Swansea University employed a convicted criminal, were refused on the grounds we were "vexatious", which followed earlier refusal of Freedom Of Information Act (FOIA) requests because we were "vexatious".
This is one of the questions we asked:  "(vi) Did the University's Academic Registrar, Raymond Ciborowski, know about Chan's past when the University (a) awarded him his PhD (b) appointed him to a professorial chair in the School of Management?".
Yet this and all our other questions about Chan were refused.
So we have come up with our own answers which might make captions for this photograph of Mr Ciborowski:
 Raymond Ciborowski – "God, another request for information about that Chan bloke from The Eye – I must think of something we can say this time".
 Raymond Ciborowski – "Here is the file of criminals supplied by the FBI – which one can we employ this time?".
Raymond Ciborowski – "There must be somebody out there we can choose to take over from Marc Clement (the head of Swansea University School of Management) – I'll pick someone using my usual unerring skill".
Raymond Ciborowski – "Who can we give a PhD to this time?".
Raymond Ciborowski – "I am blind to any staffing issue".
"At his valedictory Christmas Party, Raymond Ciborowski enters into the spirit of things by playing 'Pin the Tail on the Donkey'.
No prizes unfortunately – just the honour of being temporarily conferred with our title of 'troublemaker'!
Tomorrow – another Welsh university in crisis, amid further revelations by The Eye of the fallout from a disastrous venture to open a campus on a holiday island. 
Blwyddyn Newydd Dda to all our readers!
Check out some of the stories broken by The Eye which made the headlines in 2017.
Comments from Mastodon: