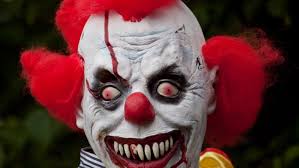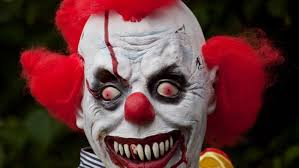 Latest posts by Edwin Phillips
(see all)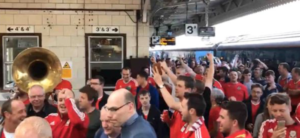 Our satirical writer Edwin Phillips pens an alternative reply from the Football Association of Wales (FAW) after revelations on The Eye that Welsh football fans received no substantive response to complaints about "extremist Welsh nationalist groups 'tagging on' to the Wales national football team on social media", and another about a controversial supporters' brass band which denied calling a politician a "lying cunt" even though the evidence has been found.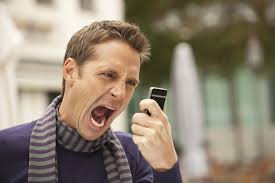 Dear upset football fan.
We take our responsibilities extremely seriously.
This is why we are now responding to you after a year, with it having nothing to do with the fact that the issue was highlighted on the inquiring website The Eye.
Our officials can honestly say it is also completely irrelevant that the former director of a football club in Wales has called for the resignation of our esteemed Chief Executive Jonathan Ford because of it.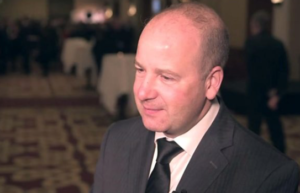 Mr Ford has, for example, extensive experience in handling the media – as has been shown by recent events.
In December 2017 it was decided, justifiably, that we would take no action against him for saying the Wales football manager could be "foreign", but "definitely not English".
In a BBC Sport Wales interview Mr Ford had said correctly: "We have always favoured Welsh people because arguably the passion is there.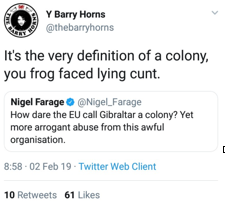 "Somebody said this earlier, Welsh most definitely, foreign possibly but definitely not English."
Our officials have also been correct in taking no action against the Welsh football supporters' band The Barry Horns who have regrettably been described as a "foul-mouthed bunch of yobs".
It was clearly only banter that Nigel Farage was called a "lying cunt" on Twitter, and proclaimed about Brexiteers "fuck you", as well as declaring about a UK cabinet minister "Go fuck yourself you Tory bastard".

You made another complaint about them which we are also replying to six months after it was sent and also has nothing whatsoever to do with the fact it was on The Eye.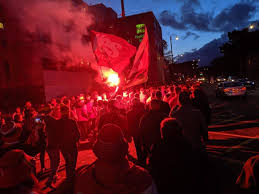 We utterly refute your allegations which, we have been told, may actually be true, that: "The Barry Horns have had their official Twitter account shut down for foul and abusive behaviour, and repeated violations of Twitter's terms and conditions. They then set up another account, which was shut down within a week.
A group calling itself 'Welsh Football Fans for Independence' held a march from Womanby St to the Cardiff City Stadium before the last home game. They were setting off flares and singing foul-mouthed chants about the Union Flag (Union Jack).
Large stickers have appeared on lamp posts, post boxes etc around South Wales (and possibly North Wales) from 'Welsh Football Fans for Independence'. The stickers contain the FAW emblem (albeit the old one).
The FAW's stadium announcer, Rhydian Bowen Phillips, has publicly called for the reinstatement of The Barry Horns on Twitter and has endorsed Welsh Football Fans for Independence.
There were banners endorsing Welsh independence at the stadium during the most recent Wales home international."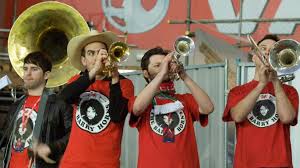 It is entirely irrelevant that this may unfortunately tie in with previous complaints from another fan which we are also now responding to six months later, and a few days after they were highlighted on The Eye: "I would like to know what the FAW position is on the Barry Horns who having affiliated themselves to South Wales football now appear to have adopted an aggressive political agenda.
"Some of their language on Twitter is worse than I have ever endured on football terraces. Is this the sort of agenda the FAW condone?".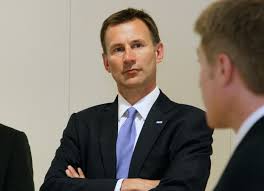 We understand that the 'Tory bastard' comment was posted by The Barry Horns on Twitter aimed at the then UK Health Secretary Jeremy Hunt, but our officials are convinced that this mild comment is not sufficient to ban them, even though they have been barred from the social media outlet following remarks like this.
We note that the impartiality of The Barry Horns can be seen by the fact they told followers to "Join @Plaid Cymru" and that the former leader of Plaid Cymru (PC) Leanne Wood spoke out against the Twitter restriction at the time, saying on her own social media site:  "… you ban the Barry Horns? For defending the NHS?", which was then re-tweeted by PC MP Jonathan Edwards.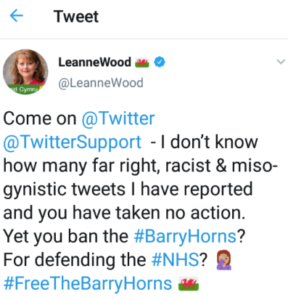 This neutrality also emphasises our new approach to football in Wales when we have, too, taken no action over The Eye's supposedly exclusive revelation about how the violence of some supporters of Wrexham AFC in Manchester, was celebrated by a dissident republican group linked to a militant organisation allegedly behind the killing of a journalist.
A perfectly reasonable post on Twitter from 'Saroadh PR' said that some fans of Wrexham AFC "beat the absolute shit out of Tomy (sic) Robinson (former English Defence League [EDL] leader) far right fascists" and backed the message with a picture of men in balaclavas holding guns aloft.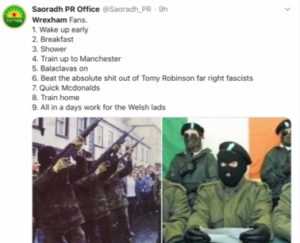 The tweet did, after all, outline a series of mundane actions which included waking up early and taking a train to Manchester before the passion was shown by supporters, which has been called violence.
The tweet proclaimed:  "All in a days work for the Welsh lads" – its popularity is evident in the fact that 197 accounts retweeted the comment and more than 1,200 accounts liked it.
Saoradh, liberation in Irish, is a grouping which has the support of dissident republican organisation the New IRA, which was, we understand, blamed for shooting journalist Lyra McKee.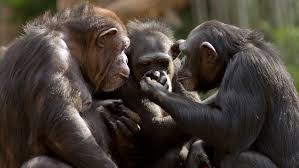 We hope this satisfies you that no action was needed to have been taken against a supporters band which used sensitive language like "fuck you" and another group of fans backed by a dissident terrorist group which has links with another organisation that may have killed a journalist…
Yours in honesty,
FAW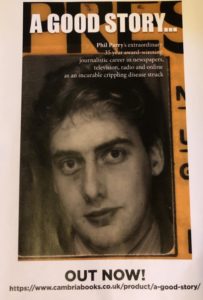 Soon – the controversial Welsh sports' commentator who likes giving her own contentious opinions and is backed by the Labour mayor of Manchester. 
Tomorrow – when time becomes absolutely critical. 
Our Editor Phil Parry's memories of his extraordinary 36-year award-winning career in journalism as he was gripped by the rare neurological disabling condition Hereditary Spastic Paraplegia (HSP), have been released in a major book 'A GOOD STORY'. Order the book now!