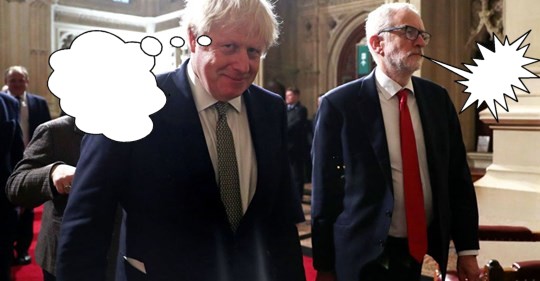 Time for our celebrated New Year's day caption competition!
For this one we don't just want you to supply a possible conversation between Boris Johnson and Donald Trump, but the thoughts of the Prime Minister after his thumping 80-seat majority in the General Election, and the words of the leader of the opposition, Jeremy Corbyn, as he contemplates the future for him and his party at the state opening of Parliament.
Following Labour's worst election result since 1935 no wonder Mr Johnson is grinning and, as the press reported, Mr Corbyn was 'stoney-faced'.
This is a competition you are unlikely to find in the mainstream media!
Here, as usual, are some possibilities to get you started:
Johnson thinks:  "What a loser this guy is…".  Corbyn declares:  "I am NOT apologising".
Johnson thinks:  "I bet he wishes now he hadn't listened to Seamus Milne". Corbyn declares:  "I'm hanging on in there – I wish some of our voters had done the same!".
Johnson thinks:  "Now the red wall has gone it's time for the red face". Corbyn declares:  "I'm NOT wearing a donkey jacket, like my hero Michael Foot did…".
Johnson thinks:  "Ha! Ha! I've got the most Tories since 1987". Corbyn declares:  "This is actually a triumph – just as 1983 was…".
We'll announce the winners in a few days.
Our Editor Phil Parry's memories of his astonishing, lengthy award-winning career in journalism as he was gripped by the incurable disabling condition Hereditary Spastic Paraplegia (HSP), have been released in a major new book 'A GOOD STORY'. Order the book now!