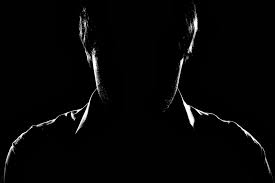 Latest posts by The Rebel
(see all)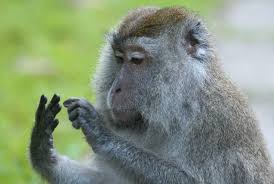 Our political correspondent The Rebel looks at the state of the Labour party today after the worst General Election result since 1935 and a leadership race which is tearing it apart, with the characters of party leaders under huge scrutiny from the media, as well as the anti-Semitic controversy which has engulfed the Labour Party being brought up all the time during the election campaign.
The Rebel is a leading figure close to senior politicians in Westminster as well as Cardiff Bay, and will always give readers the inside track on what is being discussed in the corridors of power.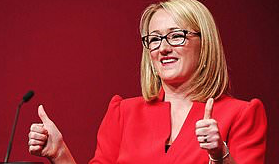 The official opposition party is in complete meltdown – what a way to start a new year!
One Labour MP told me that if a lefty like Rebecca Long Bailey wins the leadership race they could be out of power in Westminster for a generation.
Another said:  "I've never known a time like it.  This is chaos and Jeremy is still with us", (instead of announcing his resignation as soon as it became clear Labour had secured the worst General Election result in 84 years, Jeremy Corbyn said he would wait until the leadership contest was over).
The bearded one didn't exactly shine at Prime Minister's Questions this week either – his first since the appalling election result.
Could a word be whispered on whether the now-deceased Qassem Soleimani may have been anything less than a standup individual?
No, of course not.
As one UK newspaper put it:  "Shouting pieties into the void, Mr Corbyn carried on as if nothing had happened".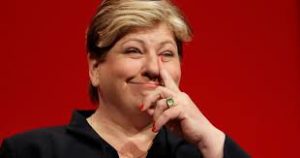 Emily Thornberry another candidiate for the Labour leadership, gave Jezza "0 out of 10" for his election performance
Ms Long Bailey is a protege of the bearded lefty's mate, the now-retired Marxist undertaker John McDonnell, and was seen as the heir apparent.
But as well as being on the left of the party she is also a wooden speaker, and her campaign has got off to a poor start.
There was talk of another lefty, the Shadow International Trade Secretary Barry Gardiner, standing with the backing of union leader Len McCluskey (which he has described as 'nonsense' so it must be true!).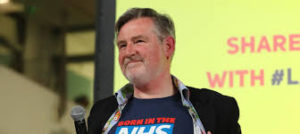 Remember that Bazza was the one who in June leapt to the defence of Labour's winning candidate in the Peterborough by-election.
He said that Lisa Forbes was only "careless" in liking a tweet accusing Theresa May of "having a Zionist slave masters agenda".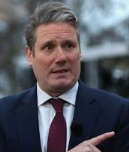 Ms Forbes meanwhile, faced calls for her to be suspended from the party.
Bazza said: "She said she hadn't read the text (of a Facebook post) properly. I believe her. But I do believe now she's got to work hard to show people, to show the Jewish community and colleagues in parliament that she's not anti-Semitic".
He was caught mocking the six tests for a deal they could support from another leadership rival Sir Keir Starmer.
Bazza was recorded saying it was all "bollocks" and warned that a second referendum could lead to civil disobedience.
But despite being challenged by these sorts of comments it looks as though Sir Keir is the favourite, as well as having boosted his chances by being backed by the biggest of the unions Unison.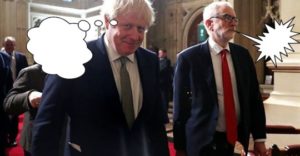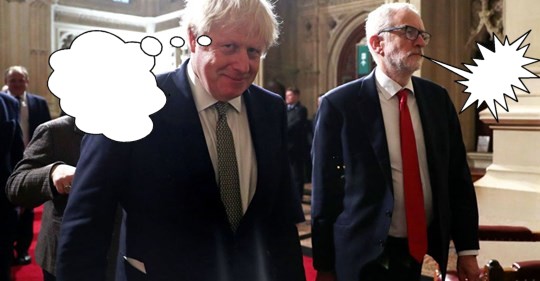 Bojo and staring-eyes Dominic Cummings will be rubbing their hands if Bazza or the wooden lefty get it – but not Sir Keir!
There's still time to enter our famous caption competition putting into words the thoughts of Boris Johnson and the comments of Jeremy Corbyn at the state opening of parliament after Labour's disastrous showing at the General Election.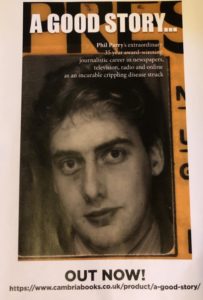 The memories of our Editor Phil Parry's astonishing, lengthy award-winning career in journalism as he was gripped by the incurable disabling condition Hereditary Spastic Paraplegia (HSP), have been released in a major new book 'A GOOD STORY'. Order the book now! The picture doubles as a cut-and-paste poster!