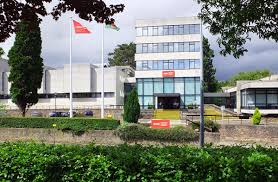 The only national English language radio station in Wales now has almost a third fewer listeners than the controversial Editor proclaimed it would have at this point, The Eye can reveal.
Contentious Colin Paterson claimed internally he would boost the figures to 400,000 by the 40th anniversary of BBC Radio Wales (RW) – some believe he said it would even be 500,000. But the station has in fact gone into reverse and has now reached the lowest audience figures on record.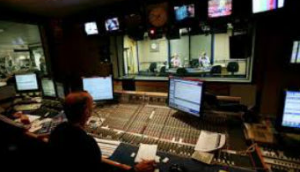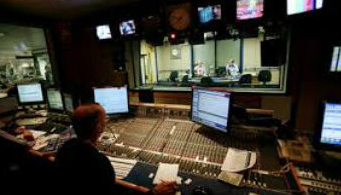 The data compiled by industry body RAJAR found that RW had an average weekly audience of just 317,000 listeners between July and September. The figure is a decline of 50,000 on the previous quarter and 23,000 on the same period last year.
In contrast, BBC Radio Cymru has pushed its listener figures up. The data showed it had 119,000 listeners between July and September, an increase of 7,000 on the previous quarter and up 18,000 on the same time last year.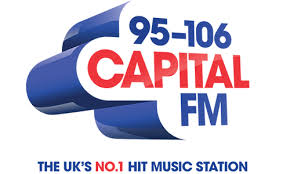 Among Wales' commercial radio stations, there were also increases. Listening figures rose at Capital South Wales, Heart South Wales and Swansea Bay Radio compared to the previous quarter.
BBC Wales though appears defiant.
A spokesperson at the corporation said:  "We analyse these figures to ensure we continue to offer the best possible content for our audiences. Radio Wales is a vitally important part of BBC Wales' provision and that's why just this week we've extended the FM availability of Radio Wales to an extra 400,000 people".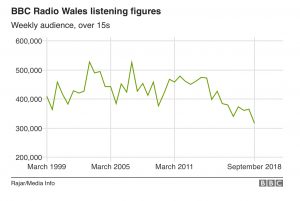 BBC staff are utterly dismayed by the continuing downward spiral of audience figures, but it seems officials have a different take on them. The media official said the statistics were a "helpful snapshot of live listening".
In a recent letter to one angry listener Mr Paterson was equally upbeat.
He said:  "As the Programme Director of Red Dragon FM, I led the station to an all-time record audience in 2010. I was the Executive Producer of BBC Radio Wales at its last peak in 2013 and, since taking over as Editor … the station has seen significant growth. Despite not being Welsh, I've taken a great deal of time to understand the country."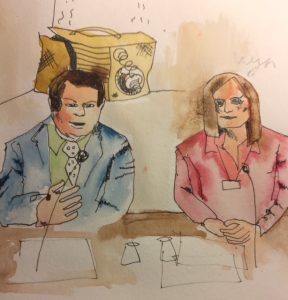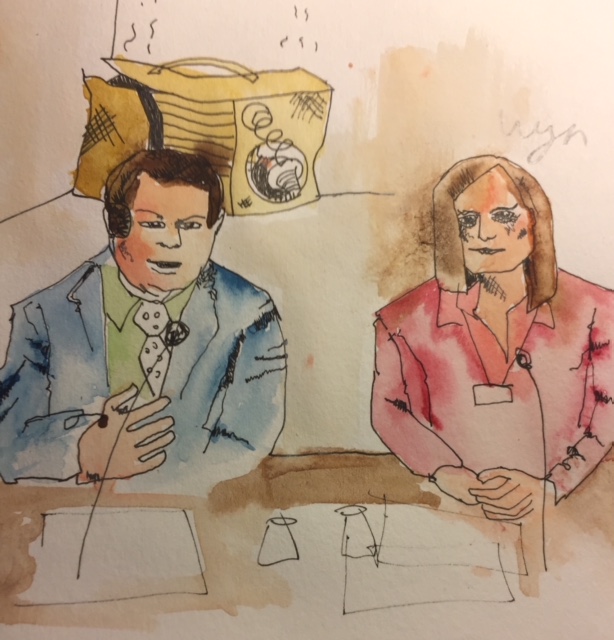 In March he had appeared alongside Betsan Powys, the Editor of BBC Radio Cymru and Cymru Fyw, before the Welsh Assembly's Culture, Welsh Language and Communications Committee, and BBC sources believed they would defend their audience statistics.
But in the eyes of many who watched the extraordinary performance, they both failed spectacularly.
One avid radio listener told The Eye at the time: "The whole meeting was waffle. Colin Paterson seems adept at being able to play the BBC game."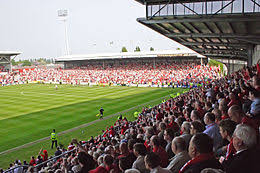 It is clear from the media official's comments that BBC Wales is pinning its hopes on the success of the roll out of its FM signal, yet this too has been mired in controversy along with its general radio coverage.
In August last year, cuts to commentary for Wrexham football games on RW were criticised as unfair. The North Wales Assembly Member (AM) Llyr Gruffydd demanded officials rethink the decision to reduce radio coverage of the team's matches, and put them on the BBC's website. But at the time Mr Paterson had staunchly defended his radical plan to axe the FM radio opt out for North Wales, except for "key games".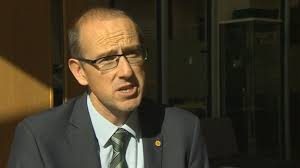 The reporting of Newport County games on RW has also led to a stern letter to him from another senior politician. In the same month, the MP for Newport East, Jessica Morden, said constituents had contacted her to complain about the lack of radio coverage on the BBC.
Mr Paterson has evidently put his faith in 'big' name presenters such as Janice Long.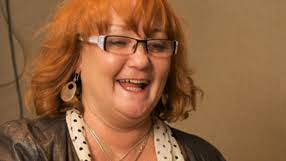 Yet despite earlier low audience figures, when it was already obvious the station needed a change in direction, we showed how recruitment continued unabated, with officials advertising for the first Deputy Editor to be part of the "success story of BBC Radio Wales," because they said it was an "exciting time as we get ready to celebrate our 40th birthday". Mr Paterson's supporters within the BBC now seem to be few and far between.
When he joined RW, though, it was a different story.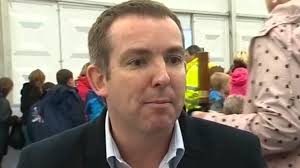 At his appointment, his new boss, BBC Wales Director Rhodri Talfan Davies said that "his (Mr Paterson's) incisive mind, his passion and his deep understanding of radio will be invaluable as the station nears its 40th birthday in 2018".
Perhaps his 'incisive' mind will be brought to bear in putting a positive spin on the fact that today's listening figures are at an all-time low, and far below what he promised BBC staff when the station reached 40.