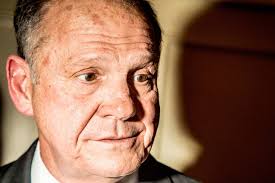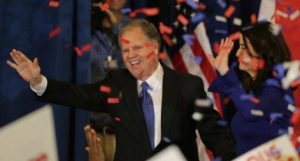 Alison Hill looks at the US Senate election in Alabama, when the Democrat candidate Doug Jones beat the Republican Roy Moore who was accused of assaults on teenage girls.
"Decency wins!".
These are the words of Arizona Senator Jeff Flake, a Republican, who was so reviled by Alabama senate candidate Roy Moore, that he sent his opponent, Democrat Doug Jones, a $100 cheque.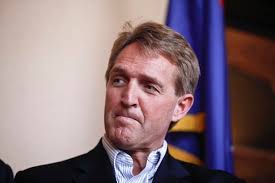 His 'Decency Wins' tweet on Tuesday night, after Doug Jones was projected winner, sums it up nicely.   Let's hope this sentiment carries forth as we face the mid-term elections in 2018 and then the presidential race of 2020.
After all, as a country, we could sure use some decency, especially in the highest echelons of Government.   So this is where we are in American politics at the end of 2017. And to be honest, that night gave me hope.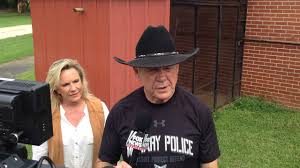 No, scratch that, more than hope, it lifted me out of a deep politically-induced depression.
Tonight I will relish watching the evening news instead of dreading hearing about the latest escapade of our toddler in chief (President Trump), or listening to Mitch McConnell (Republican majority leader in the Senate), that miserable little Scrooge in Congress, gloating over enacting policies that could ruin the middle class.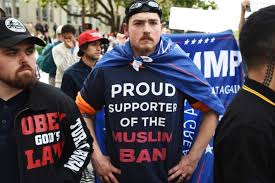 I was anticipating writing a very different opinion piece following the Alabama election. I had it all planned out, with the title 'The Nightmare Before Christmas'. Like most journalists and political pundits in this country, I truly expected Roy Moore would win. I thought it would be close, but a win nevertheless. After all folks, this is Alabama. The ruby red state as they call it, full to the brim of frothing at the mouth conservative evangelical Christians, who care only about abortion and guns, and oh yes, getting rid of any and all progressive policies.
Yes, they hate progress, like, say, having access to affordable health care, or the meek and poor getting a tiny slice of the pie.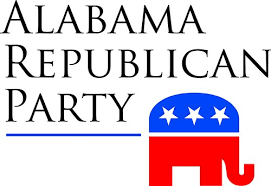 They hate Democrats to the extent that they willingly and gleefully vote against their own interests. They still believe trickle down economics works, they fell for Trump's populist message and despite all his degenerate words and actions, view him as their champion. Unbelievable, but true. That's where we are.
I was even going to suggest that Roy Moore be forced to wear a scarlet letter on his back each time he enters Capitol Hill representing the people of Alabama. Maybe use the letter P. I'll let you work that one out. Here's a hint: he's been accused of sexual misconduct with a 14-year old girl. And I don't mean pervert, although that would work too.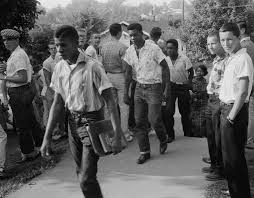 Here's a huge shout out as well, to the black people of Alabama. Thank you. Thank you for derailing this guy. Thank you for preventing an accused child molester from entering the Senate. Without you he would have won for sure.
But what's troubling still is that so many people DID vote for him. 74% of white males cast their ballots for Moore, and 65% of white women were willing to turn a blind eye. Shame on you.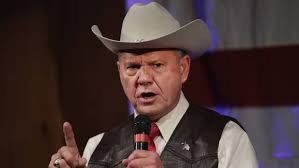 Republican voters were questioned about their support for Roy Moore in light of the allegations against him. Some of their responses were astounding. The accusers are obviously lying, according to one middle-aged white male, there's no question about it in his mind.
An older white female claimed that even if it were true, it happened a long time ago, and Roy should be forgiven, after all, people change. Another white male claimed this was just a witch-hunt brought on by the 'fake news' media.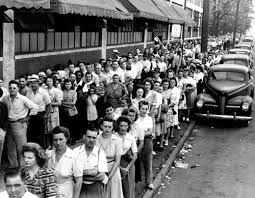 Others blamed the teenage girls for egging him on. And the shocking claim of yet another white older woman was that it's not that much of a big deal, after all back in the 40's it was quite normal for adult males to wed 14 or 13 year old girls.
Maybe in Alabama sweetheart, but not where I come from, and certainly not in this day and age in the United States of America. It's called, among other things, illegal, child molestation, paedophilia, etc.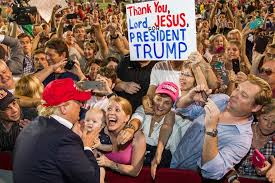 These are the people who would have probably turned up to a public hanging with a picnic; make a day of it. And would have cheered as a witch was burned to death at the stake, a woman they probably accused of being ungodly.
And speaking of God, many of his supporters called Moore a good Christian man, and he even rambled on about God in his speech on Tuesday night, in which he refused to concede to Doug Jones.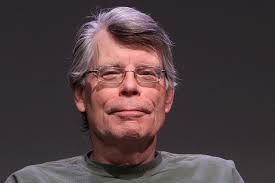 And who threw his support unequivocally behind this tainted candidate? A former state Supreme Court justice fired twice for ethics violations, who hates homosexuals, who even said on a radio show back in 2011 that ending slavery and giving women the right to vote is part of America's problem. A man accused of molesting young women? President Trump, who else.
Well, Mr Trump, this will be a permanent stain on your record and that of the Republican Party. This will be discussed for years to come. You can't untweet this one sweetie.
And let's end with Twitter, Stephen King says it best in his tweet: "I'm wondering if Alabama voters will elect a man they'd horsewhip, if they caught him messing with their own daughters".
The people of Alabama have spoken, and at least for now, decency has triumphed.