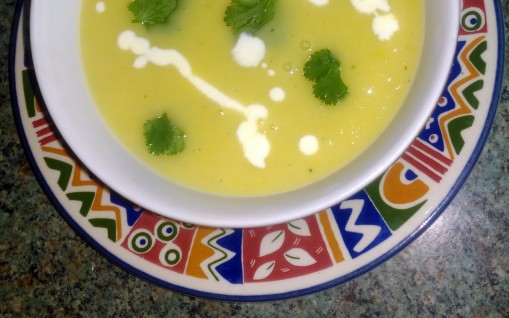 Latest posts by The BREXIT Cook (see all)
Here is an excellent nourishing and warming soup made from simple readily available (post BREXIT) ingredients! Great also for when the next 'Beast from the East' strikes!
Try it! You'll love it!
INGREDIENTS
This recipe will make about 8 bowl portions. Preparation and cooking time 30min.
50g butter
450g parsnips (peeled and sliced into cubes)
3 leeks (sliced)
1 litre of vegetable stock
Lemon rind (grated)
1 tsp Lemon juice
Nutmeg (a pinch)
Black pepper (a pinch)
100ml Single cream
METHOD
Melt the butter in a large saucepan. Add the parsnips, leeks and nutmeg and lemon rind. Cover and cook gently for a few minutes until softened (not browned).
Add the stock and simmer gently for 15 minutes until vegetables are tender.
Add lemon juice and blend until smooth.
SERVING
Add the cream and reheat briefly before serving. Add a sprinkling of chopped coriander leaves.
Mwynhewch!
THE BREXIT COOK
Comments from Mastodon: