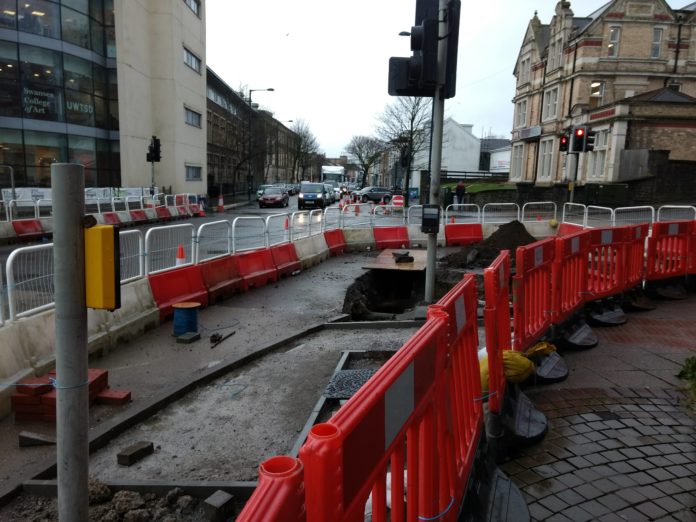 Latest posts by NotSoGreatDictator
(see all)
Former Prime Minister David Cameron has been employed by Swansea Council to take over the running of Swansea roadworks in a bid to end them once and for all.  Mr Cameron won the contract in blind auction at a charity fundraiser for Twitter Rage Awareness.  The non-transferable contract was part of a prize bundle also featuring two tickets to see Shania Twin perform at the Treforest Refectory with chicken in the basket and a lifetime subscription to 'Feel Me Up', the quarterly magazine for Western and Non-Competitive Eastern Reiki.
The Prince of Wales UNESCO world heritage roadworks which have been in place since the late Neolithic era have recently become a source of controversy.  A very vocal minority has voiced the surprisingly popular opinion that the roads of Swansea could be used for cars and other vehicles to drive on for the purposes of people and goods to get from one place to another.
Christmas Period
The traditional function of Swansea roads as primarily a conduit for the expression of urban brutalism in a metamodernist post-truth environment has for many come to represent everything that is wrong with the capitalist system.  For others it is a screaming shit-show of full time fannying around for no good reason.  The recent roadworks amnesty which saw the Kingsway clear for traffic over the Christmas period inspired a newfound hope in some sections of the community.
Flaps McGraw from St Thomas said "It was like I was living in the future.  Cars were moving.  Some from one place to another."
For some reason, a pig
The appointment of Mr Cameron was announced this week by temporary, acting, interim, vice media liaison officer attached to the department of last-ditch full-on desperation.  Mr Spicer described the move as "The best thing that's ever happened. There was the beginning of the world and then this. Let me tell you it's gonna be great, he's got all the qualifications, he's been to that great, great school, the best, it's just great.  He's done all the best jobs.  The main er…  He was in charge of…
The Prime guy, the minister thing.  He was a minister.  Those guys are the best.  It's a real privilege to have him. His record speaks for itself.  Unlike a lot of guys who'll be like into a lot of dodgy stuff… Not this guy. I think I can say with confidence, we've really turned a corner and we can get this roadworks thing cleared up.  He's got some great ideas and for some reason, a pig.  Any questions?
---
Comments from Mastodon: