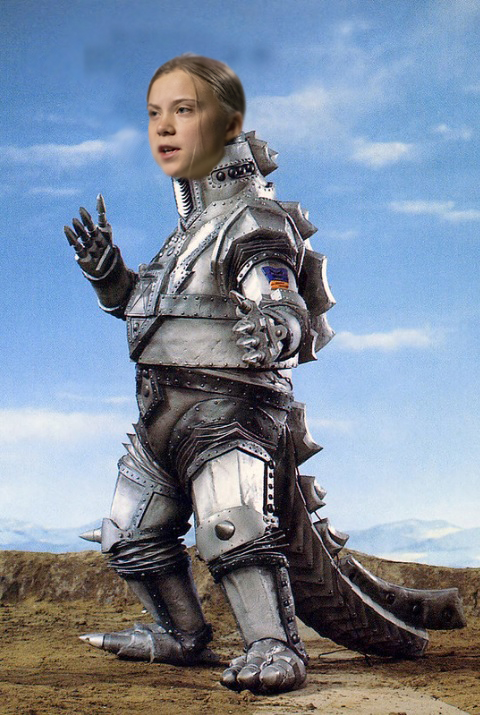 Latest posts by NotSoGreatDictator
(see all)
The Dancing MegaMechaGretaZilla has been named the number one toy of Christmas 2019 we can reveal.  Retailers and toy pundits were stunned this year by the shock entry of what turned out to be the biggest selling toy of 2019.  The MegaMechaGretaZilla outsold massive brand names like Harry Potter, Frozen and Barbie to rack up an impressive £2.5 billion world-wide.
Inspired by the Jaeger giant robots from the film Pacific Rim it features the face of Greta Thunberg and the body of Mechagodzilla, the ultimate champion for all mankind and has caught on with children of all ages.
Facial Recognition Technology
The action figure is 10 inches tall and has a repertoire of 152 dance combos which it can "bust out" in response to vocal commands.  It uses up to the minute facial recognition technology and will "imprint" on the first person it sees when unboxed.  That person can then teach Greta any dance move they like except for moon walking because of the tail.
It also has a range of catchy phrases which it can shout out if it spies anyone in the household performing any "earth-unfriendly acts".  There have already been complaints as one of the toys followed Keith Davies from Porth around his house for seventy-two hours shouting "we will never forgive you" after he put an empty coke can into the general waste bin.
100% Recyclable
The toy's label insists it comes with 100% "recyclable" packaging and its manufacturers claim it's made as close to the point of sale as possible to reduce air miles. At the moment its only production centre is on the outskirts of Wuhan City in Hubei province, central China which makes that as close as possible for everywhere in the world.
That said talks have begun with Cardiff City Council to establish a manufacturing base in St Fagans National Museum of History to take advantage of it's "olde worlde" business rates.  A spokesman for the museum said, "We don't give a flying, as long as the factory looks like it was made out of mud and bits of straw, maybe have an olden days style chimney or something."
Discarded Nuclear Waste
With the environmental impact foremost in the minds of its manufacturers the toy's exo-skeleton is made entirely from discarded nuclear waste shipping containers, used car tyres and mechanically recovered chicken products. The central processing units have been harvested from 1st generation Nintendo Wii controllers by "licensed", "age appropriate", employees using all legally required protective clothing.
Parents have been advised to limit their children's contact with the toys to 45 minutes a day or 65 minutes if they shower regularly and or wear a protective mask.
---
Phil Parry's memories of his extraordinary lengthy award-winning career in journalism as he was gripped by the incurable disabling condition Hereditary Spastic Paraplegia (HSP), have been released in a major new book 'A GOOD STORY'. Order the book now! The picture doubles as a cut-and-paste poster!
Comments from Mastodon: