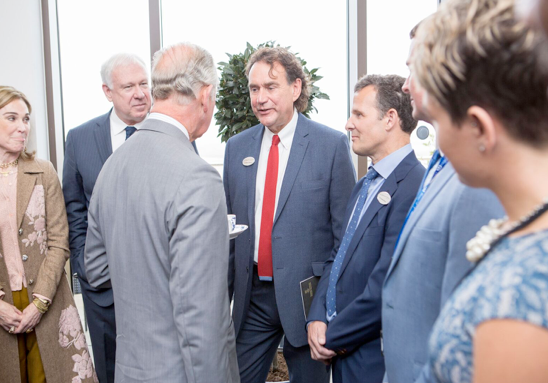 Edwin is a satirist who writes stories for The Eye.
Latest posts by Edwin Phillips (see all)
The Eye satirical writer Edwin Phillips launches our picture competition with this photograph of Prince Charles meeting senior Swansea University staff including Marc Clement, Dean of their controversial School of Management, at the opening of the contentious bay campus, after The Eye revealed a past worker, Stephen Chan, had been jailed in the US for a huge fraud.
Our suggestions for captions include:
(1) Clement to Prince Charles:  "We've met before – when I was in charge of the hugely successful University of Wales (UoW), which made the news when we gave degrees to Malaysian pop stars!" (In November 2010, a TV current affairs series claimed that Fazley Yaakob, a pop star and head of Fazley International College, a UoW partner in Malaysia, held bogus degrees).
(2 a.) Prince Charles to Clement:  " Aren't you that fellow who brought us those scholarship thingies with my name on?" (the Prince of Wales Innovation Scholarship [POWIS])
(2 b.) "It's a shame those politicos took the money away from those scholarship things – such a good idea!" (In 2011 the Welsh Government's Welsh European Funding Office (WEFO) withdrew financial backing from POWIS).
(3)  Clement to Prince Charles (mumbling):  "I hope you didn't read the ridiculous report about all that POWIS business" (the internal inquiry report said:  '… there is a need to improve corporate governance procedures…').
(4)  Clement to Prince Charles:  "You must come and open a new Technium I am planning!" (The Techniums had extremely poor occupancy rates and six were scrapped altogether.  The Pembrokeshire Technium became known as 'Emptium' and the Llanelli site as 'Desertium').
(5)  Prince Charles to Clement, grinning:  "If I slip you a fiver, can you get me a PhD. like that man Chan?!".
If you can do better just contact us!
Tomorrow – why does Chan say he still works at Swansea University?
Comments from Mastodon: