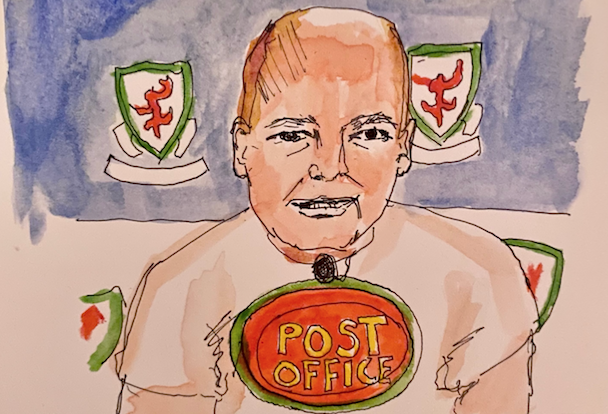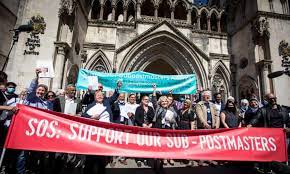 Shock news that the taxpayer will foot the bill with a far higher compensation order when hundreds of sub-postmasters were wrongly pursued through the courts by the Post Office in the biggest miscarriage of justice in British history, highlights a recent bizarre controversy at football's governing body in Wales.
The Post Office (PO), owned by the UK Government, has so far set aside £153 million to pay back 736 sub-postmasters who lost money but were entirely innocent.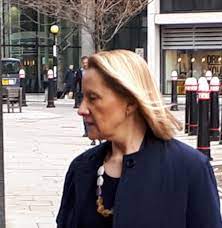 However, compensation experts and lawyers working with victims have said that the final bill is likely to stretch well beyond £1 billion, and the PO believes it "does not have the financial resources for meaningful compensation".
A key player in the wrongful legal pursuit by the PO was Angela van den Bogerd whose appointment as 'Head of People' at the Football Association of Wales (FAW) led to the abrupt departure of the organisation's contentious chief. Jonathan Ford left after losing a vote of no-confidence among senior figures at the FAW following an extraordinary civil war inside the organisation which has never been fully explained by the mainstream media.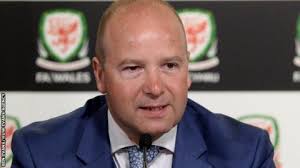 Yet it seems huge problems remain at the FAW.
One former football club director in Wales has told us exclusively:  "Getting rid of Jonathan Ford solves nothing. What about answering my request for details of extremist Welsh nationalist groups 'tagging on' to the Wales national football team on social media!".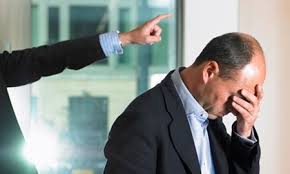 A leading Welsh sports journalist who supplies material for UK publications, said:  "This is ridiculous. They sack Ford but still haven't answered my questions about why an FAW stadium announcer backs (Welsh football supporters' brass band) The Barry Horns and has endorsed Welsh Football Fans for Independence".
Major questions also remain about the disturbing events at the FAW, as it seems that Ms van den Bogerd may have been in Mr Ford's camp, and her appointment was among "multiple" matters of grievance, according to one source.
Before she went there, she had been a PO director, but was found by a judge to have "obfuscated" and "misled" a court.
She has now departed the FAW, too.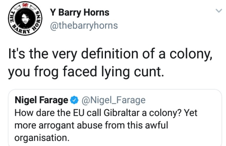 The group her former organisation (the FAW) received the complaint about, The Barry Horns (TBH), are a contentious fans' brass band, which denied calling a politician a "lying cunt" online even though The Eye have found the evidence. They proclaimed about Brexiteers on Twitter "fuck you", and declared about then UK Health Secretary Jeremy Hunt, "Go fuck yourself you Tory bastard", but were to have been used as 'guests' in a performance by BBC Radio Cymru (BBC RC) and the BBC National Orchestra of Wales (BBC NOW), which officials claimed was "Suitable for all ages".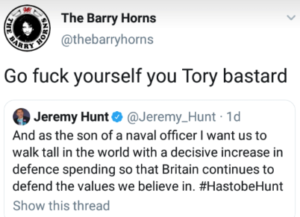 In December of 2019 the angry sports journalist also outlined to the FAW a series of problematic issues: "The Barry Horns have had their official Twitter account shut down for foul and abusive behaviour, and repeated violations of Twitter's terms and conditions. They then set up another account, which was shut down within a week.
A group calling itself 'Welsh Football Fans for Independence' held a march from Womanby St to the Cardiff City Stadium before the last home game. They were setting off flares and singing foul-mouthed chants about the Union Flag (Union Jack).
Large stickers have appeared on lamp posts, post boxes etc around South Wales (and possibly North Wales) from 'Welsh Football Fans for Independence'. The stickers contain the FAW emblem (albeit the old one).
The FAW's stadium announcer, Rhydian Bowen Phillips, has publicly called for the reinstatement of The Barry Horns on Twitter and has endorsed Welsh Football Fans for Independence.
There were banners endorsing Welsh independence at the stadium during the most recent Wales home international."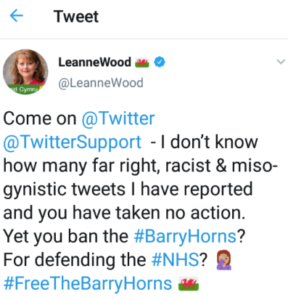 TBH were briefly barred from Twitter following their offensive comments, and after the ban was lifted said that they were "beautiful", yet serious questions have been raised about this contentious decision. The former leader of Plaid Cymru (PC) Leanne Wood spoke out against the restriction at the time, saying on Twitter:  "… you ban the Barry Horns? For defending the NHS?", this was then re-tweeted by then PC (now independent) MP Jonathan Edwards.
The former football club director in Wales had earlier contacted the FAW, asking: "I would like to know what the FAW position is on the Barry Horns who having affiliated themselves to South Wales football now appear to have adopted an aggressive political agenda. Some of their language on Twitter is worse than I have ever endured on football terraces. Is this the sort of agenda the FAW condone?", and action was demanded.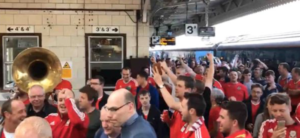 Meanwhile it is obvious that TBH support Ms Wood's (and Mr Edwards' former) party because before the Twitter ban, they exhorted followers to "Join @Plaid Cymru".
They are an eleven-piece brass band, created in 2011 by BBC Cymru Wales (BBC CW) promos director 'Fez' Watkins. Their first public appearance was outside the Wales v England World Cup qualifying match in Cardiff on 26 March 2011. They also appeared at the Welsh Cup Final in the same year, which was broadcast on television.
In March 2017, they were banned, too, from the Republic of Ireland v Wales World Cup 2018 qualifying match in Dublin. In September of the same year, they gave a headline performance at the first Welsh Independence music festival in association with YesCymru, held at Clwb Ifor Bach in Cardiff.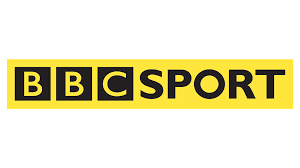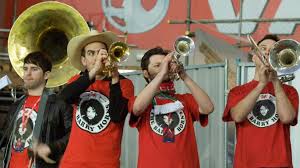 That month TBH also gave football fans from North Wales a surprise welcome to Cardiff with a performance at Cardiff Central railway station ahead of Wales' match against Austria at the Cardiff City Stadium. At the time they declared: "The Horns couldn't wait to greet the train upon its arrival to Caerdydd. Next stop – 3 points!".
Arriva Trains Wales stated:  "The atmosphere on board was amazing with everyone in great spirits all the way down and for The Barry Horns to be welcoming the train and fans into Cardiff was the icing on the cake". A Welsh TV company said:  "The Barry Horns know how to get a party started, even on a station platform".

The headline-grabbing broadcaster BBC CW also found itself brought into the growing row. BBC RC and BBC NOW were due to stage the 'Red Wall' with BH at Pontio in Bangor, although the venue was closed due to coronavirus/Covid-19.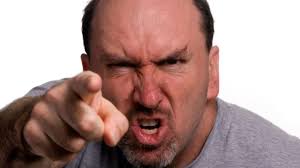 The event was to mark "the amazing journey supporting our national football team through Euro 2020", with the band which had published the deeply offensive remarks to prominent politicians, as 'guest' performers.
On May 27 of 2019 the sports journalist had followed up an earlier demand for action from the FAW by telling them: "I have continued to experience harassment from certain groups… Can you please respond to the concerns?".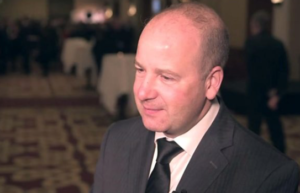 In documents we have seen, a reply from the FAW was simply:  "I have not discussed fully with Jonathan Ford. When I returned from holiday he went away on his…I have followed up on the issues raised but need to talk to Jonathan first."
But then nothing. The accounts of the FAW also make for interesting reading, with EIGHT directors having their contracts terminated on the SAME day – July 31 2019.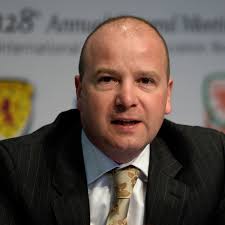 Yet this is not the first time that Mr Ford or his organisation have hit the headlines.
In December 2017 it was reported that the FAW would not take action against him for saying that the Wales football manager could be "foreign", but "definitely not English".
During a BBC Sport Wales interview Mr Ford had said: "… Welsh most definitely, foreign possibly but definitely not English."
Football in Wales under Mr Ford's stewardship, has often hit the headlines, and recently the North Wales town of Wrexham was at the centre of an astonishing row. The FAW was founded in Wrexham, and earlier The Eye exclusively revealed how the violence of some supporters of Wrexham AFC in Manchester, was celebrated by a dissident republican group linked to a militant organisation allegedly behind the killing of a journalist.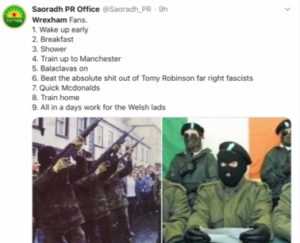 An alarming post on Twitter from 'Saroadh PR' said that some fans of the Welsh football club "beat the absolute shit out of Tomy (sic) Robinson (former English Defence League [EDL] leader) far right fascists" and backed the message with a picture of men in balaclavas holding guns aloft. The tweet outlined a series of mundane actions which included waking up early and taking a train to Manchester before the violence. It then proclaimed:  "All in a days work for the Welsh lads" – 197 accounts retweeted the message and more than 1,200 accounts liked it.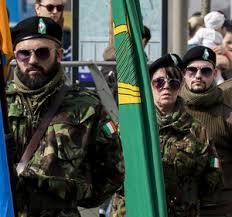 Saroadh, liberation in Irish, is a grouping which has the support of dissident republican organisation the New IRA, which was blamed for shooting journalist Lyra McKee.
Mr Ford was appointed as FAW chief executive in 2009, with a marketing background. He has been widely credited with lifting the FAW's profile and increasing turnover. During his tenure, Wales has staged its first UEFA competition, the European Women's Under-19s tournament in 2013, and hosted the Super Cup final in 2014.
But he may not like his increased profile following a sudden departure from the FAW, after news that the taxpayer will foot the bill with a far higher compensation order when hundreds of sub-postmasters were wrongly pursued through the courts by the PO where his former senior executive used to work…
Tomorrow – the huge sums of public money given to a top executive at the BBC after an enormous pay rise, when it's condemned as 'rewarding failure'!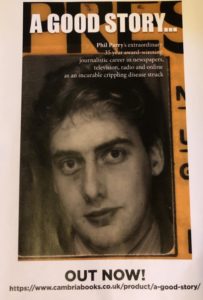 Our Editor Phil Parry's memories of his extraordinary decades long award-winning career in journalism as he was gripped by the incurable neurological disabling condition Hereditary Spastic Paraplegia (HSP), have been released in a major book (including looking behind the headlines of important football events) 'A GOOD STORY'. Order the book now!
Regrettably publication of another book, however, was refused, because it was to have included names.