Latest posts by NotSoGreatDictator
(see all)
Swansea councillors today announced their determination to develop a Tidal Lagoon regardless of any financial decisions made by central government in Westminster.  A number of self funding options are being looked at including renting it out to the Pembrokeshire Underwater Caravan Society whose dream of a camp site free from BBQs and loud music can finally become a reality.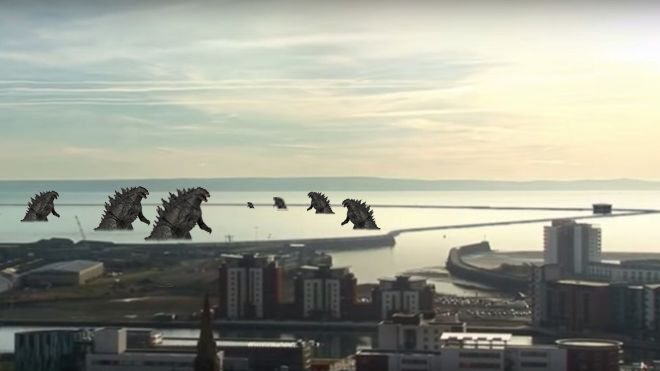 The preferred option however, is a Godzilla nursery for colourful tyrant Kim Jong-un. The North Korean government has expressed an interest in developing an elite squad of highly trained Taekwondo Godzillas with which to threaten the United States and assert their dominance across the Sea of Japan. Unfortunately, international sanctions mean they are unable to secure a sufficiently pure supply of Lava Bread with which to wean the pups.
A leaked report from the Enterprise, Development and Regeneration department at the City and County of Swansea shows how far negotiations have advanced. This excerpt, reproduced below under parliamentary privilege, was secured by our reporter at great expense to both his conscience and dignity.
As a relevant local authority, the City and County of Swansea was formally invited to submit a local impact report (LIR) to the Examining Authority (ExA) giving details of the likely impact of the proposed development on this Authority's area.
Economic impact
Large bundles of unmarked bills being unloaded in the dead of night from shipping containers on the steps of County Hall.
Shockingly extravagant spending sprees by North Korean diplomats high on crack, toting machine guns.
Lava Bread prices sky rocketing, enabling vast seaweed based empires to develop, transforming the C.Watts Cockle Rotunda in Swansea Market into a blinged up hipster paradise.
 Community benefits
A Godzilla petting zoo.
Full employment for previously under utilized Godzilla wranglers.
Cultural exchange opportunities between Swansea and Pyongyang.
The Godzillas will eat all the underwater caravan enthusiasts.
 Risks
Insufficient Lava Bread to satisfy local demand.
Traffic congestion relating to the Godzilla petting zoo.
Complete devastation, for generations to come, of Swansea and the surrounding areas by giant, fire breathing, nuclear mutant lizard creatures.
A freedom of Information request has revealed a backdoor channel has been opened up between Pyongyang and the City and County of Swansea Council. Godzilla eggs are currently being stockpiled in the Amazon Fulfilment Centre in Crymlyn Burrows.  If funding is secured from Westminster the eggs will simply be transferred to the exotic/killer pets section and discounted on Black Friday.