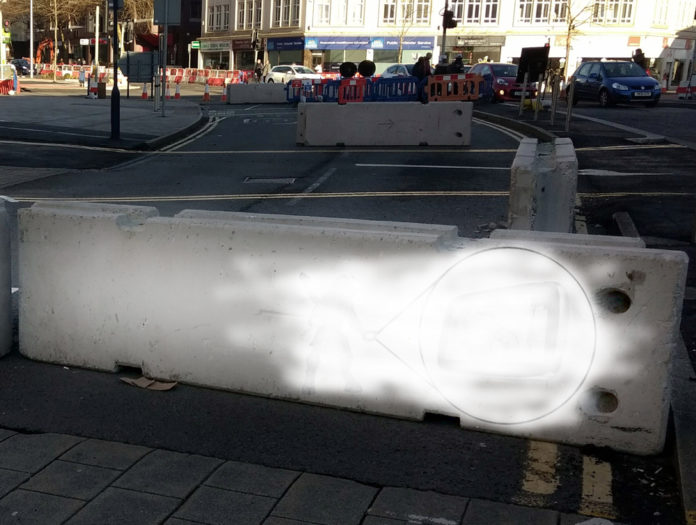 Latest posts by NotSoGreatDictator
(see all)
Swansea Council has power washed their Banksy out of existence and hope it will be a lesson to others that this sort of behaviour simply won't be tolerated.
Eagle-eyed readers will remember a Banksy artwork suddenly appeared in the depths of the Prince of Wales Roadworks last week.  This week I can report it has been successfully cleaned up using a mixture of environmentally friendly facial bleaching technology, good old-fashioned elbow grease and the Hyundai P1PE P4200PWT Petrol Pressure Washer. But mostly the pressure washer.
Sleep deprivation and motivational emptiness
Upon learning there was a Banksy defacing the roadworks, Swansea council immediately authorised the use of all necessary force to ensure its removal.  A crack cleaning team was dispatched, probably from that weird bit between the Market and the Quadrant shopping centre or somewhere like that, to erase the offending graffiti.  They set out on Monday evening and by Wednesday had reached the new, temporary looking roundabout at the western end of the Kingsway. Suffering from sleep deprivation and motivational emptiness they sent up a distress flare which luckily caught the eye of the coast guard.
Since the latest phase of the Prince of Wales Roadworks began plain clothes coast guard officers have started patrolling the city centre offering navigational tips, astrolabes and basic rations to stranded motorists and pedestrians. It is estimated they have reduced roadworks related dystopian fiction by 83% and rumour has it, one person made it out of the city centre and has been reunited with their family.
Royal Edinburgh Military Tattoo
With the help of the coast guard, the cleaning team were able to travel the 500 yards to the other end of the Kingsway within four short days and like a team of sailors at the Royal Edinburgh Military Tattoo they unloaded their cleaning equipment and set to work.
Cleaned its ass
Lickety-split the graffiti was gone and the streets were restored to their pristine pre-art state. Temporary, acting, interim, vice media liaison officer for Swansea Council Roadworks uglification avoidance department, Sean Spicer had this to say.
"Yeah, we cleaned it.  We cleaned its ass. We cleaned it good. Yeah… Coming into my town… My town… My town and with graffiti. My town… This is the line in the sand. You graffiti in my town and it will be cleaned. We got the best cleaners.  Cleaners like you've never… Like you've never seen… You'll see. We made these roadworks great again and we'll do it again. I say this to Banksy, you will not do art on these great roadworks.  We're all proud of these roadworks.  We built roadworks to last a thousand years and as God is my witness you will not tarnish that vision.  I will hunt you down and kill you myself with my fingers. Any questions?