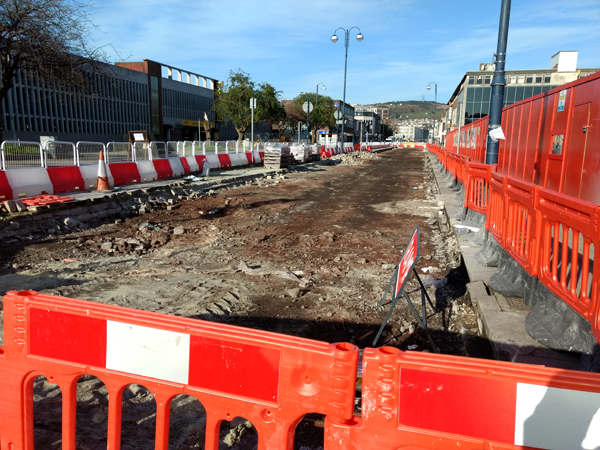 Latest posts by NotSoGreatDictator
(see all)
Swansea City Council in conjunction with Arts Council Wales and The National Theatre of Wales are set to develop a groundbreaking immersive, environmental work of art; 'Swansea Roadworks The Musical'.  The search is on for two talented individuals to play star-crossed lovers Tony and Mario.  Tony is a slab layer for Sondheim Engineering the company responsible for the interpretive roadworks throughout Swansea whereas Mario is a steel erector for Bernstein Construction Ltd, the builders of the Mi5 regional intrusion office where Martha's Vineyard used to be.

Rivalry
A bitter rivalry between the two crews erupts into violence one Friday night in the Potters Wheel when four men get their thumbs bitten off during a particularly fractious pool tournament.  From that day on the men express their mutual hostility by exchanging hard stares across whichever lane of traffic is currently operating on the Kingsway.
Tony and Mario meet when Mario gets stuck up a crane after tea time and Tony, hearing his plaintive cries, scales the outside to bring him a Sweet Onion Chicken Teriyaki on wholemeal with pumpkin seeds.  Their romance blossoms but fate is at work driving them apart and Tony is soon forced to choose between his love for Mario and loyalty to the cause of indefinite, interpretive roadworks construction and reconstruction.
Car Park
The musical is scheduled to debut in the car park of Tesco Forest Fach utilising the full size reconstruction installed by First Minister The Rt Hon Carwyn Jones AM.  The book will be written by Virtual Lord Mayor Paul Durden and the score will be written by whoever it is that does all those plinky plonky acoustic covers of rock songs for expensive adverts.
Temporary, acting, interim, vice media liaison officer for Swansea Council Roadworks Creation and Recreation department, Sean Spicer had this to say.
This is going to be the best musical, all the best notes… The numbers are going to be off the chart for these notes. As, Bs, Ks, everything.  All the notes, with words too… It'll be great. We'll have songs, dancing… To the music… With feet. Beautiful feet.  All the toes.  The best toes.  I've seen the music. It just looks great. The most musical… And words too… Big words.  But the right ones, not just any words. Great words.  Everyone's going to love it.  Any questions?