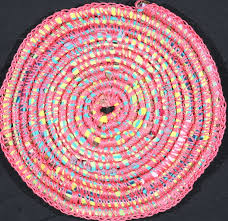 Latest posts by NotSoGreatDictator
(see all)
A blazing row has erupted at the Royal Welsh show that threatens to eclipse even the now legendary leering sheep scandal at the 2010 Sheeptacular, when a Beulah Speckled Face ram was accused of giving Dave Price's girlfriend funny looks. Dave offered him out but was placated with Scampi Fries and a selection of cheese samplers.  Footage of another unrelated and mercifully scandal free Sheeptacular can be seen here.
[embedyt] https://www.youtube.com/watch?v=r_KtjB2Xxeo[/embedyt]
Even worse than that is this year's rapidly escalating Twijazzling scandal.  This all stems from a Twijazzling boutique that's set up stall half way up Avenue G and has seen queues forming at 7 in the morning. Sometimes of people. For the uninitiated perhaps I'd better explain what Twijazzling is.
Ever wondered where farmers buy their clothes? Those green corduroy trousers, tweed jackets and flat caps? I can reliably inform you it is at the Royal Welsh Show.  Stroll around the show ground and you will see outlets aplenty selling accoutrements from wellies to walking sticks and everything in between. Every item comes in a variety of styles and can be individualised by the stylish farmer about town. Every item that is except for the ubiquitous bailing twine used by all farmers to keep their trousers from falling down when in mixed company.
This indispensible piece of attire has so far been neglected by gentlemen's outfitters and farmers have traditionally been left to fend for themselves, often wearing the same piece of twine for decades.  This year however all that has changed and not everyone is happy about it. In the divisively named "Twine Town" Twijazzling Boutique, stall holder Glynog Ap Glynog is offering a range of designer bailing twine for the discerning young farmer.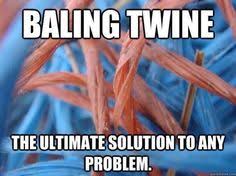 Cut to length and hand seared to prevent fraying, each twine is individually crafted out of organic, local fibres using hypo-allergenic dyes and 3D printed with the message of your choice. When our reporter spoke to him, Glynog was more than willing to outline his vision for the future of trouser support technology.
"We use a lot of glitter as well as natural fibres. The juxtaposition of the traditional and the overtly, you might say ironically, camp visual imagery expresses a new confidence and we find young farmers want the ability to strut. The peacock can be just as at home amongst silage as a celebrity gala. We've sold three quarters of a ton this week and have had to send to Beijing for more glitter".
Gruffydd Thomas of the Llandeilo milk farmers book club was equally forthcoming but in a more critical vein.
"I'm sick of all these hipsters, not one of them's seen a farm. Trampling all over our traditional traditions. The bailing twine belt has been around as long as, well, either belts or bailing twine, I don't know but that's not the point. I've got bailing twine around my waist because I can't be arsed to buy a belt. My father couldn't be arsed before me and his father couldn't be arsed before him. You've got these young farmers, that don't even need belts spending all this time on that Internet looking for blinged up bailing twine, they want their heads read. It'll come to no good, you mark my words."
A spokesman for the Royal Welsh Show Ground said "Stall holders are allowed to sell anything that doesn't contravene the laws of England and Wales. To be honest Gruffydd is always banging on about something so we tend not to listen anymore".
The designer bailing twine industry is worth an estimated £5.3 million annually to the Welsh economy and plans to expand into Devon, Cornwall and Shoreditch have been enthusiastically welcomed although not by Gryffudd Thomas who has now gone on hunger strike "until they at least take the glitter out".