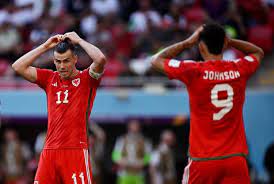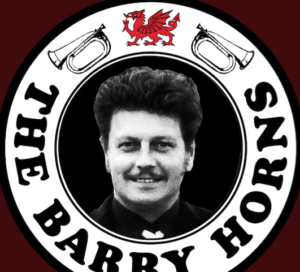 Wales' ignominious defeat by Iran and tonight's crucial game against England in headline-grabbing Qatar, put centre stage controversies about a brass band run by Welsh football fans, which has been accused of blasting out anti-English messages in a row over a £17,000 taxpayer grant, and declared about a UK Government minister, "Go fuck yourself you Tory bastard".
The Barry Horns (TBH) – named after the former Wales footballer Barry Horne – have attracted outrage for their actions, which included vilifying a TV personality for offering a holiday home to a Ukrainian family.
But giving them thousands of pounds of public money prompted partiular fury on social media, with one critic posting on Facebook (FB): "I don't want money going to this bunch of foul-mouted yobs".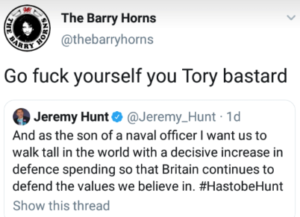 Another proclaimed on Twitter: "Apparently this is what happens in Wales. A band which uses the 'f' and 'c' words is rewarded with lots of money!".
It is clear, though, that TBH do have support from some prominent nationalist politicians, despite their past, and criticism, too, by the Welsh Conservatives (WC).
The Plaid Cymru (PC) Member of the Senedd/Welsh Parliament for Anglesey Rhun ap Iorwerth MS, said on Twitter: "… – the Barry Horns are an institution! (Welsh flag and football emojis) Don't pick on @thebarryhorns, (angry face emoji) (hashtag)redwall (hashtag)walgoch".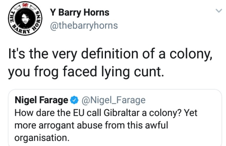 However the context for such adulation from a prominent Welsh figure, and award of public cash, is disturbing, because TBH have in the past denied using the "'C'bomb" to condemn the politician Nigel Farage, although journalists on The Eye have found the evidence on social media.
TBH have also been told that tweets should be proof read before they are sent, but responded by calling the person a "wtat".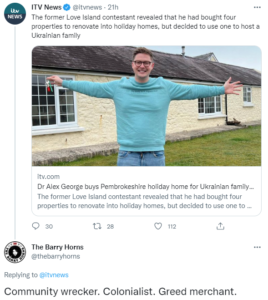 Apparently endorsing this, their use of social media has been extensive, if controversial, and included references to the cottage-burning outrage in Wales.
They have used Twitter to slam as a "Community wrecker. Colonialist. Greedmerchant.", former Love Island contestant, Dr Alex George for buying a Pembrokeshire holiday home, to house a family fleeing the war in Ukraine.
They dubbed Mr Farage on Twitter, a "frog faced lying c…" (our dots), while the 'Tory bastard' comment was directed at the then Secretary of State for Health (now Chancellor of the Exchequer) Jeremy Hunt.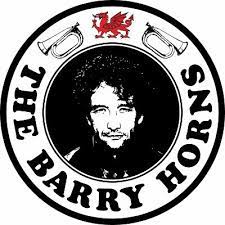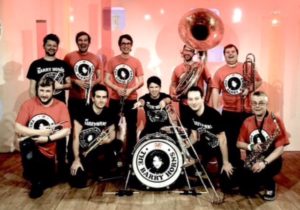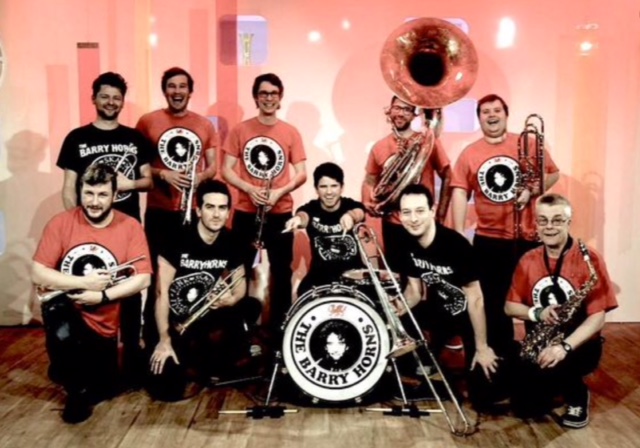 Several years ago, a media commentator and journalist who has been monitoring the activities of TBH, complained officially about them to the Football Association of Wales (FAW), but has had no substantive reply.
In December 2019 the angry journalist outlined to the FAW a series of problematic issues: "The Barry Horns have had their official Twitter account shut down for foul and abusive behaviour, and repeated violations of Twitter's terms and conditions. They then set up another account, which was shut down within a week".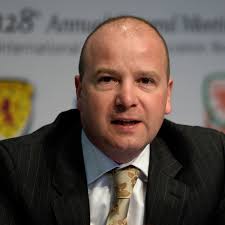 But in documents The Eye have seen, the reply from a senior official at the FAW was simply:  "I have not discussed fully with (then Chief Executive) Jonathan Ford. When I returned from holiday he went away on his…I have followed up on the issues raised but need to talk to Jonathan first". However, then there was total silence.
The FAW was asked by another fan (who has also received no reply):  "I would like to know what the FAW position is on the Barry Horns who having affiliated themselves to South Wales football now appear to have adopted an aggressive political agenda.

"Some of their language on Twitter is worse than I have ever endured on football terraces. Is this the sort of agenda the FAW condone?".
A further fan around that date, attached some of the comments on Twitter by TBH in his complaint to the FAW, following an earlier piece about them on The Eye, saying:  "As you can see, the abusive language they use is absolutely disgusting. It has attracted negative media attention on a widely-read Welsh news website. Their behaviour, and the behaviour of other groups in the Welsh nationalist movement who are 'tagging on' to the FAW and the Wales team's success are already damaging the reputation of Welsh football…".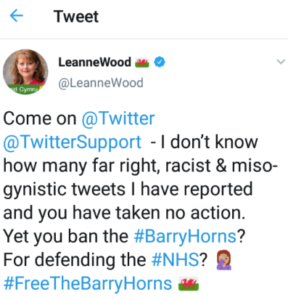 As the FAW have been notified, TBH briefly faced being barred from Twitter following their offensive comments, and after the ban was lifted said that they were "beautiful", yet queries were raised about this contentious decision. The former leader of Plaid Cymru (PC) Leanne Wood spoke out against the restriction at the time, saying on Twitter:  "…you ban the Barry Horns? For defending the NHS?", this was then re-tweeted by the disgraced former PC (then independent) MP Jonathan Edwards, who was cautioned by the police after assaulting his wife.
Meanwhile it is obvious that TBH back Ms Wood's (and Mr Edwards' one-time) party because before the Twitter ban, they exhorted followers to "Join @Plaid Cymru".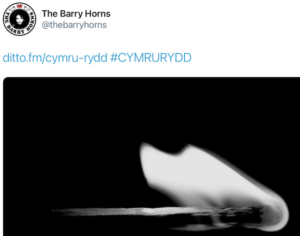 TBH are an eleven-piece brass band, made up of fans of the Welsh national football team, created in 2011 by BBC Wales promos director 'Fez' Watkins.
Their first public appearance was outside the Wales v England World Cup qualifying match in Cardiff on 26 March 2011. They also appeared at the Welsh Cup Final in the same year, which was broadcast on television.
In March 2017, the band were kept out of the Republic of Ireland v Wales World Cup 2018 qualifying match in Dublin, but in September of the same year, they gave a headline performance at the first Welsh Independence music festival in association with Yes Cymru, held at Clwb Ifor Bach in Cardiff.
That month TBH also gave football fans from North Wales a surprise welcome to the city, with a performance at Cardiff Central Station ahead of Wales' match against Austria at the Cardiff City Stadium.
Officials said: "The Horns couldn't wait to greet the train upon its arrival to Caerdydd. Next stop – 3 points!".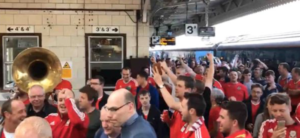 The former rail franchise-holder for Wales, Arriva Trains Wales (ATW) proclaimed:  "The atmosphere on board was amazing with everyone in great spirits all the way down and for The Barry Horns to be welcoming the train and fans into Cardiff was the icing on the cake".
A Welsh TV company said then:  "The Barry Horns know how to get a party started, even on a station platform".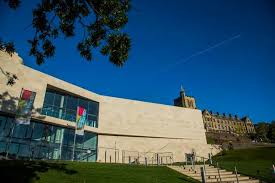 The contentious broadcaster BBC Cymru Wales (BBC CW) also found itself brought into the growing row. BBC Radio Cymru (BBC RC) and The National Orchestra of Wales (NOW) were due to stage the 'Red Wall' with TBH at Pontio in Bangor, although the venue was closed due to the coronavirus/Covid-19 pandemic.
The event was to mark "the amazing journey supporting our national football team through Euro 2020", and was apparently 'suitable' for children. The band which had published the deeply offensive remarks to prominent politicians, were 'guest' performers.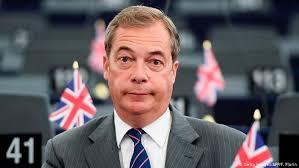 Wales' World Cup matches have highlighted that there is also 'support' for a Welsh brass band with a £17,000 grant, even though they have said about a UK Government minister, "Go fuck yourself you Tory bastard", used the 'C' word, and attacked a TV personality for offering a holiday home to a Ukrainian family.
Our Editor Phil Parry's memories of his remarkable 39 year award-winning career in journalism (including 23 years at the BBC) as he was gripped by the incurable neurological disabling condition Hereditary Spastic Paraplegia (HSP), have been released in a major book 'A GOOD STORY' (which includes looking at examples of money going to dubious organisations). Order the book now!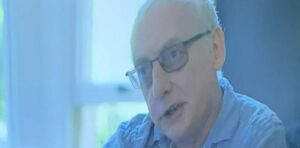 Regrettably publication of another book, however, was refused, because it was to have included names.