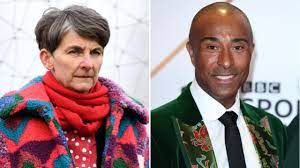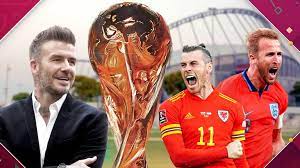 As the Qatar World Cup kicks off (amid celebrations that the Welsh team have qualified for the first time in 64 years), consternation is growing that high-profile former sports stars who are gay and campaign for Lesbian, Gay, Bisexual and Transgender Plus (LGBT+) rights, have been made 'ambassadors' to promote Wales, when it is illegal to be homosexual in the tournament's host nation.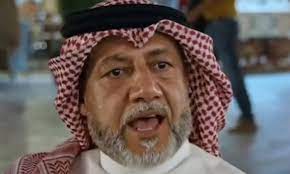 This is made even more acute by comments from a representative of Qatar football, including describing homosexuality as a form of "damage in the mind".
Speaking on the German public broadcaster ZDF, former football star and another 'ambassador' for the World Cup, Qatari Khalid Salman also appallingly said that gay people were bringing in to his country something that was "not good", and he was worried children might see gay men and women.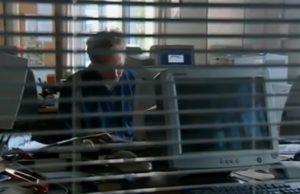 So here our Editor Phil Parry looks at whether appointing two gay people to promote Wales during a tournament in a country where it is illegal to be homosexual, might actually be an example of pretending to protest at this situation by selecting people who might have wanted to do the job anyway.
Earlier he described how he was assisted in breaking into the South Wales Echo office car when he was a cub reporter, recalled his early career as a journalist, the importance of experience in the job, and making clear that the'calls' to emergency services as well as court cases are central to any media operation.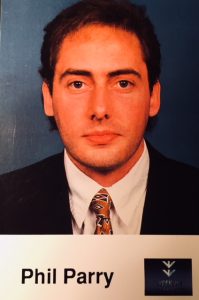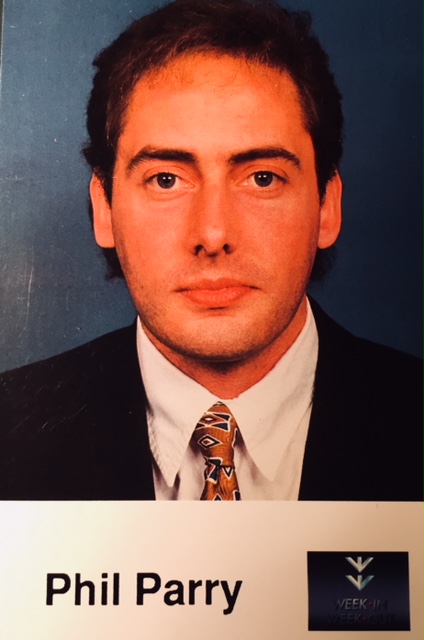 He has also explored how poorly paid most journalism is when trainee reporters had to live in squalid flats, the vital role of expenses, and about one of his most important stories on the now-scrapped 53 year-old BBC Wales TV Current Affairs series, Week In Week Out (WIWO), which won an award even after it was axed, long after his career really took off. 
Phil has explained too how crucial it is actually to speak to people, the virtue of speed as well as accuracy, why knowledge of 'history' is vital, how certain material was removed from TV Current Affairs programmes when secret cameras had to be used, and some of those he has interviewed.
He has disclosed as well why investigative journalism is needed now more than ever although others have different opinions, how the coronavirus (Covid-19) lockdown played havoc with media schedules, and the importance of the hugely lower average age of some political leaders compared with when he started reporting.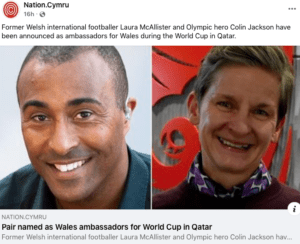 It smacks of being disingenuous.
We are told that naming two Lesbian, Gay, Bisexual and Transgender Plus (LGBT+) people to represent Wales during the World Cup is a way of showing our country is "progressive and modern", so challenging the appalling fact that being gay in Qatar is unlawful.
Ex-sprinter and Olympic silver medallist, Colin Jackson, who came out as gay in 2017, will be joined by former Welsh footballer, Laura McAllister, a one-time board member of the gay activism charity, Stonewall, which proclaims on its website masthead: "Stand with LGBTQ+ people in Qatar".
Stonewall is campaigning strongly against the ridiculous rule in Qatar that it is illegal to be gay, and features a news piece asking: "Why does it matter that the World Cup is in Qatar?". It has also organised a petition to fill a 'virtual' stadium (which I have signed), with the headline: "This World Cup season, let's fill a virtual stadium with pride for LGBTQ+ people in Qatar".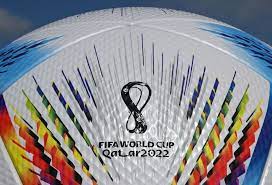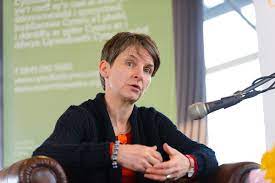 Yet Professor McAllister has declared: "The World Cup offers an unprecedented opportunity for us to raise the profile of Cymru whilst also staying firm to and promoting our values of diversity, inclusivity and respect for human rights".
The 'ambassador' designations seems to have worked already in terms of raising "the profile" of Wales.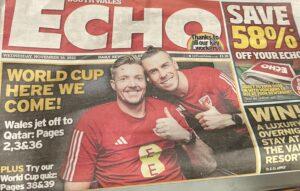 The Cardiff-based newspaper, South Wales Echo (SWE) reported the announcement, with the words: "They will act as influential voices for Wales in Qatar".
The publication also headlined: "WORLD CUP HERE WE COME!" on its front page, with THREE pages devoted to 'news' about the Welsh team flying to Qatar, and a World Cup quiz on another TWO pages.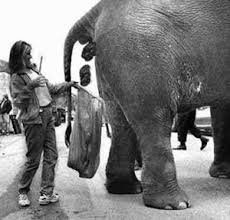 But these appointments seem extremely convenient.
Is it possible that giving as a reason that it is a way of confronting an iniquitous law against being gay, is really just an excuse for offering people jobs they would have wanted to do anyway?
It isn't simply the anti-gay law which has been highly controversial, with negative headlines about it around the world, but the tiny petro-state's human rights record in general. The treatment of migrant workers in Qatar has been a particular source of concern, amid allegations that huge numbers have died building the tournament's SEVEN stadiums costing over £6.5 billion, an expanded airport, and dozens of hotels. They are employed under a system known as 'kafala' ('sponsorship'), but are known to be harshly treated and worked to the bone.
The money that has been involved in the competition has faced several huge attacks, among them charges that it is simply cash down the drain. There are accusations, too, that large amounts changed hands before the tournament was awarded to Qatar.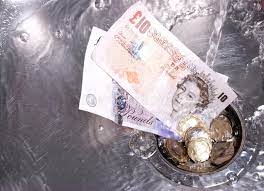 A leader in The Economist about these issues was headlined: "Is the World Cup a giant waste of money?", and included the line: "…two-thirds of coverage in British media has been critical, focusing on the desert state's poor human-rights record".
Broadcasts of the opening ceremony yesterday, were NOT what the authorities in Qatar had expected, as the BBC concentrated on the treatment of migrant workers, highlighted corruption at football governing body FIFA, and discussed the ban on homosexuality.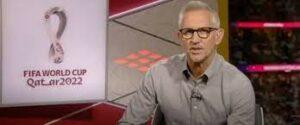 Match of the Day (MOTD) host Gary Lineker said: "It's the most controversial World Cup in history and a ball hasn't even been kicked".
There was then an evisceration of the political skulduggery and corruption that led to the world's best footballers gathering at Qatar's capital, Doha, in the middle of the European Autumn.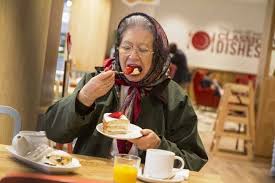 It is in this context, that people taking important jobs they could have been thirsting to do even so might, perhaps, be called 'having your cake and eating it'.
Maybe it would have been better to have made a stand, by saying publicly: "I believe in human rights, so I will NOT accept the role of ambassador for Welsh football in the World Cup".
Conceivably that could have had more impact, than taking up the job, and saying it is a means of opposing what is happening there.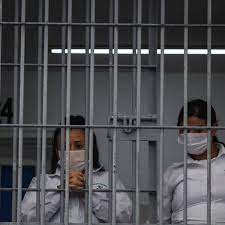 Let's look in a bit more detail at one of Wales' new 'ambassadors' (Professor McAllister).
Her sexuality is treated as a crime in Qatar, punishable by prison, and rather than acknowledging the absurdity of this law, when it is part of the identity of an ex-footballing member of the great and good, it could make it easier for officials there to ignore everything she says.
Apart from being gay, her background as a former international player could have contributed to the appointment, and she has been a fervent supporter of possible opportunities for Wales in qualifying.

For example, Professor McAllister (who won 24 caps for Wales) tweeted (with a link to her article in the Western Mail [WM]) that there was "…no time to waste if we're (Wales) to ensure sustainable benefits from (Hashtag) Qatar 2022".
Professor McAllister (with her partner) has a child, which would, of course, be legally proscribed in the country hosting a contest that she exhorts Wales "to ensure sustainable benefits from".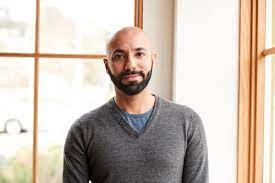 She may be particularly interested in the fact that, earlier this year, under the headline 'DOCTOR BECOMES 'FIRST' QATARI TO PUBLICLY COME OUT AS GAY' The Independent reported the feelings of one gay man.
Nas Mohammed said: "I walked into a gay club and I knew I was 100 per cent gay. I went home and cried – I thought my life is in crisis. I thought I was going to go to hell, my life is damned".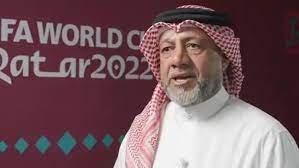 Underlining this dreadful position, one leading Welsh football presenter, told The Eye:  "A producer I work with is gay and he can't go!".
However it appears that Professor McAllister's almost constant presence in broadcasts, is attracting criticism (she appeared on BBC Radio Four's Today programme only on Saturday pontificating), as she comments on current affairs, or sometimes giving her unusual reasons for supporting Wales going to Qatar.
One outraged reader of the Nation.Cymru piece about her 'ambassadorship', wrote underneath it: "It seems to me practically every TV programme produced by BBC Wales that requires an opinion on Wales (Welsh elections, Welsh Government policy, Welsh football) Laura McAllister is there. And now she's off to Qatar to represent us. is there anything she can't do?".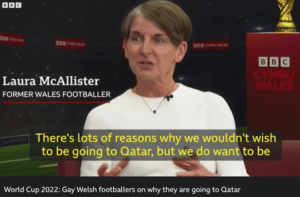 In the past controversial comments from another football 'ambassador' (this time a Qatari) have highlighted the primitive nature of the law there.
Remarks from Khalid Salman, (like Professor McAllister, a retired football international), have underscored the terrible facts that gay sex carries a punishment of up to three years in prison, as well as incurring the possibility of the death penalty for Muslims under sharia law.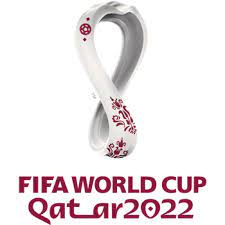 After making outrageous and ignorant comments about gay people on television, he was swiftly cut off by a media adviser.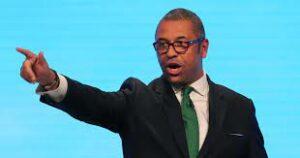 This contentious approach to being gay in Qatar caused a huge storm, with remarks from politicians adding to it.
The Foreign Secretary, James Cleverly said even before them, that fans should be: "Respectful of the host nation" (which has a TINY population of just 2.9 million people, but with an estimated 1.7 million migrant workers). However Lucy Powell the Shadow Culture Secretary declared: "This is shockingly tone deaf from James Cleverly".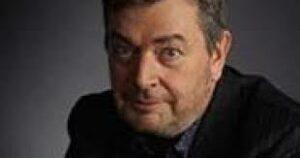 Under the headline: Why Qatar makes this football fan so uneasy", The Times columnist David Aaronovitch stated: "…it is effectively a monarchical dictatorship", as well as: "…I wouldn't dream of going (to Qatar).
Even watching from afar feels horribly like collusion. It's all a bit sad".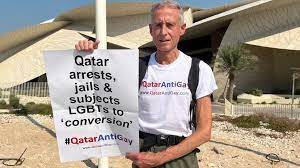 Others though, HAVE gone to Qatar, if only to protest about its severe laws.
The LGBT+ campaigner Peter Tatchell demonstrated against them Doha, where he held up a placard which said: "Qatar arrests, jails and subjects LGBTs to 'conversion'".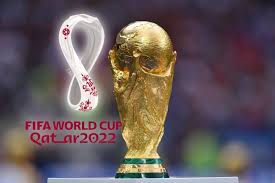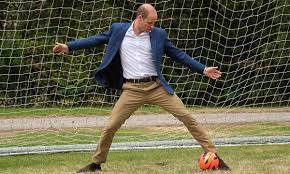 This predicament may be connected to it being disclosed that Prince William is not now to travel to the country, despite the fact that he is the President of the Football Association (FA).
Even the former president of football governing body, FIFA, (Sepp Blatter), appears now to have reversed his position, and says the decision to award the World Cup to Qatar was a "mistake".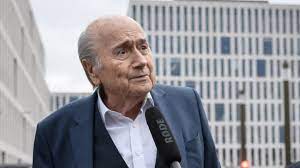 We are told this is to do with the size of the country, and not connected with human rights abuses, but his observation will only add to the worrying headlines about Qatar.
Mr Blatter's change of heart comes as 10 European football associations – including those of England and Wales – have now said: "human rights are universal and apply everywhere".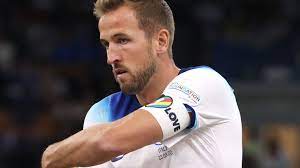 Peaceful protests have been planned by some players, while England's Harry Kane and nine other captains of European teams were to wear 'One Love' armbands to promote diversity and inclusion, among them the Wales captain Gareth Bale. 
But it has been decided not to wear them after a threat from FIFA that captains could face an instant yellow card for doing so.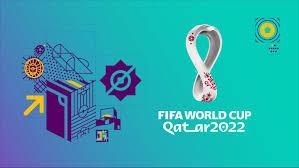 "FIFA has been very clear that it will impose sporting sanctions if our captains wear the armbands on the field of play", a joint statement from the Football Associations of England, Wales, Belgium, Denmark, Germany, The Netherlands and Switzerland said.
The teams insisted they were prepared to "pay fines that would normally apply to breaches of kit regulations" but "cannot put our players in the situation where they might be booked or even forced to leave the field of play".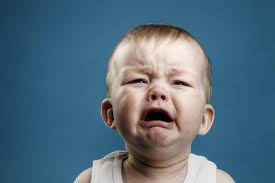 "We are very frustrated by the FIFA decision which we believe is unprecedented – we wrote to FIFA in September informing them of our wish to wear the One Love armband to actively support inclusion in football, and had no response", the statement added.
This cri de coeur emerged in the hours before England open their World Cup campaign against Iran, and Wales play USA in the evening match.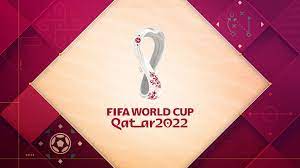 Denmark were due to don 'toned-down' shirts in protest, with kit provider Hummel saying it "does not wish to be visible", while Australia's squad have released a video urging Qatar to abolish its laws on same-sex relationships.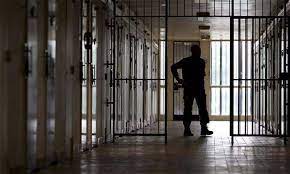 Two excellent recent books have explored the horrors of life inside Qatar, called 'Hidden Stories From One of the Richest Nations on Earth' by John McManus, as well as 'Qatar and the 2022 FIFA World Cup : 'Politics, Controversy, Change' by Paul Michael Brannagan and Danyel Reiche.
A review of them by the London Review of Books (LRB), has put centre stage one of the key issues in the country, when it published: "Homosexuality is illegal in Qatar, and though the organisers of the World Cup have insisted that everyone is welcome it remains to be seen how public demonstrations of same-sex affection will be handled; earlier this year one of the men in charge of security at the tournament Major General Abdulaziz Abdullah al-Ansari, warned that rainbow flags may be taken from fans for their own protection".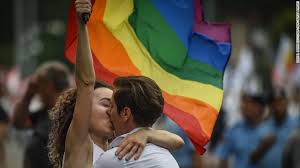 All of this is extremely worrying; human rights come FIRST, and national pride or sporting 'ambassadorships', come SECOND!
Perhaps Professor McAllister may also need 'protection' in Qatar even though she is promoting Wales, when she is gay and a noted advocate of same-sex love, while homosexuality is illegal in the country…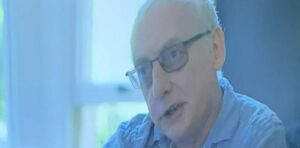 The memories of Phil's remarkable 39 year award-winning career in journalism as he was gripped by the incurable neurological disabling condition Hereditary Spastic Paraplegia (HSP), have been released in a major book (including stories about big football events) 'A GOOD STORY'. Order the book now!
Regrettably publication of another book, however, was refused, because it was to have included names.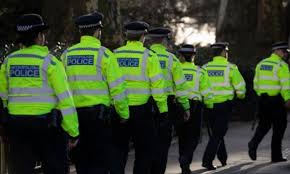 Tomorrow – how shocking reports about the number of corrupt officers in police forces, highlight once again disturbing revelations that the biggest one in Wales has been responsible for a string of recent miscarriage of justice cases.