Writer, humourist, satirist, vBlogger and Lego fiend. Get the book Making Wales Great Again #MWGA

Latest posts by NotSoGreatDictator (see all)
As the Six Nations Tournament is once again upon us, the question on everyone's lips this year is, "giant mutant death dealing moth beasts; in or out?"
In years gone by the issue of whether or not the roof of the Principality Stadium would be open or closed was a major bone of contention. Traditionally, visiting teams have preferred it open due to the intensely oppressive atmosphere generated by the Welsh fans singing that song about the boy getting savaged by the family pet. This year the Trump administration backed Mothra breeding program means that up to ten Mothras could be in the Principality Stadium at the start of the game.  Warren Gatland has expressed his preference for leaving them in during the game, arguing that "they don't like the rain" and that "several of them have season tickets".
Chairman of the Board of Directors of the Welsh Rugby Union Gareth Davies insisted they should serve their agreed purpose as floating advertising hoardings, chained up like dinghies high above the stadium.  "We must maximise the commercial potential of these flamboyant but massively dangerous harbingers of death or we wouldn't be doing our duty to the fans or our commercial partners, many of whom own shares in the Mothra breeding program."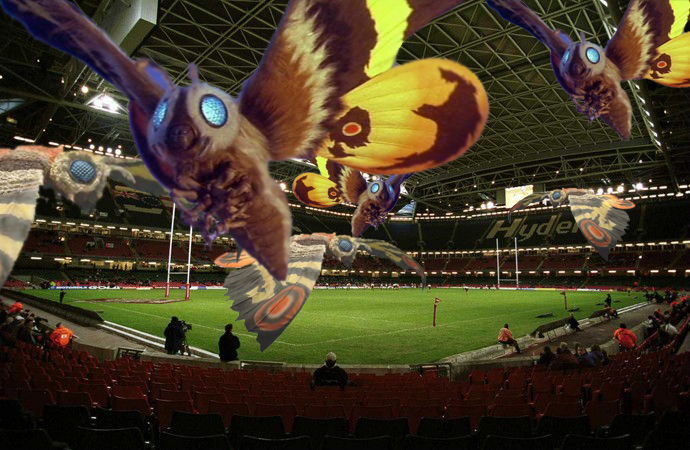 The Scotish team have insisted the Mothras be let out for the duration of their game because Stuart Hogg has a thing about moths and if he hears them flapping it will do his head in and he won't come out of the dressing room. The Scottish coach also said that, due to their sustainability policy, their team costumes are all natural fibres which are like catnip to moths.
Rules state that the decision should be made on the toss of a coin but Gareth Davies has said it should at least be best of three or even rock, paper, scissors. He dismissed claims that Scotland captain John Barclay was Dollar Academy rock, paper, scissors champion four years in a row between 2000 and 2004 as fake news.
Acting temporary substitute media relations executive Sean Spicer, formerly of the Ministry of Justice, formerly of Coeliac and Polony Genetics and formerly of The White House press corp had this to say.
"These are the best Mothra, they're really great Mothra. Everybody loves them all the time, they're so great. Roof open, roof closed, doesn't matter. They're the biggest Mothra, did you know that? Yeah. The biggest. They've got the wings. Those things coming out of their head. Everyone's going to love them, you'll see. You wait and see."
Comments from Mastodon: