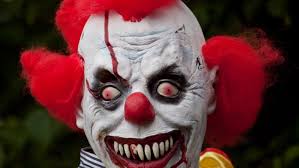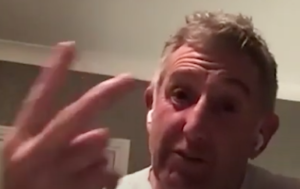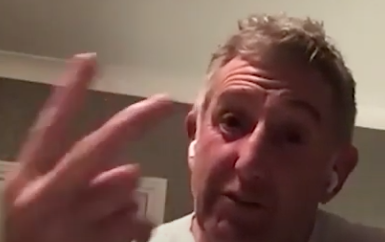 Our satirical writer Edwin Phillips tries his hand at rugby commentary like controversial Welsh pundit Jonathan Davies, who used foul language to abuse publicly a fan, called others "bell ends", was filmed spraying a fire extinguisher into the face of a celebrity friend, and has been dubbed by fans on Twitter during Saturday's France v Wales game, a "joke", "boring", "unbearable", as well as an "irritant".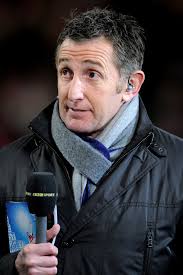 'THE OPPOSING TEAM IS FRENCH, SO ANYTHING COULD HAPPEN!
(Thinks) I MUST use the key commentary phrases that my esteemed colleague Jonathan Davies uses all the time-"It's on", "Watch this", "Go wide", and "Numbers".
'DO NOT REACH FOR THE MUTE BUTTON, JUST BECAUSE ONE OF HIS FANS HAS SAID IN THE PAST:  "FFS THAT LITTLE IRRITANT JONATHAN DAVIES AGAIN ! REACHES FOR MUTE BUTTON"..
'OR AS ANOTHER OF MR. DAVIES' SUPPORTERS SAID, THIS "DOES MY HEAD IN", AS THE KIND OF EXCITING GAME WE ARE SEEING NOW WON'T GET THE RESPONSE: "OH FUCK OFF JONATHAN DAVIES YOUR BORING THE FUCK OUT OF ME NOW".
'THIS IS EVEN BETTER THAN THE WALES V ENGLAND GAME WHERE MR. DAVIES, WAS DESCRIBED AS A "MORON", A "TOTAL DISGRACE", "AWFUL", AND WITH ONE OF HIS DEFENDERS SAYING HE WANTED TO RIP HIS EARS OFF "EVERY TIME (HE) OPENS HIS MOUTH".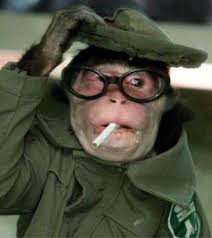 'AND THEN THERE WAS THE WALES GAME AGAINST IRELAND WHERE ANOTHER FAN OF MR. DAVIES' COMMENTARY SAID ON TWITTER, THAT IT WAS "AWFUL", "BIASED", "BULLSHIT", AS WELL AS SOUNDING LIKE HE WAS "MASTURBATING", WITH THE BBC BEING URGED TO "GET RID" OF HIM.
'THIS MATCH IS ALMOST AS RIVETING AS A TELEVISION VIEWER SAYING ON SOCIAL MEDIA:  "@BBCSPORT CAN YOU PLEASE STOP JONATHAN DAVIES FROM HAVING AN INPUT INTO ANY RUGBY COMMENTARY! IT'S PAINFUL! I'VE HAD TO TURN THE SOUND OFF AND LISTEN TO RADIO COMMENTARY OF THE GAME".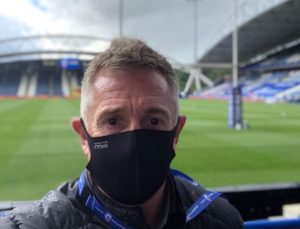 'THE PLAY FROM WALES IS NOT AT ALL LIKE MR. DAVIES' COMMENTARY BEING DESCRIBED AS "SHIT", OR MR. DAVIES HIMSELF BEING CALLED "SO THICK".
'IT'S EXHILARATING STUFF, SO NOT AT ALL SIMILAR TO TWITTER COMMENTS LIKE: "JONATHAN DAVIES RUINS THESE GAMES FOR ME", OR REMARKS ON SOCIAL MEDIA ABOUT HIS RUGBY LEAGUE PUNDITRY SUCH AS: "WHY DO WE HAVE 2 HAVE JONATHAN DAVIES ON RL 4BBC".
'ANOTHER KEEN SUPPORTER OF MY FINE BBC COLLEAGUE ASKED ERRONEOUSLY WHY OUR SUPERIORS COULDN'T FIND SOMEONE "MORE RELEVANT THAN JONATHAN DAVIES" WITH AN UPSET EMOJI AFTER THE ANNOUNCEMENT, THAT HE "CHATS SO MUCH SHITE" AND THAT IT WAS "TIME TO HANG THE MIC UP".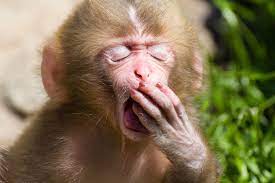 'THIS GAME WON'T TURN INTO A BORING KICKING ONE, AND ANYWAY I'LL JUST IGNORE IT, LIKE I HAVE BEEN TOLD TO DO BY MR. DAVIES ABOUT THE COMMENTS HE GETS FROM HIS FANS.
'HE HAS SAID ON TWITTER WISELY: "IT'S VERY SAD.  I HAD LOADS OF ABUSE AFTER THE GAME, THEN A BLOCKING SESSION ON HERE. WOULD YOU GO FOR A DRINK WITH THESE PEOPLE? NO, SO DON'T TAKE ANY NOTICE. (HASHTAG)NUMPTYS".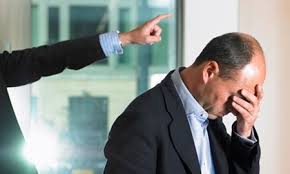 'AND IN HIS WILDLY SUCCESSFUL YOUTUBE PODCAST JIFFY AND STUBBSY MR. DAVIES SAID HE WAS "SADDENED" A CONTRIBUTOR WASNT USING SOCIAL MEDIA, RIGHTLY ASSERTING:  "I DON'T GIVE A MONKEY'S ABOUT THE BELL ENDS…"
'OR FROM ANOTHER TRIUMPHANT EPISODE: "IF I SAY SOMETHING, ALL OF A SUDDEN, PEOPLE WRITE A TWEET AND GO 'HE SHOULD SACKED' AND COPY IN THE BBC'.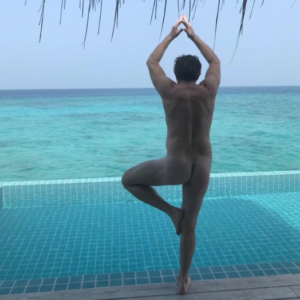 'THIS IS A SPECTACLE, LIKE WHEN ON SOCIAL MEDIA MR. DAVIES SENT A PICTURE OF HIMSELF WITH NO CLOTHES ON TO TV and RADIO STAR CAROL VORDERMAN.
'OR CALLED THE RHONDDA MP CHRIS BRYANT A KNOB ON SOCIAL MEDIA, FOR ASKING ABOUT CHILDCARE DURING A HOUSE OF COMMONS DEBATE.
'THERE WAS TOO THE EXCITEMENT OF MR. DAVIES CALLING JOURNALIST MARCUS STEAD, AFTER HE HAD CRITICISED WHAT HE VIEWED AS THE WELSH ESTABLISHMENT, AN "ATTENTION SEEKING NOBODY", A "SAD PATHETIC WASTE OF TIME" AND 'HASHTAGGING' THE WORDS ABSOLUTE BELL END.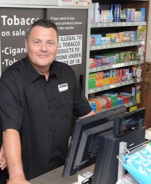 'WALES MUST HAVE PRACTISED THIS ON THE TRAINING PITCH BECAUSE IT'S NOT AT ALL THE WAY MR. DAVIES DESCRIBED PHIL PARRY'S JOURNALISM, WHEN HE SAID HE WAS "NEGATIVE".
'BUT IT LOOKS LIKE WE HAVE DANGEROUS PLAY THERE, JUST LIKE WHEN A BACKER OF MR. DAVIES' MARC WINCHESTER, SAID ON HIS TWITTER THREAD ABOUT MR. PARRY "I'LL WHACK HIM".
'THE REF NOW WANTS A SCRUM, WHICH IS ABSOLUTELY ESSENTIAL, UNLIKE WHEN MR. DAVIES STATED ON TWITTER (AND HERE I DISAGREE WITH HIM): "LOCKDOWNS ARE UNNECESSARY" PROMPTING ANOTHER FAN TO SAY: "THIS SEEMS CLOSE TO A CONSPIRACY THEORY NOW".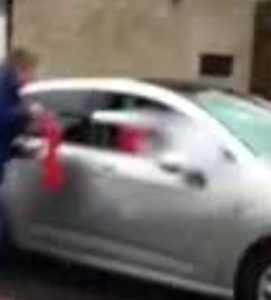 'THESE MOVES FROM WALES ARE WONDERFUL TO WATCH, AND MR. DAVIES OBVIOUSLY AGREES, BECAUSE HE HAS SAID ON SOCIAL MEDIA IN THE PAST: "FUCK YOU AND YOUR LADS' COC
'THE REF HAS JUST ISSUED A WARNING TO THE FRENCH THERE, AS WHEN THEY WERE GIVEN AFTER PICTURES WERE SHOWN TO EXPERTS OF MR. DAVIES SPRAYING A FIRE EXTINGUISHER INTO THE FACE OF HIS FRIEND, NIGEL OWENS, AS HE SAT IN HIS CAR, WITH ANOTHER PERSON FILMING THE STUNT LAUGHING.
'BUT IT IS FINE CONDUCT FROM THE WELSH-ALTHOUGH IN MR. DAVIES' BEHAVIOUR, HE APPEARS TO FAVOUR THE WORDS "BELL ENDS" AND "KNOB".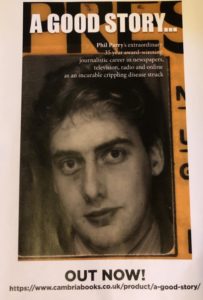 Phil's memories of his astonishing decades long award-winning career in journalism (including news behind the headlines of sport) as he was gripped by the rare neurological disabling condition Hereditary Spastic Paraplegia (HSP), have been released in a major book 'A GOOD STORY'. Order the book now!