The controversial head of the UK's biggest broadcaster, who said he would be prepared to sack presenters who broke guidelines on impartiality (when we have exposed numerous occasions involving Welsh figures), has taken personal control of the complaints procedure after a barrage of criticism.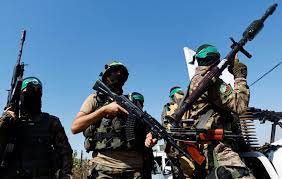 The Eye have revealed a series of incidents where Welsh presenters have apparently flouted the rules on neutrality, and at a UK level there has been huge condemnation of the BBC for refusing to call Hamas a terrorist organisation, despite the fact THAT is the official designation of the US Government.
On October 8 1997 the US Department of State listed Hamas as terrorists along with the Abu Sayyaf Group (ASG) as well as Harakat ul-Mujahidin (HUM), and Tory MPs were furious this terminology was not used.

The BBC, though, insist that they must be even-handed, and personnel are on the ground in the Middle East, so lives would be put at risk if they used the term 'terrorist'.
This defence, however, does not wash for critics of the corporation, in the light of recent disturbing events with impartiality at their centre.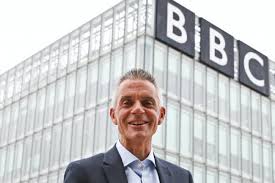 Now it has emerged that the BBC Director General (DG), Tim Davie, has taken direct charge of editorial complaints, with Lucy Frazer the culture secretary saying: "The key thing is making sure that the BBC has the structures in place to make sure it remains impartial".
Apart from the enormous row over the terminology of Hamas, the BBC has also hit the headlines for all the wrong reasons concerning other high-profile controversies.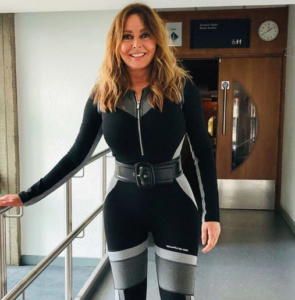 As The Eye have shown, the headline-grabbing presenter, Carol Vorderman, who before her sacking hosted a programme on BBC Radio Wales (RW) on Saturdays showed a map covered in red after the recent by-elections, saying when she was still at the corporation: "NOT a prediction BUT if the Tamworth swing to Labour happened in a General Election Tories would lose 347 seats and end up with just 29 MPs Now that is what I call a target (thumbs up emoji) But I honestly believe with Tactical Voting Stopthetories.vote we can reduce them to 70 MPs (strong arm emoji)".
Earlier this year, she accused the UK Government of being "a lying bunch of greedy, corrupt, destructive, hateful, divisive, gaslighting crooks". She has also used Twitter (now X) to call Conservative MP Johnny Mercer and his wife "petulant" and "childish".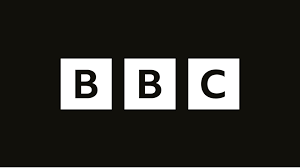 But apart from saying he would be willing to fire presenters who broke the rules (which may perhaps now, finally, have happened with Ms Vorderman), Mr Davie also said in Cardiff soon after his appointment: "If you want to be an opinionated columnist or partisan campaigner on social media then that is a valid choice, but you should not be working at the BBC". BBC rules underline this, and announce that staff should avoid, too, using disclaimers such as 'My views, not the BBC's in their biographies and profiles, as they provide no defence against personal expressions of opinion.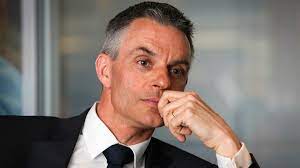 However underneath a UK newspaper report about the outburst against the Tories earlier this year, comments were highly critical of Ms Vorderman, and the BBC's neutrality policy. One said: "Over a period of time I saw regular tweets from her (Carol Vorderman) which seemed very structured in therms (terms) of the repetition and targets. I repeatedly asked on her timeline if she wrote all her won (own) tweets or were they labour sponsored/written. She never responded".
Unfortunately, these public comments fell into a familiar pattern for Ms Vorderman.
In the past she has proclaimed on Twitter (now X) "The Tory party is morally corrupt". In her tweet, she attached a Mirror story with photograph, which stated: "Shameless Boris Johnson living in a £20m home for free…". She has also written: "PARTYGATE TURNS TO RENTGATE Boris Johnson living in donor's £20m home The Tory party is morally corrupt. Lies, violation of our NHS, protection of the rich, don't forget the Michelle Mone PPE-Scandal. 2 years from now will they have destroyed all we have?". Ms Vorderman has also tweeted about Mr Johnson that he: "Even lies in his final speech as Prime Minister who has brought this country to its knees. Boris Johnson has had many relationships through his life…. but sadly for us, he's never had a relationship with the truth".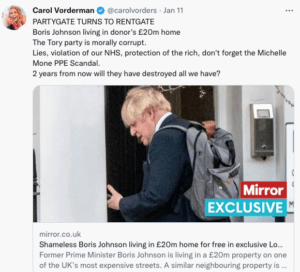 She has long been outspoken on social media, and her anti-Conservative views have incurred the wrath of a commentator on a right-of-centre television station. Ms Vorderman has tweeted out another Mirror story which began: "Firm 'profiteering from misery' by providing migrant barges donated £70,000 to UKIP…".
On GB News' 'ALBIE'S ARGUMENT' it was stated: "'Carol Vorderman, we get it, you don't like the Tories. Instead of sitting on the sidelines moaning, join a political party, stand for election and try to make a difference.'".
A Tory MP has called for the BBC to investigate her social media posts: "She makes Gary Lineker's comments look quite mild".
Yet Welsh-born Ms Vorderman was no stranger to controversial headlines although she seemed to be downcast about some of the coverage. She has complained that people focus too much on her "big bottom", without recognising her other attributes.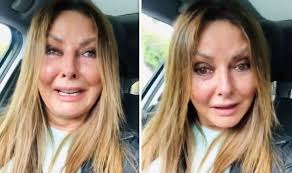 In fact Mrs Vorderman appears to be unhappy with the mainstream media generally, and has described how she was left 'in tears' and spoke of "harassment" when she spotted two photographers, one in front of her on the pavement and the other on the opposite side of the road before she drove from her house in Bristol to do the regular programme on RW. Ms Vorderman stated in a video she shared:  "This is what happens when you walk outside your home… This is what I call harassment", and was supposedly "frightened" by the incident. Yet the pictures these photographers tried to take, came after she had herself shared on Twitter two images of herself posing in skimpy "home gym gear" to show how young she looks.

Ms Vorderman stated to newspapers: "One of the sad things is that people think I am only ever talking about the way I look. I just choose to pay no attention to it. I was a free school meals kid. I got to Cambridge from a comprehensive. That just didn't happen in the 70s. Now I do a lot of work with kids from a similar background to me. I have my online maths school, I sell I-don't-know-how-many education books a year. But that never gets talked about. Instead it's,`how big is her bottom?'"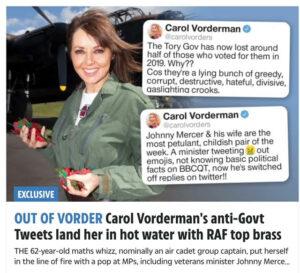 But the articles about Ms Vorderman came amid growing concern that she regularly grabbed the headlines in the UK for alarming reasons (and social media has often been at the heart of the revelations), with her exploits even being the subject of a piece by our satirical writer Edwin Phillips.
Only last month, it was reported in both The Sun and Mail that her anti-UK Government tweets had caused ructions.
The Mail reported how: "RAF top brass considered 'stripping' Carol Vorderman of her honorary title because of her anti-government tweeting, it has been revealed. Voderman, 62, not only a famed Countdown star, is also a proud Air Cadet Ambassador and Honorary Group Captain, as is noted in her X, formerly Twitter, bio. But after launching a tirade against top Tory MPs, senior officials debated 'hanging her out to dry', The Sun reported."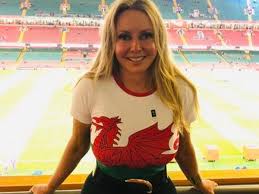 Ms Vorderman is originally from Prestatyn, yet intriguingly despite her professed love of Wales, and being pictured in a T-shirt emblazoned with the Welsh flag at a rugby stadium, she chooses to live in England, although she regularly stays at her second home in Pembrokeshire.
It seems also that she is, today, part of a celebrity 'set' in Wales. A picture of another personality, completely naked, was sent to her and also put on social media. The photograph was placed on Twitter by the rugby presenter Jonathan Davies with the caption "Just for you Carol".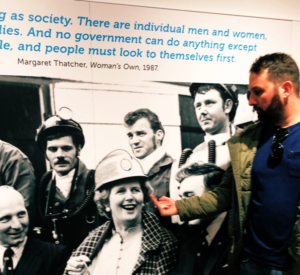 Ms Vorderman said "Diolch Rhydian xx" to another BBC Cymru Wales radio personality Rhydian Bowen Phillips who declared on Twitter (now X) that it had been good to see her at Broadcasting House (BH).  
Mr Phillips is the breakfast show presenter on digital station BBC Radio Cymru 2. He also presents a Saturday lunchtime show on BBC Radio Cymru alongside actress and former Plaid Cymru (PC) councillor Shelley Rees (formerly Shelley Rees-Owen).
Earlier The Eye have shown how Mr Phillips re-tweeted a WalesOnline 'survey' which claimed that most people "…would vote for Cymru to be independent if there was a referendum", with a Welsh flag after the comment, that "2/3 believe Westminster has performed badly in serving the people of Cymru" and that "3/4 would remove the Monarchy as the Head of State".
All of this has come as the extraordinary Gary Lineker affair (referred to by the Conservative MP) unfolded, further raising serious questions about the corporation's impartiality.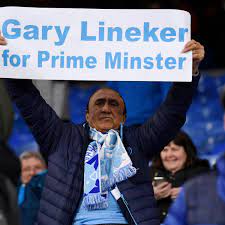 Mr Lineker had posted a controversial tweet, apparently attacking the UK Government's policy towards refugees, however his supporters have declared this was from his personal account, and carpeting him undermines the concept of free speech.
Afterwards he was allowed back on air, but this apparent U-turn provoked a storm of criticism, and a growing number of politicians as well as sports stars poked fun at the corporation over it.
Mr Lineker said modestly, if triumphantly, on X (formerly known as Twitter): "After a surreal few days, I'm delighted that we have navigated a way through this. I want to thank you all for the incredible support, particularly my colleagues at BBC Sport, for the remarkable show of solidarity".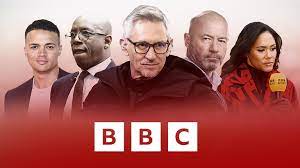 It also seems remarkable that the BBC have had to change the rules on who is in charge of complaints, after a growing chorus of criticism about issues which include impartiality…
The memories of our Editor, Welshman Phil Parry's, astonishing decades long award-winning career in journalism (which involved sticking to key guidelines on impartiality) as he was gripped by the rare neurological disabling condition Hereditary Spastic Paraplegia (HSP), have been released in the important book 'A GOOD STORY'. Order the book now!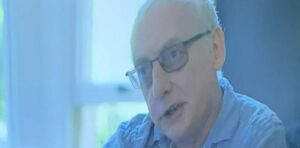 Regrettably publication of another book, however, was refused, because it was to have included names.
Tomorrow – why The Eye and Phil are taking a stand after the latest anti-Semitic controversy to engulf the owner of X/Twitter, Elon Musk.