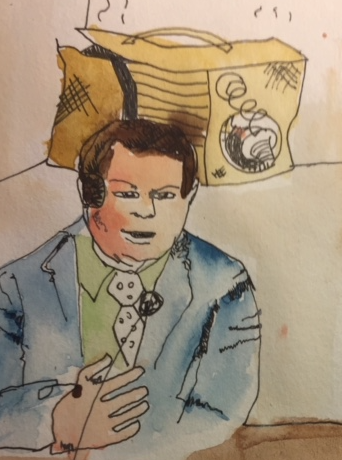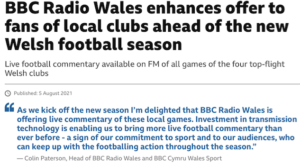 The biggest broadcaster in Wales has trumpeted news from a controversial executive describing him in a top job, even though it closed the post months ago, we can reveal.
The job as 'Head of Sport' was ended at BBC Wales as part of an 'efficiency drive', yet despite this, contentious Colin Paterson (who conducted a much-criticised affair with one of the corporation's presenters even though his own staff had commissioned a programme she fronted) was described in this role in an official media release from its information department.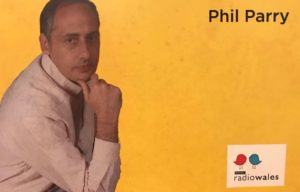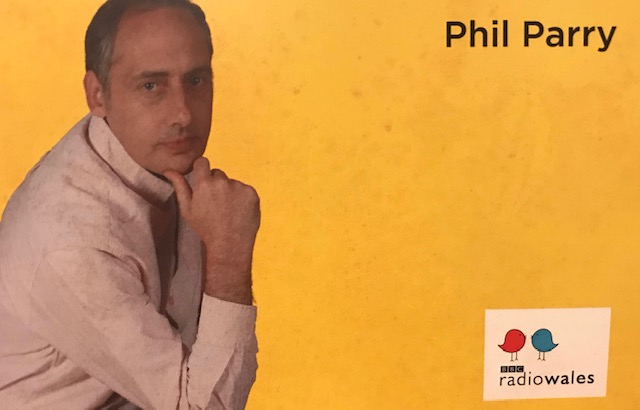 Media publicity last month proclaimed the importance of live football commentary on BBC Radio Wales (RW) (on which our Editor Phil Parry worked) for games concerning Cardiff City, Swansea City, Newport County, and Wrexham.
Calling Mr Paterson 'Head of BBC Radio Wales and BBC Cymru Wales Sport', he is quoted as saying: "As we kick off the new season I'm delighted that BBC Radio Wales is offering live commentary of these local games. Investment in transmission technology is enabling us to bring more live football commentary than ever before – a sign of our commitment to sport and to our audiences, who can keep up with the footballing action throughout the season".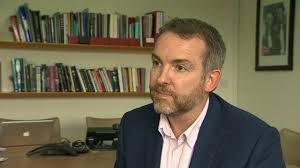 But the position of 'Head of Sport' was closed as part of a review, which in turn was an efficiency project in the BBC CW Controller Rhodri Talfan Davies's headcount reduction plan, so officials are likely to defend their actions by saying the job of Head of Sport has been combined with that of RW Editor.
However, a BBC CW source told us: "This is awful. That man (Mr Paterson) has no shame".
Mr Paterson, though, has been the subject of challenging headlines before, when The Eye have disclosed recent disturbing events.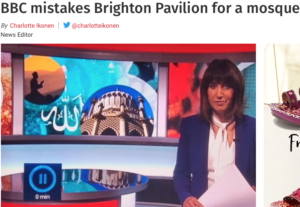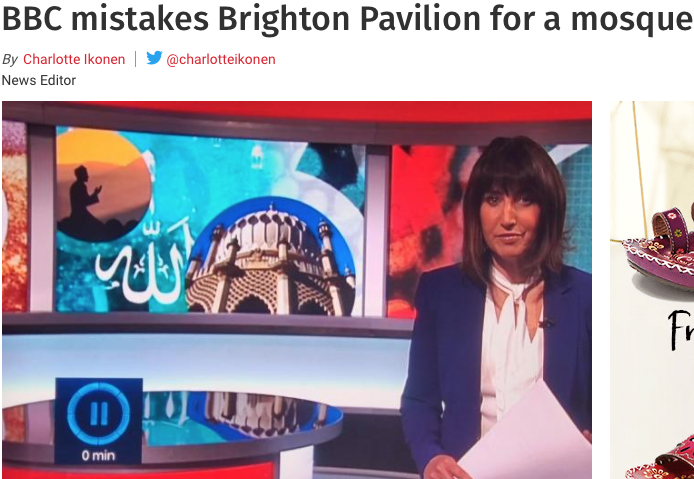 Our journalists have been alone in showing that he was having an affair with presenter Lucy Owen (see story soon), who declared the importance of travelling by bus in a tweet he 'liked', and has fronted BBC Wales Today when programme-makers mistook Brighton Pavilion for a mosque.
The story about it by The Eye was included in a Digital Spy (DS) comment about RW with the message above the link saying "…the record low listening figures at Radio Wales under it's (sic) current management (were) amplified this year by criticism from former award winning reporters and presenters".
But remarks like these are not the only issues which need to be addressed by RW Editor Mr Paterson, or his superior Mr Davies, after the contentious romance was conducted.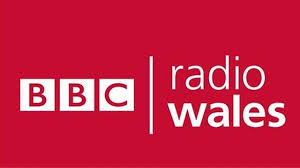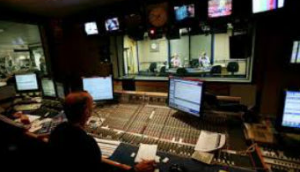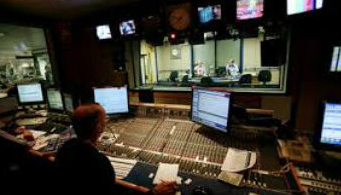 For many staff at BBC Cymru Wales (BBC CW) the entanglement represented a huge potential conflict of interest because his officials had commissioned a RW programme hosted by Mrs Owen called 'Sunday morning with Lucy Owen', and media executives both inside as well as outside the corporation have told us that they were worried about their partnership's possible impact on the process.
The 'predictive search results' in 'Google' for Mrs Owen and her husband Rhodri have been, perhaps, prescient, saying 'Lucy Owen Rhodri Owen split'.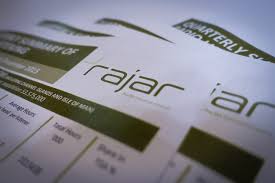 Mr Paterson's performance too at RW has been open to question as the DS contributors have alluded to.
A recent RAJAR report made grim reading for him, coming as it did hard on the heels of other low audience statistics.
In 2020 the figures revealed a slight increase on 2019 but a substantial drop compared with two years earlier, a massive decline on the year before that, and how more than 40,000 listeners had been lost in one three month period, despite a huge amount of money being spent on new schedules.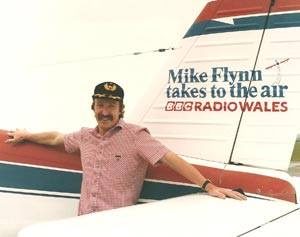 They also showed that the total listening hours were 2,667,000, down from 3,074,000 in September 2019, although up from 2,147,000 in December 2018, and the market share was just 5.5 per cent.
After these numbers were published, a prominent figure described online as one of the main presenters at RW during its launch, renewed his call for Mr Paterson and his boss, Mr Davies, to resign.
Mike Flynn told The Eye exclusively:  "Both of these so called media executives (Mr Davies and Mr Paterson) are answerable to the public who pay their salaries via the licence fee and should resign. But they are frightened to reveal the audience for the abysmal Claire Summers programme that replaced Good Morning Wales (GMW). I would like to know what the real figures are across daytimes and weekends and how they waste over £18 million. It is about time they started to answer a few questions."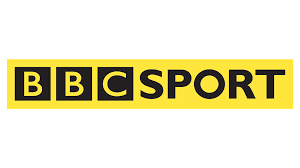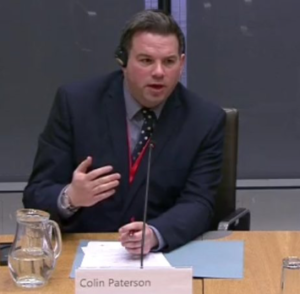 Mr Flynn was equally unimpressed by our revelation of Mr Paterson's relationship with Mrs Owen. He told us: "If Paterson has been having an affair with a Wales Today and Radio Wales presenter it brings his management skills in to question and he needs to be suspended immediately".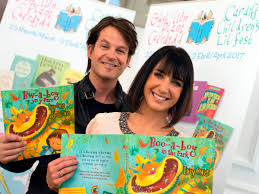 But BBC CW remains fully behind the controversial changes to the RW schedule, saying it was "committed to delivering news to the widest audience".
Apart from presenting BBC Wales Today and in the past the RW programme, Mrs Owen also hosts the BBC One Wales (BBC 1W) consumer affairs programme 'X-Ray' with her husband, Rhodri, who it's predicted she will split from. She has published a book which raises funds for the Noah's Ark Charity for the Children's Hospital of Wales called 'Boo-a-bog In The Park'.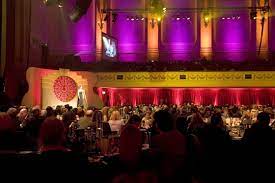 As well as conducting an alarming affair with her, Mr Paterson, has also come under fire for celebrating awards when his station was up against LOCAL radio output.
He said on Twitter: "Delighted for everyone at @BBCRadioWales with two nominations including radio station of the year", and the message was followed by emojis of a radio and a Welsh flag.
Mr Paterson also congratulated the makers of an RW comedy which was another of the nominations at the Radio Academy's Audio and Radio Industry Awards (ARIAS) honouring in a tweet: "The team @ChickenHQ with another nomination for their @BBCRadio Wales" including a link to @BBCWalesPress which stated: "Congratulations and good luck to all involved".

However the 'radio station of the year' nomination was alongside stations such as BBC Radio Hereford and Worcester, as well as Metro Radio, when RW is meant to be the NATIONAL broadcaster for Wales.
But Mr Paterson's radio station is unlikely to win an award for its content.
It has been accused on DS of being "lightweight" and "a shadow of its former self", with another critical listener saying there is a need to "stop the rot" while a further contributor said the trail for a new programme "sounds horrendous".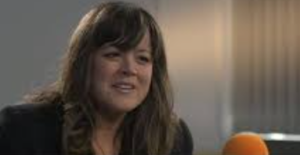 RW at one point returned to the top 20 radio topics with a growing list of condemnatory comments, but stories on The Eye were mentioned approvingly.
Yet this is not the first time the station has been confronted with critical observations on DS.
One contributor to the online forum has said in the past that 'Breakfast with Claire Summers (which replaced Good Morning Wales [GMW]): "… sounds like a community radio station bloody awful. Woman presenter has a grating voice and is fluffing her lines. Morning news programme should contain news".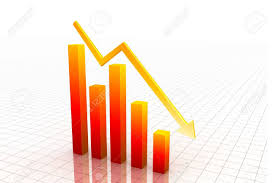 Other RW listeners who supplied statements to the forum were equally scathing about recent RAJAR listening figures.
One said:  "I do get the impression that Ulster and Scotland do a good job of being part of their country's internal conversation. I'm not sure that Radio Wales has the same status."
Another listener complained strongly about RW saying the station was "littered with presenter led record programmes and chat", and the complaint was sent initially to the First Minister of Wales (FMW) Mark Drakeford, then passed to the Deputy Minister for Culture, Sport and Tourism (DMCST) at the time, Dafydd Elis-Thomas.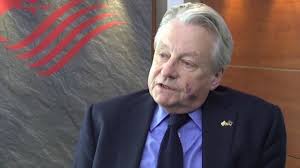 It said: "… The station (RW) has lost 47,000 listeners in the last three months and has reached the point where 95% of the country never tune in. Over £18 million of licence payers money funds BBC Radio Wales for little or no return."
But it seems that a top job HAS returned for Mr Paterson, even though BBC CW closed the post months ago…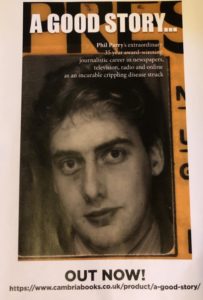 Tomorrow – how the party Mr Elis-Thomas used to represent (Plaid Cymru [PC]), appears split when it comes to new nuclear power plant talks which have emerged. 
Phil's memories of his astonishing decades long award-winning career in journalism (including some of the stories he covered during 23 years at BBC CW) as he was gripped by the rare neurological disabling condition, Hereditary Spastic Paraplegia (HSP), have been released in a major book 'A GOOD STORY'. Order the book now!
Publication of another book, however, was refused, because it was to have included names.