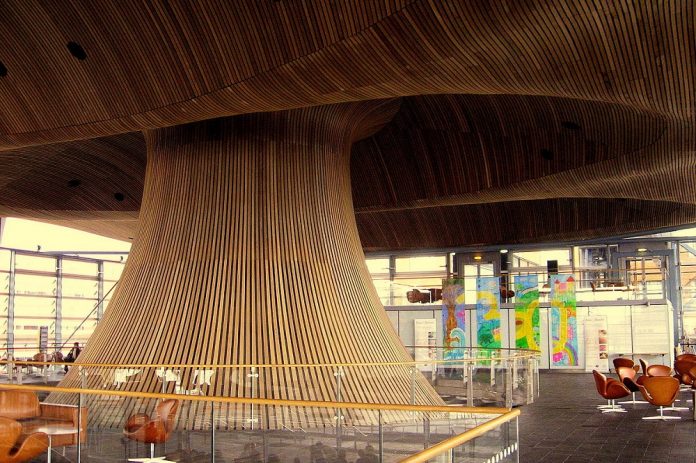 Latest posts by NotSoGreatDictator
(see all)
Vampire Elvis Minister Without Portfolio, strolled nonchalantly through the corridors of power as if he owned them. He had recently been strolling through the corridors of empowerment.  These were a new initiative from the Communities and Tackling Poverty portfolio which mainly consisted of making the ceilings of the corridors of power slightly lower so Welsh people could feel taller.  This would give them a sense of empowerment, leading to statistically greater levels of overall achievement during their careers.
Vampire Elvis had hit his head three times in the first four minutes and was trying to find his way around the Welsh Assembly using only the corridors of power. There were now so few actual corridors of power that he did indeed feel like he owned them.  A hand suddenly snaked out from a doorway, grabbed him by the collar and yanked him into an office.
First Minister the Rt Hon Carwyn Jones AM pinned him up against a wall and glanced at the door like a cornered animal. His foot flew out and kicked the door closed.
VAMPIRE ELVIS
 Uh, hu, I er…… I just think of you as a friend man….
Well, more like an acquaintance actually….
CARWYN
No, don't be stupid mun. I've got it. I know what it's all about.
VAMPIRE ELVIS
Uh hu…
CARWYN
A Welsh Space Force.
VAMPIRE ELVIS
Uh hu….
CARWYN
When it comes to protecting our nation and our
way of life, the only thing we can't afford is inaction.
VAMPIRE ELVIS
I'm with you there baby.
CARWYN
The Welsh people deserve our very best and they will have it.
It is not enough merely to have a Welsh convention centre in
space, we must have Welsh dominance in space.
VAMPIRE ELVIS
Uh, hu….
CARWYN
Previous administrations all but neglected the growing
security threats emerging in space.  Space is a
warfighting domain just like land and air and sea.
The Welsh Space Force will strengthen our security,
it will ensure our prosperity.
VAMPIRE ELVIS
You're crumpling my shirt man.
CARWYN
It will also carry Welsh ideals into the boundless expanse
of space.  While other nations increasingly possess
the capability to operate in space, not all of them
share our commitment to freedom, private property
and the rule of law.
VAMPIRE ELVIS
God damn it, that's what I've been saying.
CARWYN
So as we continue to carry Welsh leadership in
space so also will we carry Wales's commitment
to freedom into this new… Final frontier.
VAMPIRE ELVIS
So………
CARWYN
So we need to put the team back together.
The Space Force must happen.