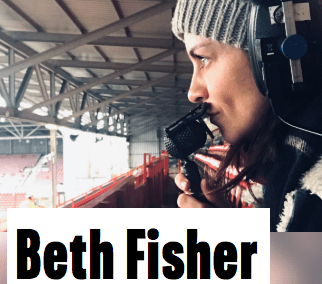 In the weeks after the Gary Lineker affair, when editorial guidelines were underlined for broadcasters, a BBC sports reporter in Wales also used social media to bemoan the fact that despite severe measures being taken against one senior Labour MP, 'nothing was done' when former Prime Minister Boris Johnson had made controversial comments.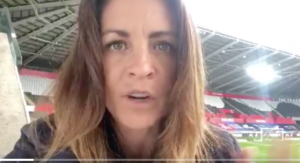 Beth Fisher who works freelance for BBC Cymru Wales (BBC CW) sport, and has also been employed at 'BBC Wales Investigates (BBC WI)' on its programme about the Welsh Rugby Union (WRU), announced a headline-grabbing political position on Twitter by proclaiming: "Diane Abbott has been suspended yet Boris Johnson called gay men "bumboys", & compared Muslim women to "letterboxes." He labeled black Africans "piccaninnies" with "watermelon smiles". NOTHING WAS DONE! This isn't about political parties but people being held equally to account."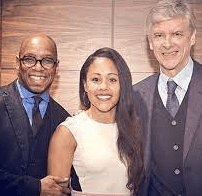 However, this came after Mr Lineker's own political tweets which had prompted an enormous row, with fellow sports pundits refusing to go on air until he was re-instated to his role presenting Match of the Day (MOTD).
He had given his response to the government's new asylum policy with a series of tweets, one of which read: "Good heavens, this is beyond awful", and later: "This is just an immeasurably cruel policy".
He was as a result taken from screens, with MOTD, Final Score (FS) and Football Focus (FF) all being affected, as his colleagues such as Ian Wright, Alex Scott and many more, pulled out of their broadcasting commitments in a show of solidarity.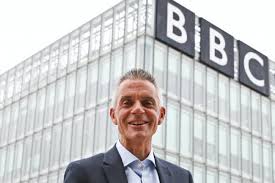 A resolution was eventually found which allowed Mr Lineker to return to work, but it caused outrage among some senior Conservative MPs, with one declaring that it gave him "carte blanche" to say what he liked on social media
Following the BBC reversing its position, Mr Lineker was modest, although triumphant, on Twitter perhaps endorsing Ms Fisher's recent tweet.
An independent review was to look into social media guidelines, as the BBC's Director General Tim Davie (who is also Ms Fisher's overall boss when she works at BBC CW) denied that reinstating the former England footballer amounted to a climbdown by the corporation.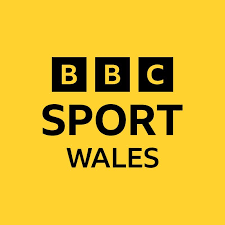 Mr Lineker said: "After a surreal few days, I'm delighted that we have navigated a way through this. I want to thank you all for the incredible support, particularly my colleagues at BBC Sport, for the remarkable show of solidarity".
In the years before this row, he had made a noble statement about 'responsibilities' however this sits uneasily with his own comments on Twitter as well as those of Ms Fisher.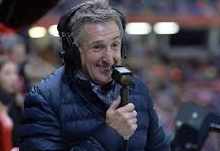 They also make strange bedfellows with different remarks on social media by other broadcasters, also employed by the BBC.
Once more from the sports world is the BBC's Welsh rugby commentator Jonathan Davies who has been publicly condemned by television viewers for talking "some shit", as well as being "so so thick", and who was filmed in a clip which was posted online, using a fire extinguisher during a dangerous prank.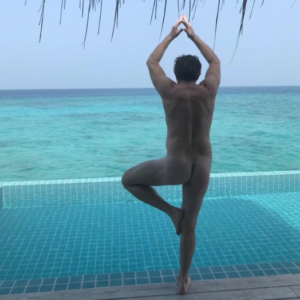 On social media Mr Davies has also sent a picture of himself with no clothes on to TV and radio star Carol Vorderman.
He has faced huge criticism following statements which have included calling the Rhondda MP Chris Bryant a "knob" on Twitter, for asking about childcare during a House of Commons debate.
The fury of Mr Davies has too been directed at journalist Marcus Stead on social media after he had criticised what he views as the Welsh establishment.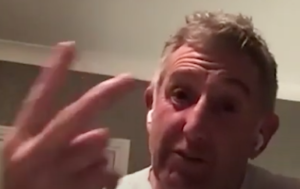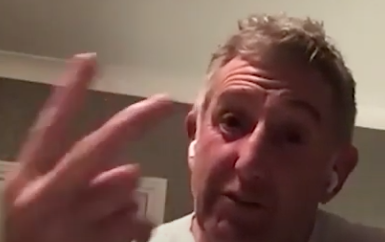 He engaged in an extraordinary spat with him, again using Twitter, in which he branded Mr Stead, an "attention seeking nobody".
Mr Davies also accused him of being a "sad pathetic waste of time" and 'hashtagged' the words "absolute bell end".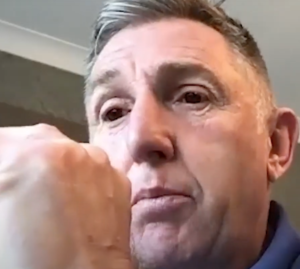 Mr Davies was called 'misleading', for publishing 'rubbish' online and was said to have been 'ranting', after stating on social media that controversial plans to re-develop a Cardiff cancer hospital, would leave 60 per cent of a meadow available to walkers when campaigners say surveys have indicated all will be destroyed.
Contradicting him, one campaigner declared about the project to re-develop Velindre Hospital: "The whole area will be bulldozed, £27 million of public money just to access this unsuitable site…"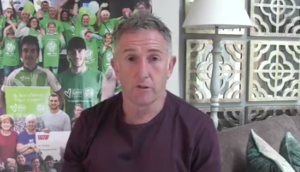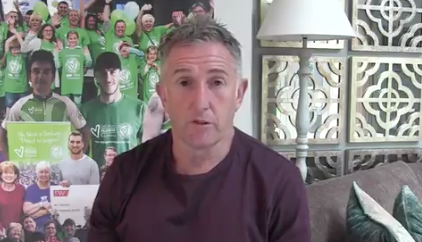 Another cautioned:  "Let's talk Jonathan, not rant."
Mr Davies (one of whose Twitter accounts is @JiffyRugby and includes 'OBE' after his name) is President of Velindre Fundraising, and demanded of one of the campaigners:  "Have you or anyone close to you ever been unfortunate enough to have cancer?"  
But the advocate for a green space in that part of the city hit back, and said:  "Absolutely yes, many of those opposing the site are current patients at Velindre".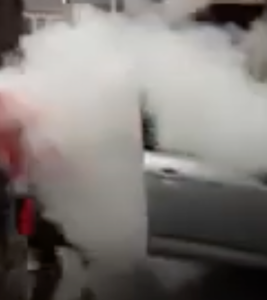 Warnings were repeated too about the hazards involved in the misuse of fire extinguishers after experts were shown shocking pictures from the film of Mr Davies using one to spray into the face of former international referee, Nigel Owens, as he sat in his car while another person filming the dangerous stunt laughed.
This too was published on the internet.
The escapade with a fire extinguisher was in the car park of an independent TV facilities house near BBC Cymru Wales (BBC CW) in Llandaff, Cardiff, in 2014, and was condemned as "incredibly dangerous".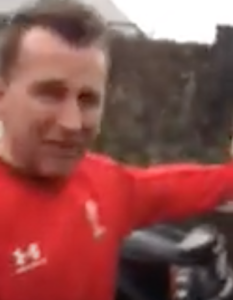 It prompted a series of outraged comments at the time on a sports Facebook (FB) site.
One critic said:  "…did he give any thought to what injuries he may have caused?…We all like a good laugh sadly this isn't it". Another declared that Mr Davies was a "fucking prick", a further detractor stated that he didn't think "people realise how dangerous CO2 extinguishers are".
In the video Mr Owens escapes from the car running, but Mr Davies uses the fire extinguisher again, as the person filming it exclaims in Welsh "OH, NO!", and Mr Owens then shouts "IDIOT!" at him pointing.
But it seems even with this kind of background, recent events have not stopped Ms Fisher making controversial political statements.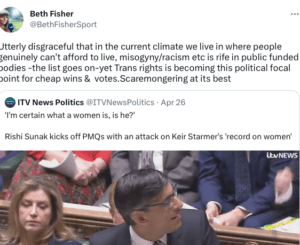 Including a video of Rishi Sunak in the House of Commons (HoC), she has tweeted about how worried she is that trans rights are now a 'political focal point for cheap wins', writing: "Utterly disgraceful that in the current climate we live in where people genuinely can't afford to live, misogyny/racism etc is rife in public funded bodies -the list goes on-yet Trans rights is becoming this political focal point for chip wins &  votes.Scaremongering at its best".
But as Ms Fisher has herself said on the gay campaigning Stonewall website: "The beauty of sport is that it really can be a sanctuary from 'real life'"…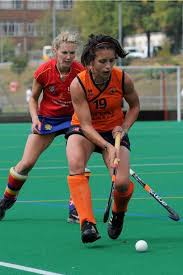 The memories of our Editor, Welshman Phil Parry's extraordinary 39 year award-winning career in journalism (when he has revealed facts like these that are uncomfortable to some) as he was gripped by the rare incurable disabling condition Hereditary Spastic Paraplegia (HSP), have been released in the book 'A GOOD STORY'. Order the book now! 
Publication of another book, however, was refused, because it was to have included names.
Soon – more disturbing revelations about ANOTHER figure from sport.