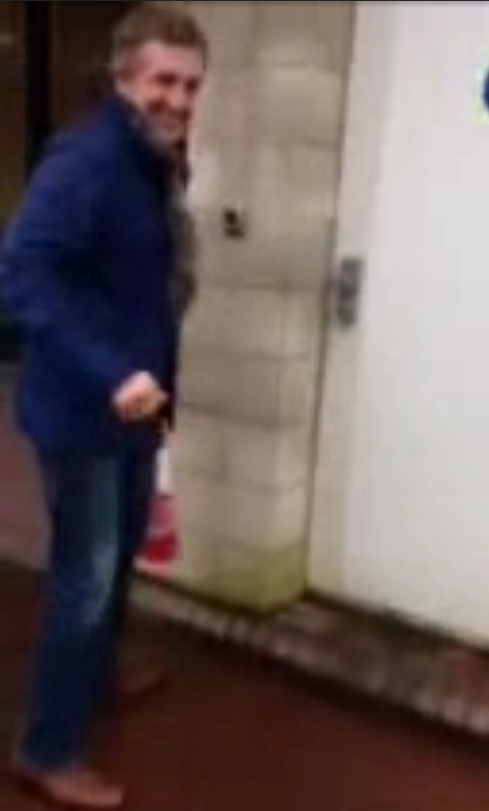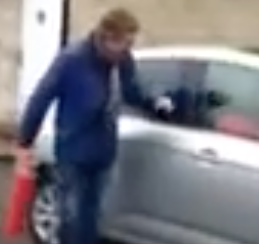 Expert warnings have been repeated about the hazards involved in the misuse of fire extinguishers after being shown shocking pictures from a video of controversial Welsh rugby legend and commentator, Jonathan Davies, using one to spray into the face of former international referee, Nigel Owens, as he sat in his car while another person filming the dangerous stunt laughed, The Eye can reveal.
In the clip now on YouTube, Mr Owens escapes from the car running, but Mr Davies uses the fire extinguisher again as the person filming it exclaims in Welsh "OH, NO!".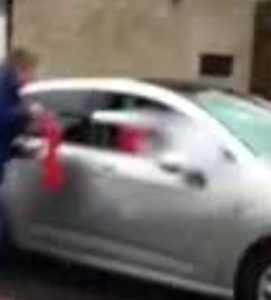 Mr Owens then shouts "IDIOT!" at him pointing.
After being shown stills from the film six years ago, South Wales Fire and Rescue Service repeated its stern warning about the misuse of fire extinguishers.
A spokesperson told The Eye: "CO2 extinguishers can prove hazardous as they rapidly remove the oxygen from the atmosphere, therefore increasing the risk of asphyxiation when used in confined space.
"CO2 can also cause cold burns if a person holds or comes in contact with the discharging horn of the extinguisher."
The escapade in the car park of an independent TV facilities house near BBC Cymru Wales (BBC CW) in Llandaff, Cardiff, in 2014 has been condemned by others as "incredibly dangerous", and it prompted a series of outraged comments at the time on a sports Facebook (FB) site.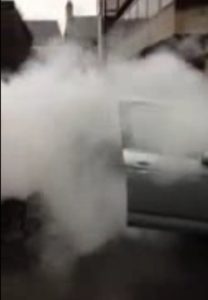 One critic said:  "…did he give any thought to what injuries he may have caused?…We all like a good laugh sadly this isn't it". Another declared that Mr Davies was a "fucking prick", a further detractor stated that he didn't think "people realise how dangerous CO2 extinguishers are".
More observations about the risky 'prank' were also put on the FB site, including:  "That's disgus(t)ing my brother was sprayed in the face with one of them and was temporarily blinded for several days the dipstick wants to be ashamed of himself". Another said "absolute knob footie fans don't get away with that behaviour". Further remarks were made, such as "If I done that at work I'd get the sack !!!  Knob", and "Irresponsible".
According to one magazine/website at the time:  "Owens has since tweeted a link to the video, which suggests that he was pretty OK with the whole incident, or at least he is now".
According to the 1974 Health and Safety at Work Act it is a criminal offence to misuse any safety equipment, including fire extinguishers.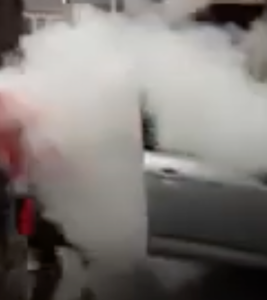 In Section 8 it states: "No person shall intentionally or recklessly interfere with or misuse anything provided in the interests of health, safety or welfare in pursuance of any of the relevant statutory provisions".
In a safety message Leicester University has alerted people to misuse of a fire extinguisher and said that any person "caught doing so will be subject to a charge of £100, disciplinary procedures may be implemented and a report may be made to the police".
Sports fan Mike Flynn who presented a daily radio programme on BBC CW at Broadcasting House nearby, and has seen the video told The Eye:  "I will make these comments on his (Mr Davies') juvenile antics. He does not appreciate the risk of death using a foam extinguisher in a confined area such as a car. The discharge of a fire extinguisher renders it useless in a real fire, and for someone in his position involved in such juvenile horseplay encourages others to repeat the antics".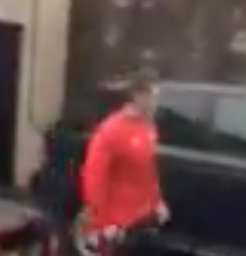 But this is not the first time Mr Davies has hit the headlines.
The famous fashion designer David Emanuel declared on Twitter in 2018:  "Surely, there HAS to be another Welsh RugbyCommentator instead of Jonathan Davies??? Irritating.  TalksTooMuch. Tired. WakeUpPlease!!@BBCSport @BBCCymruWales".
Key words were hashtagged and he included a picture of the Welsh flag. Mr Davies (whose nickname is 'Jiffy') then replied:  "More faces than a totem pole you".
Mr Emanuel is best known for designing, with his former wife, the wedding dress of Diana, Princess of Wales, and participated in I'm a Celebrity…Get Me Out of Here! in 2013.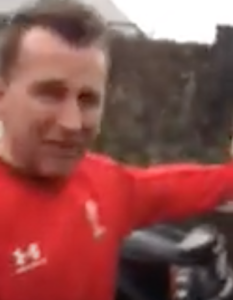 He joined a chorus of more recent disapproval about Mr Davies who has faced a storm of criticism following statements which have included calling an MP a "knob".
Just a few weeks ago Mr Davies used Twitter to post a fake picture of one detractor, a well-known Welsh rugby fan, wearing a Pontypridd RFC shirt but he was then slammed for "essentially fat shaming someone because they disagree with them", and the observer linked the comment to @BBCSport @BBCNews 5liveSport and @BBCWalesNews, saying they should be "embarrassed", and that it was a "Dick move".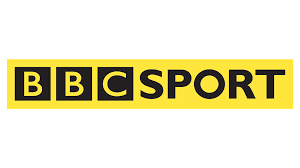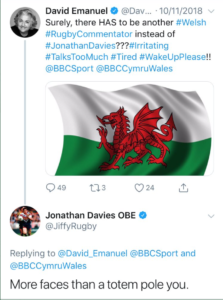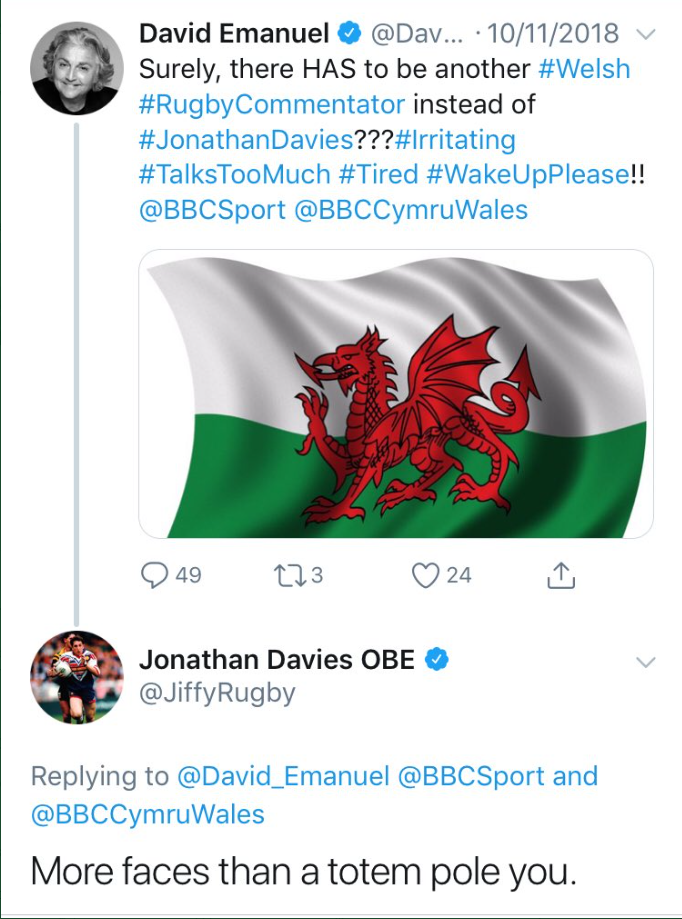 On social media he has recently sent a picture of himself with no clothes on to TV and radio star Carol Vorderman.
He also used Twitter in the past to brand Rhondda MP Chris Bryant a "knob" for asking about childcare during a highly-unusual debate in the commons on the 'deal' with the European Union (EU), and said that Mr Bryant was "not in touch with reality" with his question in the Houses of Parliament.
One of his attackers stated in a Tweet that Mr Davies was "tedious", and that he should be removed from The BBC's rugby league team. Another fan claimed on social media that Mr Davies "ruins" the game, and a supporter has also pleaded that he should "shut up".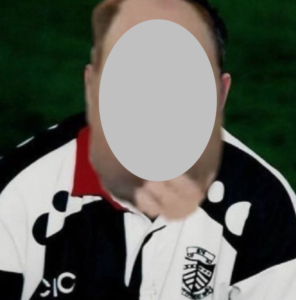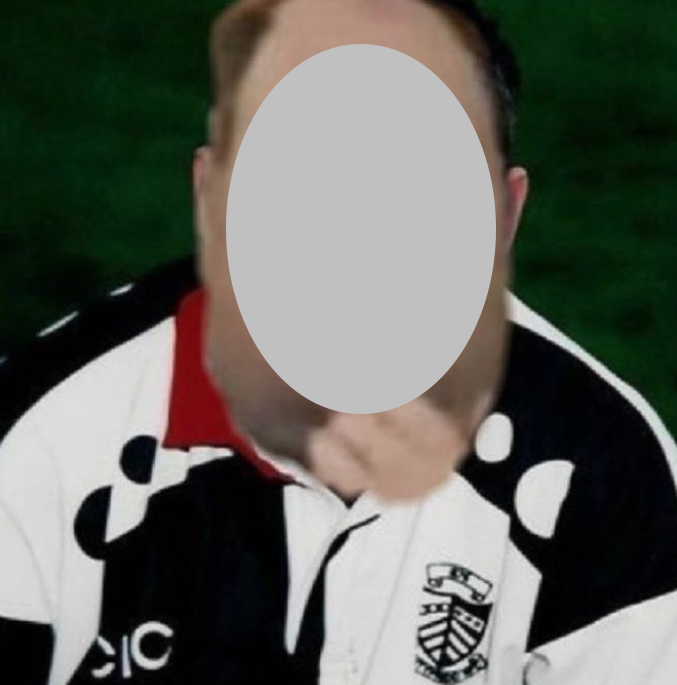 The Daily Express has reported scathingly:  "When they (France) scored (a) try, Wales hero Davies erupted on the BBC's commentary, much to the frustration of fans at home. One fan wrote on Twitter: 'Jonathan Davies for once can you please contain yourself during a Welsh game?  'When you're commentating for the BBC you're being paid to commentate not to be a fan…..
'I know it's very hard for you to do your job professionally but please try. #6nations2019'. Another added: 'When oh when will the BBC retire Jonathan Davies?!?! 'I'm sick to death of his whiney "Wales are brilliant", everyone else are lucky commentary'. 'So the secret to watching rugby on the BBC is to mute the sound and listen to 5Live on your DAB radio, no Jonathan Davies! #6nations2019,' another added."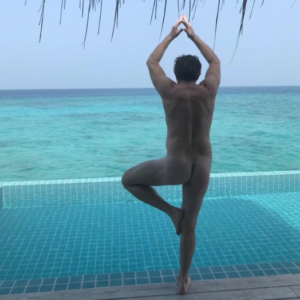 He proclaimed too on live television before an international rugby game, that the referee was French so "anything could happen".
Earlier the fury of Mr Davies had also been directed at journalist Marcus Stead who had criticised what he views as the Welsh establishment.
He engaged in an extraordinary spat with him, again using Twitter, in which he branded Mr Stead, an "attention seeking nobody", a "sad pathetic waste of time" and 'hashtagged' the words "absolute bell end".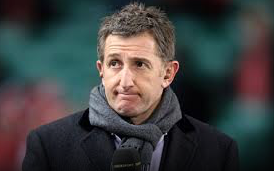 A Welsh newspaper columnist and broadcaster who saw the tweets said it was a "badge of Welsh honour" to be blocked by Mr Stead, although he has never blocked Mr Davies.
Mr Davies represented Wales in rugby league as well as union and has been described as the greatest player of his generation.
But the descriptions about his behaviour with a fire extinguisher were less than great for him, when people who saw film of the caper said it was incredibly dangerous, and the fire service have now repeated warnings about its hazards.
Tomorrow – why the media in Wales are under threat as never before.