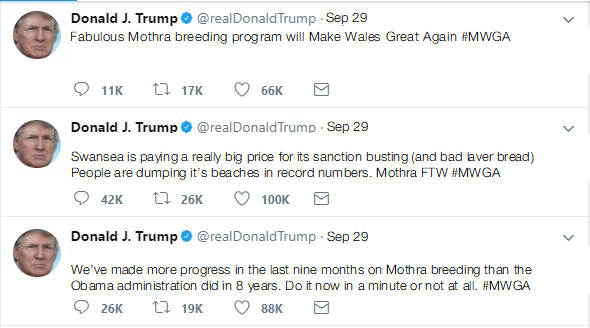 Latest posts by NotSoGreatDictator
(see all)
A furious Twitter row has erupted between Kim Jong-un and Donald Trump over which one of them is going to Make Wales Great Again.   Kim Jong-un's now infamous plan for a Godzilla nursery in the Swansea Bay tidal lagoon was disparaged by Trump in a series of tweets this week. The tweets claimed the US-backed Mothra breeding program in the Millennium Stadium would Make Wales Great Again.  The leader of the Democratic People's Republic of Korea retaliated by saying his legion of Godzillas would put Wales on the map and make it "feared and respected the world over".
Mr Trump has taken Wales to his heart since spending a "lovely weekend" being radicalised in Llanpumsaint. "Wales has the best radicalisers. Those guys… Let me tell you… When they get radicalising… They're really going to Make Wales Great Again.  So good… Nice lunch. Four stars"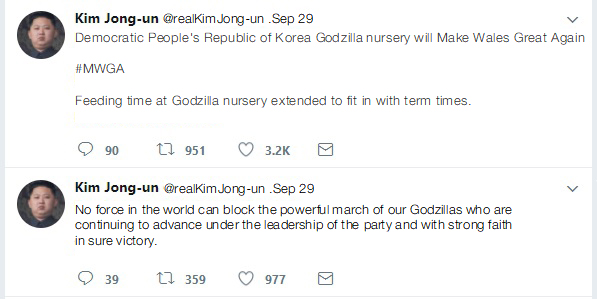 Mr Kim has vowed to work with First Minister the Rt Hon Carwyn Jones AM "to advance under the leadership of the party and with strong faith in sure victory."  He went on to say "The Godzilla army should always maintain a highly agitated state and be equipped with full fighting readiness so as to smash the enemies with a single stroke."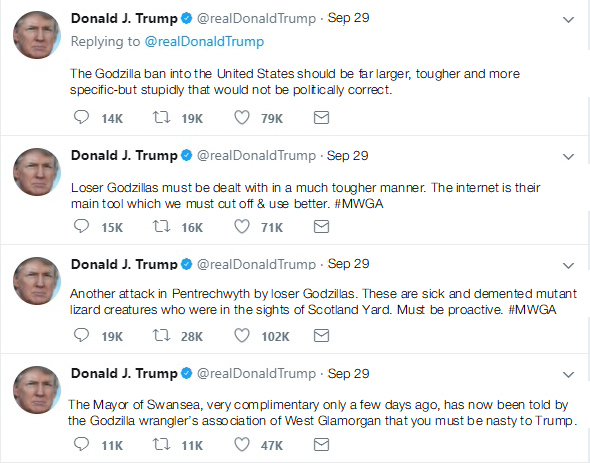 Mr Jones reiterated his commitment to the future development of Wales.
"The Welsh Labour government is very proud of our record of securing inward investment. Both the Godzilla nursery and the Mothra breeding program are signs of a healthy Welsh economy that is open for business. I understand there have been some disagreements between The US and North Korea and both have threatened the total annihilation of great swathes of the M4 corridor but in England, under a conservative government you have to pay to park when you visit a hospital."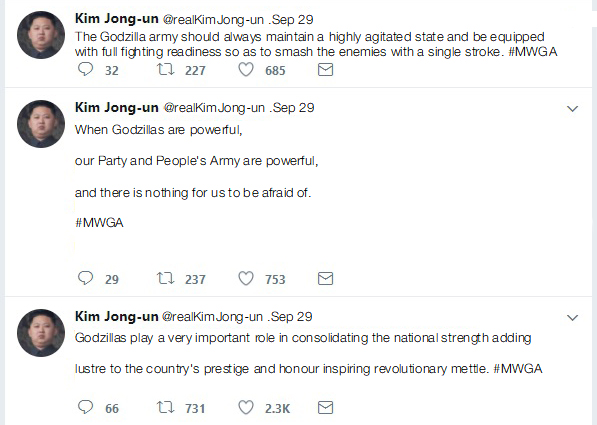 The hashtag #MWGA has been trending since last Thursday as a result of both Mr Trump and Mr Kim making it a personal crusade to ensure Wales has all the benefits normally associated with being the battleground for nuclear mutated giant death dealing city destroyers. New York and Tokyo were sleepy backwater towns before being threatened by King Kong and Godzilla respectively.  Both rose to world prominence as a direct result of being attacked by freakishly large and inexplicably angry creatures from the Pacific Ocean.
If Wales is to become great again we will all have to get behind these ambitious plans for widespread carnage. This is our chance to once again be the proud nation that led the industrial revolution; to hold our heads up and announce our presence on the world stage. Let battle commence.
---
If you enjoyed this article please consider donating a small sum towards helping us to continue providing the service and paying our contributors [tinypass_offer text="CLICK HERE TO DONATE"]. Thanks. Diolch yn fawr.