Writer, humourist, satirist, vBlogger and Lego fiend. Get the book Making Wales Great Again #MWGA

Latest posts by NotSoGreatDictator (see all)
Secretary of State For Wales Alan Cairns has outdone himself this week by unilaterally renaming Donald Trump's Space Force, 'Prince of Wales Force' we can reveal. The Space force calls for the Pentagon to develop a sixth branch of the American armed services that would protect national and commercial interests in space.  'Prince of Wales Force' will do the same but will also use zero gravity laboratories to develop a thinner, crisper Duchy Original Organic Sicilian lemon all butter shortbread.
A major plank of the 'Prince of Wales Force' will be a sustainable return to the Moon and Llanbedr in North Wales will be the hub of the Moonbase Alfa development scheme.  Thanks to their experience in designing off world static caravan parks Llanbedr town council have been asked to lead the ambitious first stage in 'conquering the known universe'.  Quick off the mark, they have already begun towing fifteen Atlas Mirage Deluxe Caravans into orbit around Earth's nearest neighbour.
This time next year they should have all necessary amenities installed but they are still in talks with the Pentagon regarding the price of a unit. Llanbedr Council insist they can provide the caravans for $1.5M each.
Price Includes:
2018 standard pitch fees
Siting, pre-delivery inspection and anchors
Connections for gas, electricity and water
Axel Jacks
Fire extinguisher, carbon monoxide detector and smoke alarm
Ramtech alarm
Steps and handrails
Digital TV aerial
Fridge
The Pentagon have requested triple lead-lined bunker strength exterior cladding, assassin droids patrolling the perimeter and tea making facilities.  President Trump has personally requested Bingo in the mess hall on alternate Wednesdays.  When he visits the base in 2019 Mr. Trump will be the first sitting President to visit the Moon since Theodore Roosevelt in 1908.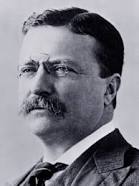 Mr. Roosevelt, accompanied by child actor Lionel Jeffries planted the American flag on the moon during a mission which saw them frustrate the plans of a race of giant insect men intent of destroying The Earth using assassin droids and tea making facilities. When will we ever learn?
Comments from Mastodon: