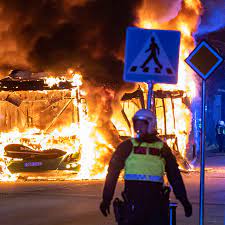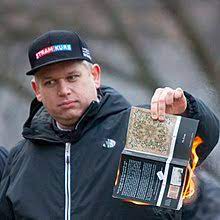 A shocking stunt in Sweden of burning the Qur'an which was partially funded by Russia Today (RT), throws the spotlight on how the state-backed television channel has played host to a Wales-based conspiracy theorist and a headline-grabbing member of the Welsh independence group YesCymru (YC).
The holy book was set alight near Turkey's embassy in Stockholm by a far-right politician and anti-Islam provocateur, Rasmus Paludan, a dual Danish-Swedish national, who holds a reputation for carrying out similar acts, with riots following.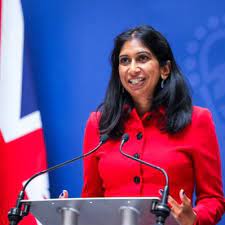 The Qur'an has also featured in a controversial incident in the UK, when again there have been accusations it was set alight. Four pupils, including a 14 year old autistic boy, were suspended from school after it was accidentally dropped, and it was "slightly damaged". The episode was logged by the police as a 'hate crime'. The affair earned a leader in The Times with the headline: "The Right to Offend", and the Home Secretary Suella Braverman has written that there is: "no legal obligation to be reverent to any religion".
Swedish media have reported that Mr Paludan's demonstration permit of 320 Swedish krona (£25, $31) was paid for by a former contributor to RT, Chang Frick, who now does regular media spots for the far-right Sweden Democrats.
This kind of worrying background, underlines other past contentious events.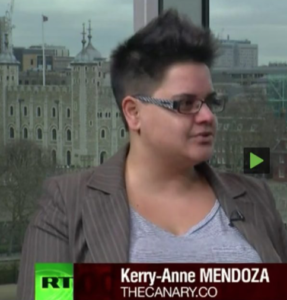 The headline-grabbing commentator Kerry-Anne Mendoza from the left-wing 'news' website The Canary (who was described as a "rock star" by YC), has contributed a number of times to RT in the past.
These appearances, though, proved controversial.
For the programme 'On Contact', she said she wanted an "alternative media", and was interviewed, as well, by Max Keiser on his RT show 'The Keiser Report', where she declared that austerity is a "fig leaf" designed to conceal aggressive neoliberal policies.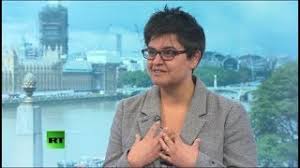 But Ms Mendoza has, herself, featured in the media, and perhaps that is why she wants 'alternative' coverage.
Ms Mendoza has written ironically on Twitter : "Get Brexit done Build, build, build, Jobs, jobs, jobs Arbeit macht frei".
However six months later the then chair of the independence movement she joined (YC), Sion Jobbins, said:  "We will be discussing the matter (her alleged anti-Semitism generally) as a committee in conjunction with our new diversity and inclusion lead officer…".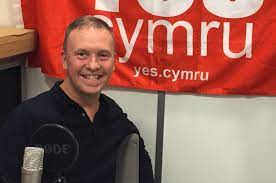 Despite this 'discussion' about Ms Mendoza, a message from left-wing former Labour MP Chris Williamson was 'retweeted' by her the day afterwards, and the outrage of anti-Semitic pressure group Wales Against Anti-Semitism (WAAS) came four days later.
Ms Mendoza joined YC (which has been ripped apart by an extraordinary internal civil war over gender re-alignment), shortly after moving to Wales from her home city of Bristol, and her account tweeted news of her membership to its 59,000 followers.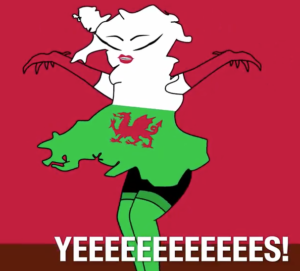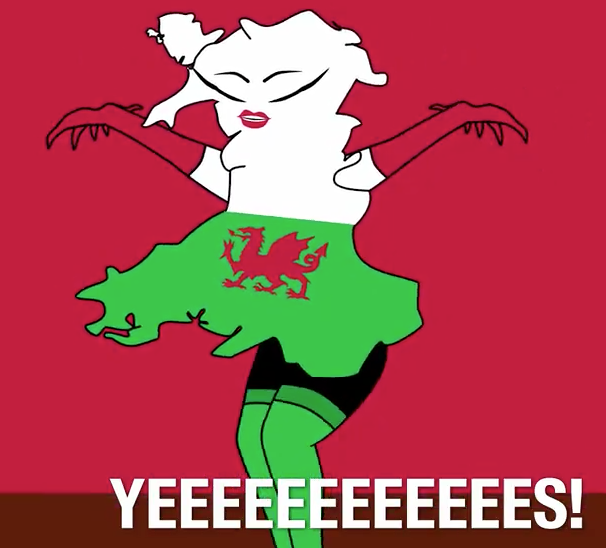 This is only one of several scandals to have confronted YC, as officials were forced to step away from a marketing campaign video which was branded sexist.
They released the video promoting Welsh independence but deleted it, and it was one of the 'mistakes' which were referred to in an online complaint. One critic on social media said: "fire the pig that designed it". It displayed the cartoon of a woman wearing stockings and red arms, with a map of Wales for her body screaming "YEEEEEEEEEEES" in the caption below.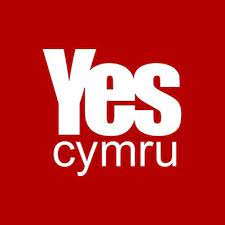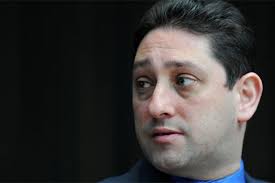 Former Cardiff Council leader, the Liberal Democrats Rodney Berman said of Ms Mendoza joining YC:  "The decision to admit and then publicly welcome this individual raises serious questions regarding the priorities and values of YesCymru. Quite frankly, it's appalling".
She was suspended briefly from Twitter following complaints about another post in which she compared those attending the Jewish Labour Movement's conference to "white supremacists".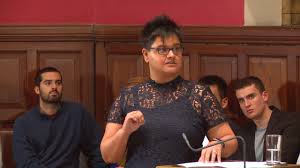 After the then Labour leader Jeremy Corbyn's huge defeat at the polls in December 2019, she suggested that those who opposed Labour over anti-Semitism would be attacked.
Ms Mendoza accused, too, (Jewish) writer and columnist Jonathan Freedland of "manufacturing" the 2019 General Election result, and in January 2020 she claimed celebrations over the completion of Brexit could turn into a  "21st century Kristallnacht".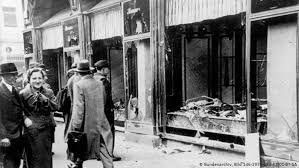 When the Jewish Chronicle (JC) raised concerns about Ms Mendoza's appearance at a Labour party meeting, she tweeted sarcastically: "Black woman can't talk about racism, says white man". She has, as well, publicly attacked leading politicians.
The MP for Bristol West Thangam Debbonaire (the Shadow Secretary of State for Housing) said on Twitter about riots in the city: "This is absolutely unacceptable. The scenes of violence and direct attack on the police in Bristol city centre will distress most people including anyone who believes in defending the right to peaceful democratic protest", and she included a link to a BBC report about the protest.

But soon afterwards, Ms Mendoza shared the tweet, accusing her of being a "Scab".
After the demonstration against the Police, Crime, Sentencing and Courts Bill,  a police station was attacked, 21 officers were injured and police vehicles set alight, with Avon and Somerset Police arresting eight men and saying pictures of "many more" individuals would be released.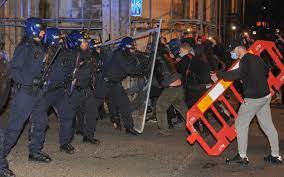 A man appeared in court charged with carrying a homemade spear on the night of the riot.
Bricks, glass bottles and eggs were thrown at officers during one of the three nights of demonstrations in Bristol – with the police saying that protesters shone lasers in their faces.
Meanwhile her fellow contributor to RT has also hit the headlines for all the wrong reasons.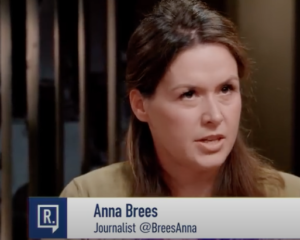 Anna Brees, who is based in Penarth, runs a media company there and has announced: "I was a very good presenter" and said she wanted "good investigative journalism".
She also said on the programme "the onus lies on us… to decide what information to trust… because I have built up a lot of trust (and people come to me saying) 'you have integrity' (but now there is) information chaos".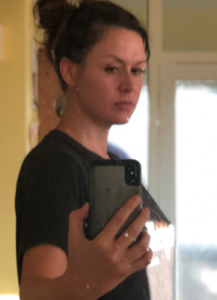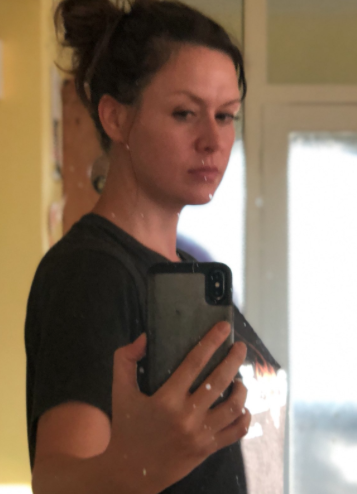 Ms Brees stated, too, that her journalism is "important" and that she tries to "help people navigate out of this mess (the coronavirus/Covid-19 pandemic)", but ironically she walked out of another event in London when she discovered it had been supported by RT.
Yet the YouTube transmission of the broadcast on which she had appeared clearly said:  "RT is funded in whole or in part by the Russian government".
On it Ms Brees responded to the question:  "As a former BBC lifer… do you recognise… (accusations about)… the patronising aspect and patronising nature of the mainstream media?" by saying "it's very rare that we get any 'exclusives' from the (mainstream) media …journalists can be very patronising (but) I WASN"T patronising".
And that "a lot of journalists out there at the moment … feel they are not representing the public and the news they are producing is … fed by communicationsdepartments.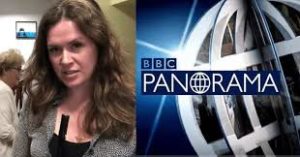 "I really would like to see these institutions like the BBC listen a bit more to the public …the public are getting very angry …they need to listen more".
Ms Brees was at ITV for many years and latterly on the BBC Cymru Wales (BBC CW) consumer affairs programme X-Ray, but after having a child she has said on another RT programme headlined 'BBC journalist exposes the dark side' that executives "begged me to go back".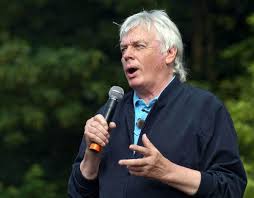 The man she compared herself to on the transmission, the notorious conspiracy theorist David Icke, has warned that the Archons (or Anunnaki) have taken over the world, and that a genetically modified human–Archon hybrid race of shape-shifting reptilians known as the Babylonian Brotherhood, the Illuminati, or the'elite', manipulate global events to help keep humans in constant fear.
It is obvious that fear has been generated too by burning the Qur'an (as well as false accusations that it happened), although it has at least put centre stage that RT featured a Wales-based conspiracy theorist and a member of YC.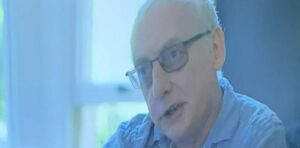 The memories of our Editor Phil Parry's 39 year award-winning career in journalism (when unfortunate links were often highlighted) as he was gripped by the rare disabling condition Hereditary Spastic Paraplegia (HSP), have been released in a major book 'A GOOD STORY'. Order the book now!