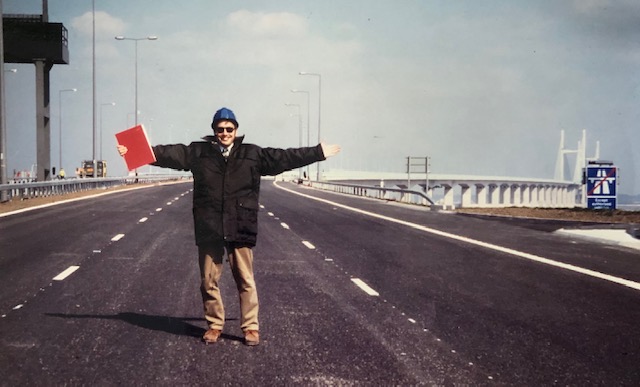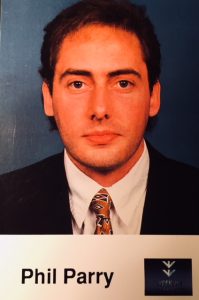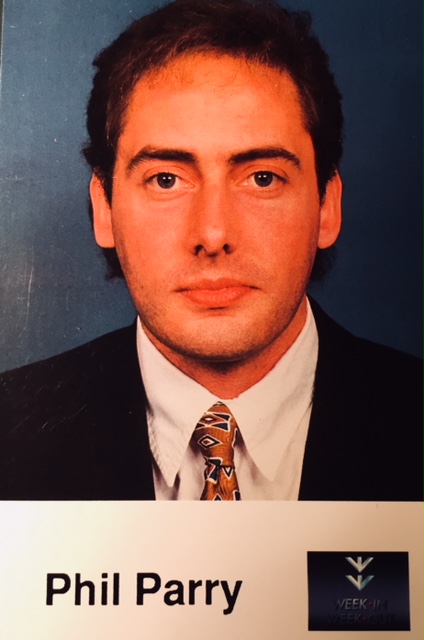 On The Eye our Editor Phil Parry has described how he was helped to break into the South Wales Echo office car when he was a cub reporter, recalled his early career as a journalist, the importance of experience in the job, and making clear that the 'calls' to emergency services as well as court cases are central to any media operation.
He has also explored how poorly paid most journalism is when trainee reporters had to live in squalid flats, the vital role of expenses, and about one of his most important stories on the now-scrapped 53 year-old BBC Wales TV Current Affairs series, Week In Week Out (WIWO), which won an award even after it was axed, long after his career really took off. 
Phil has explained too how crucial it is actually to speak to people, the virtue of speed as well as accuracy, why knowledge of 'history' is vital, how certain material was removed from TV Current Affairs programmes when secret cameras had to be used, and some of those he has interviewed.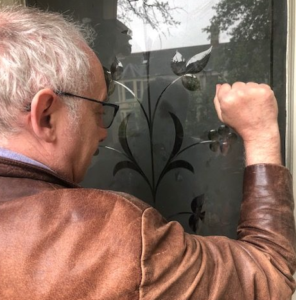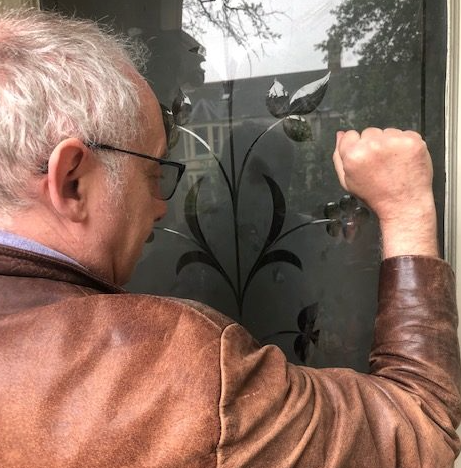 After disclosing why investigative journalism is needed now more than ever although others have different opinions, when yesterday he showed how being a journalist means reporting the views of those who you may personally find repugnant, here he continues his examination of journalism today. 
Another so-called 'journalist' in a senior position who gave interesting advice to someone anxious to break into the trade, is Paul Rowland.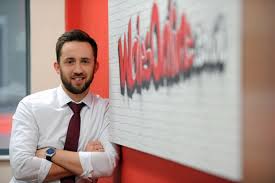 Mr Rowland is the Editor of WalesOnline in the Media Wales group (who threatened to sue me over a satirical piece), and wrote on his website to a reader:  "You might not be interested in '19 mouth watering street food dishes and where to find them in Wales', and you might believe it's not something we should be writing (I wouldn't agree, but that's fine). That doesn't mean it's clickbait".
This would be especially intriguing guidance on journalism in the present lockdown when key items of information are so vital.
'Stories' about beauty contests abound on his website too. Two years ago on page three of the Cardiff-based paper, also like WalesOnline in the Media Wales stable, the South Wales Echo (on the second most important news page after the front where there was a 'tease') a full picture of beauty contestant Elizabeth Jenkins was published wearing her Miss Wales 2018 sash, with another photograph of her at work as a mechanic.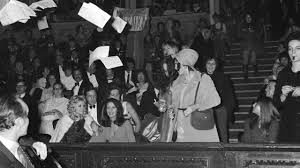 The 'report' had an intro which could have been written 40 or 50 years ago:  "A mechanic is swapping her oily overalls for glittering ball gowns – in a bid to become a top beauty queen".
This kind of attitude was neatly skewered in the film 'Misbehaviour' based on the true story of how women demanding equal rights had stormed the stage of Miss World in London in 1970, leading, eventually, to television companies dropping the transmission of these cattle markets, and giving women legal rights enshrining equality.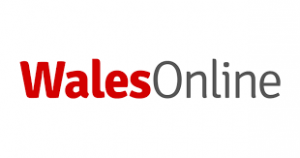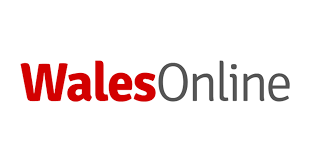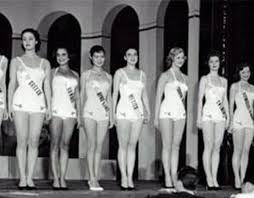 Earlier WalesOnline, had run pictures of "The women aiming to win the title" with Ms Jenkins one of the contenders.
Emulating beauty contestants from days of yore, she told the website she was striving to "build a better world (which) is always a beautiful mission".
Three years before, ironically on the eve of International Women's Day (IWD), which commemorates the movement for women's rights, the website promoted the competition offering pictures of "gorgeous girls" and "stunners".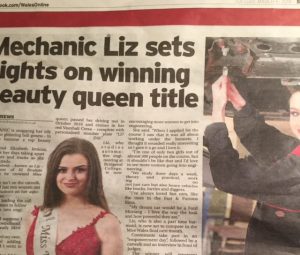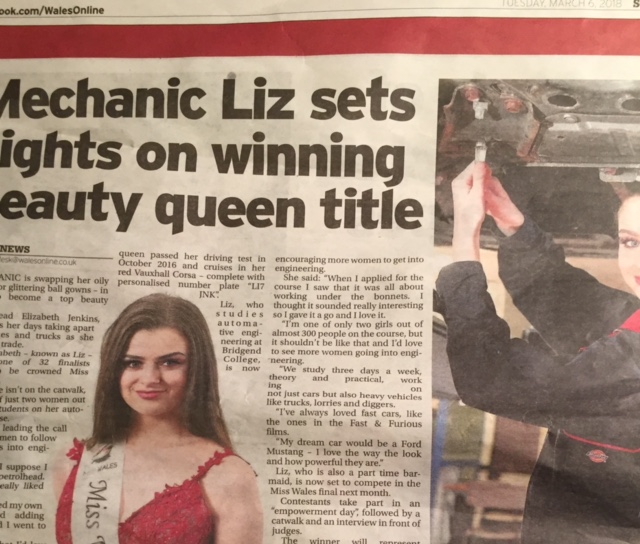 The headline in WalesOnline advertising a piece about the competion, declared:  "Miss Wales 2015: Meet the 34 finalists hoping to wear the crown".
Underneath, a strapline stated:  "These are the gorgeous girls hoping to be named Miss Wales … and you've got just HOURS to vote for your favourite".
Yet sexist so-called stories on the website continued.
In September 2015 the WalesOnline rugby correspondent Simon Thomas said on Twitter he was "mortified", and we showed how another journalist there said it looked like it was stuck in the 1970s, when a 'report' was published on the wives and girlfriends of Welsh stars before the rugby world cup.
Photographs of the "glamorous" women were included to support the piece on the website.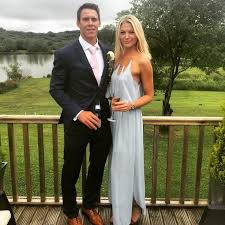 Sophie Harries was called:  "the model girlfriend of Scarlets star Liam Williams (who) has just been signed up to London model agency Models 1″.
The article added:  "She describes herself as a small town Welsh girl living in London.
"We think we'll add totally gorgeous to the list".
Tania-May Williams, with Scott Williams, was said to be:  "dark-haired and gorgeous".

There were however nods towards the intellectual qualities of the women.
Dr Anwen Jones, a lecturer and wife of Alun Wyn Jones, was described as "clever and sporty …  a former 400m hurdler (who) was Welsh champion from 2000-2007″.
Reports about the opening of bars also pass for news it seems.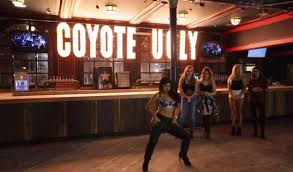 In 2016, 17 'stories' were published on WalesOnline about Coyote Ugly, where women dance for (mainly male) customers.
One, in December of that year, was headlined:  "Watch the Coyote Ugly Cardiff girls practise their moves ahead of opening night".
An earlier item said:  "The girls will start their 'Coyote Bootcamp' on Monday ahead of the venues (sic) grand opening'.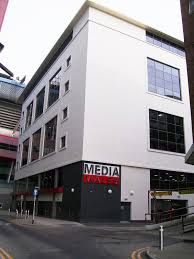 "Following a weekend of auditions, owner's (sic) at Cardiff's new Coyote Ugly bar have finished their 'Coyote Search' and have recruited a number of girls.
"Nobee, Sally, Rio, Lauren and Chloe have all been chosen to work as Cardiff Coyotes."
Readers though were unimpressed.
One noted sarcastically in the comments section:  "Scantily clad women dancing on a bar, serving drinks in-between, whilst men look on but can't touch? No sexism there. At all."
Another said: "I think someone needs to look up what sexism is, because this is exactly that."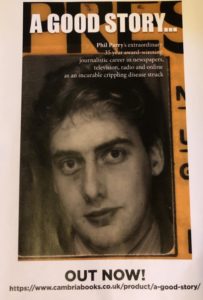 Perhaps 'journalists' on WalesOnline, documentary makers like Stacey Dooley who have made terrible mistakes but are due to 'tell' us about coronavirus (Covid-19), as well as those who claim to lecture in journalism such as Ifan Morgan Jones, also need to look up what constitutes news…
The memories of Phil's extraordinary 36-year award-winning career in journalism as he was gripped by the incurable disabling condition Hereditary Spastic Paraplegia (HSP), have been released in a major new book 'A GOOD STORY'. Order the book now! The picture doubles as a cut-and-paste poster!