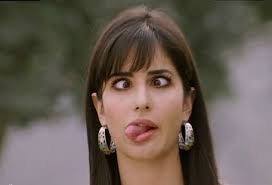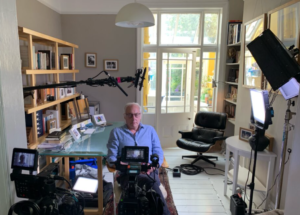 Amid news that the fresh chair of Welsh nationalist party Plaid Cymru (PC) was to be reported for saying in the past that she "hated" the English, but said her comments were "ironic", here, as a Summer Bank Holiday read, our Editor Phil Parry looks at how the IMPRESSION given by politicians is all-important.
The row comes hard on the heels of an extraordinary story developing, first broken by The Eye which has been covered across the UK, about a PC councillor who was forced to apologise for posting a picture of himself with a gun saying he was keeping out the English.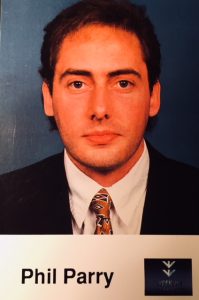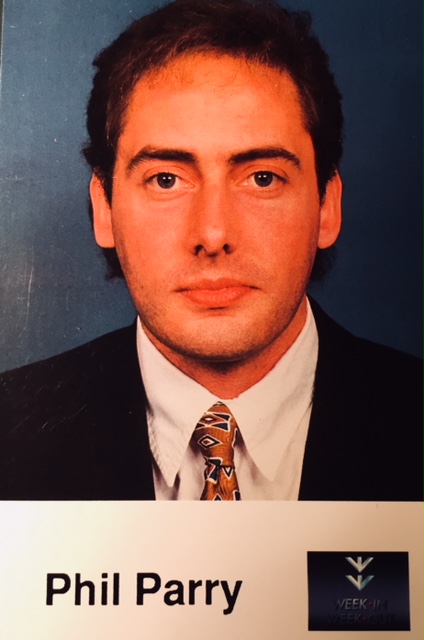 Earlier he described how he was assisted in breaking into the South Wales Echo office car when he was a cub reporter, recalled his early career as a journalist, the importance of experience in the job, and making clear that the'calls' to emergency services as well as court cases are central to any media operation.
He has also explored how poorly paid most journalism is when trainee reporters had to live in squalid flats, the vital role of expenses, and about one of his most important stories on the now-scrapped 53 year-old BBC Wales TV Current Affairs series, Week In Week Out (WIWO), which won an award even after it was axed, long after his career really took off. 
Phil has explained too how crucial it is actually to speak to people, the virtue of speed as well as accuracy, why knowledge of 'history' is vital, how certain material was removed from TV Current Affairs programmes when secret cameras had to be used, and some of those he has interviewed.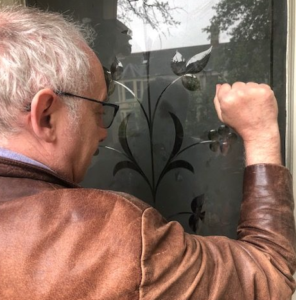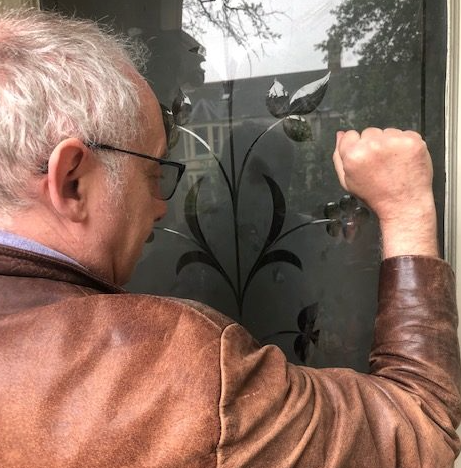 He has disclosed as well why investigative journalism is needed now more than ever although others have different opinions, how the coronavirus (Covid-19) lockdown played havoc with media schedules, and the importance of the hugely lower average age of some political leaders compared with when he started reporting.
"I have been…misrepresented.
I have heard those words countless times since I started in journalism in 1983, and whenever I was confronted by them, I always thought to myself: 'Either the observation was MADE, or it WASN'T!'.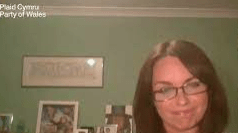 Other rejoinders from those who have been caught out in wrong-doing, often included: "It was meant as a joke". I used to hear: "This remark has been taken out of context", another one I would get was: "This is an ironic statement".
But my response every time, would be: "Many people might not see the funny side of this", or: "Irony can be lost in translation".
This becomes particularly acute when it comes to politicians. They need to be VERY careful making a joke, because the comment can be viewed as being serious, and irony does not come over if it is set down in black and white, or posted on social media, so recent events with Welsh nationalist party Plaid Cymru (PC) politicians at their heart, serve to underline these fundamental facts.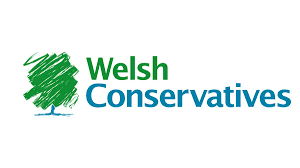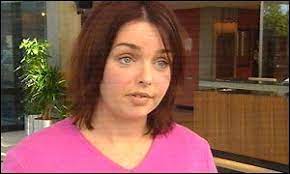 Let's look first at the row today over a controversial statement made years ago by the new chair of PC, Beca Brown (who is English, but lives at Llanrug in Gwynedd which is largely Welsh-speaking). In 2001, writing in the Welsh affairs magazine 'Barn' she said she hated the English "as a race, as people, as a country, and for what they've done to Wales and the Welsh". The fact it was written 21 years ago, is no defence, as, of course, once made, the internet now ensures these alarming words can be seen permanently.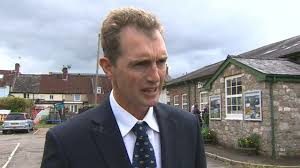 The Welsh Conservatives (WC) attacked this judgement both at the time and now.
David TC Davies (then just a member of what was at the time the Welsh assembly representing Monmouth, but now Parliamentary Under Secretary of State for Wales) said when the words came out initially: "These views will be totally unacceptable to the vast majority of people in Wales",  and stated that he intended to report her both to the police, as well as the Commission for Racial Equality (CRE) (which is now the Equality and Human Rights Commission [EHRC]).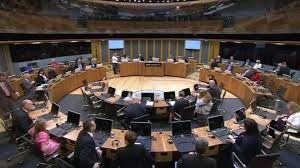 An unnamed WC 'source' in the Welsh Parliament/Senedd Cymru (WP/SC) announced when the pronouncement emerged last week: "The level of barely concealed xenophobia that has been revealed in Plaid Cymru's elected ranks in the last few days has been astonishing. Ms Brown should resign as Plaid's party chair immediately".
But, of course, Ms Brown used the immortal lines her comment was "ironic", and that she had been "deliberately misrepresented".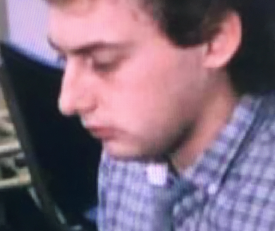 After a 39 year career as a journalist I am growing weary of hearing this ridiculous defence.
It is particularly ironic (a correct use of the word), because she was herself a journalist.  In 1994 Ms Brown was writing feature articles for the Western Mail (WM), joining ITV Cymru Wales in 1997 working on the Welsh language current affairs programme Y Byd ar Bedwar. She went on to become a television producer with the independent company Cwmni Da between 2012 and 2017.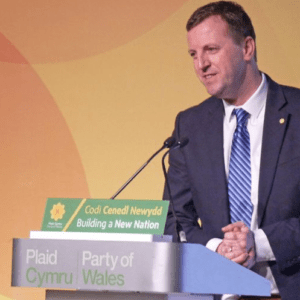 Disturbing revelations in "Plaid Cymru's elected ranks" referred to by the WC, may concern two key controversies recently which have been focused on by The Eye.
One was how PC let back in to the party the disgraced MP, Jonathan Edwards, who was cautioned by the police for assaulting his wife, (although he decided not to take the group whip in Westminster).
Soon after this story made the news, it was revealed that before the 2015 General Election (GE), Adam Price's predecessor as leader of PC (Leanne Wood), had written (on Twitter):"Re-elect the fantastic Jonathan Edwards in Carmarthen East and Dinefwr.". However after the re-admission of Mr Edwards to the party, she decided Mr Edwards was not "fantastic" at all. In fact, quite the reverse.  She tweeted: "This sends the message that women don't matter and that survivors of domestic abuse don't matter. I always believed Plaid Cymru to be better than this."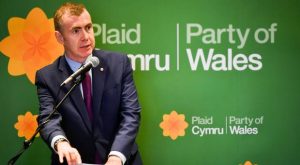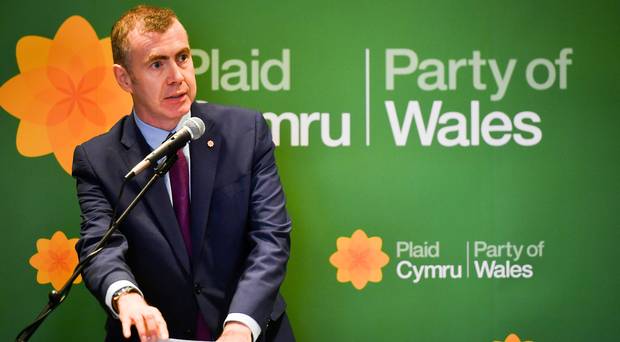 Her successor (Mr Price) joined in, saying: "His (Mr Edwards') actions do not represent our values and his position as an MP sends the wrong message out to domestic abuse survivors in Wales and beyond".
This reflected the fact that his party was split down the middle over re-admitting Mr Edwards, and Ms Brown's appointment as chair was only made because of an abrupt departure over it. The target of Mr Price's ire (Mr Edwards), has portrayed himself as a victim, yet for many who watched what happened, this will not compare to the suffering of the woman he assaulted. Mr Edwards has declared self-pityingly, that he had been the subject of "vindictive and vengeful coordinated political attacks", and he was left feeling suicidal.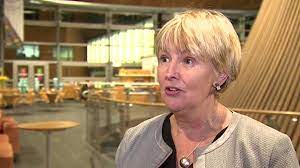 Ruptures within PC were laid bare after what had occurred, and they were encapsulated by the member of the WP/SC, Sian Gwenllian, Communications Director on PC's ruling National Executive Committee (NEC), who said: "If an elected politician has severely damaged the integrity, the credibility and the reputation of our party by contravening one of its core values, then that person should no longer represent the collective, democratic voice of our members. 
A previous party chairman, Alun Ffred Jones, resigned after disagreeing with the NEC's actions.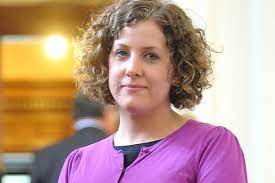 The Chief Executive of the gender equality organisation Chwarae Teg, Cerys Furlong, said PC should think again about its decision and the message it sent to all women, proclaimng: "Our politics must be an environment in which women are safe and where violence, harassment and abuse are stamped out".
The second astonishing row in nationalist circles, was of how the PC councillor, Jon Scriven was forced to apologise, but was suspended by his party even so, after publishing a picture on Facebook (FB) of himself holding a rifle, with the words above it saying: "Ogmore-by-Sea tonight for a quick swim and make sure there wasn't any English people trying to cross the channel".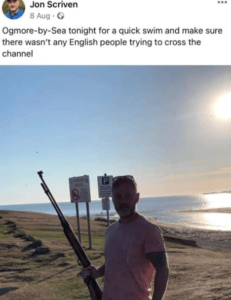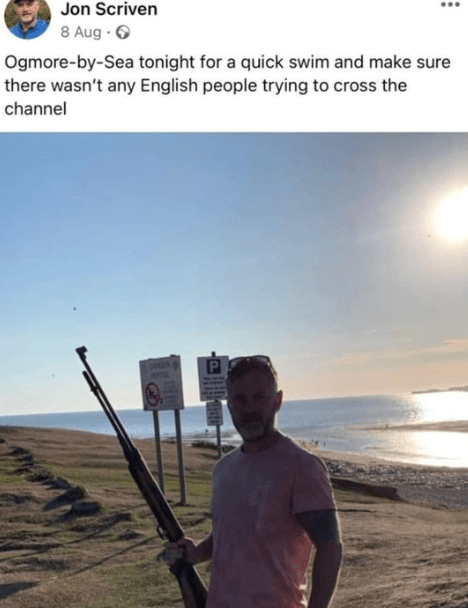 As well as noting implied violence, the Welsh Liberal Democrats (WLD) said on FB: "Whether or not it was intended as a joke or not, it is entirely inappropriate for an elected official to make such comments, when they should know better. Plaid Cymru must now do the right thing and suspend the councillor in question".
Yet despite his apology, the story about the post, broken first by The Eye, was already being followed up in the mainstream media.
In the hours which came afterwards, the website WalesOnline (WO), published: "A social media post surfaced online which showed Jon Scriven posing with a gun". Other 'stories', though, were deemed more important and given greater prominence on the site, such as one headlined: "Three-year-old egged in face by yobs leaving her bruised and sobbing".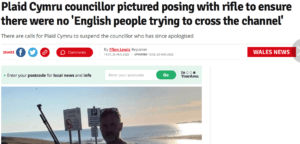 The BBC reported: "Police are investigating a social media post which appeared to show a Plaid Cymru councillor posing with a gun to make sure there weren't "any English people trying to cross the channel". The Guardian reported that: "Police are investigating a social media post from a Plaid Cymru councillor apparently posing with a rifle near a Welsh beach and commenting that he was checking "there wasn't any English people trying to cross.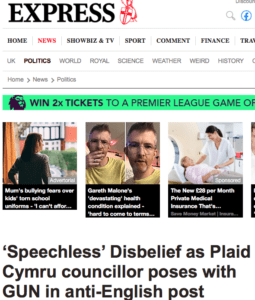 The Daily Telegraph wrote: "A Welsh nationalist councillor is being investigated by police after posing with what looked like a gun and saying he was stopping "any English people trying to cross" the Bristol Channel". LBC (Leading Britain's Conversation), The Independent, Sky, Mail and the Express carried the story, too, with the latter's opening paragraph being: "Officers at South Wales Police are investigating a report of malicious communications after a post appeared on Plaid Cymru councillor Jon Scriven's Facebook page".
Even The Bolton News covered details of the extraordinary saga.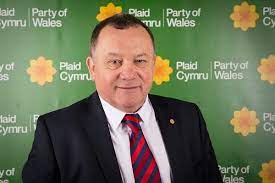 Without, apparently, being aware of the post's obviously controversial nature (and with it being, perhaps, a 'joke'), it was approved of by senior figures in PC at the time.
The Eye showed that beneath the picture, which was placed under police investigation, with its alarming message, a 'heart' emoji (one above a 'thumbs-up' 'like') had been posted on FB by ex-leader of Caerphilly County Borough Council (CCBC), PC's Lindsay Whittle.
PC pronounced grandly that the post was inappropriate, and Cllr Scriven was suspended pending an 'inquiry'. South Wales Police (SWP), meanwhile,  confirmed that an allegation of "malicious communications" had been lodged. Officers said they were "aware of a post on social media featuring a man brandishing what looks like a rifle at Ogmore-by-Sea".
Cllr Scriven said sorry for what he had done, and stated online: "I would like to apologise for my now deleted Facebook post".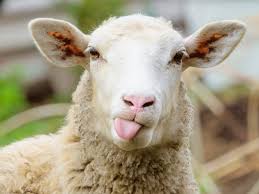 Perhaps there should always be a fulsome apology from politicians, rather than saying something was 'meant as a joke', that it was 'ironic', or the person had been 'misrepresented'…
Phil's memories of his remarkable decades long award-winning career in journalism (when the choice of words was crucial) as he was gripped by the rare neurological disabling condition Hereditary Spastic Paraplegia (HSP), have been released in a major book (including the bizarre defences used by those who have been exposed) 'A GOOD STORY'. Order the book now!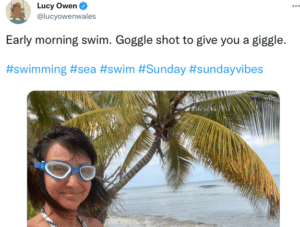 Regrettably publication of another book, however, was refused, because it was to have included names.
Tomorrow – why fierce condemnation has followed a controversial television news presenter in Wales (who engaged in an extraordinary affair with a senior executive when his officials had commissioned a programme she fronted), posting pictures of herself on social media in a skimpy bikini on holiday at a palm tree-fringed beach, while her viewers at home are struggling to pay their bills.