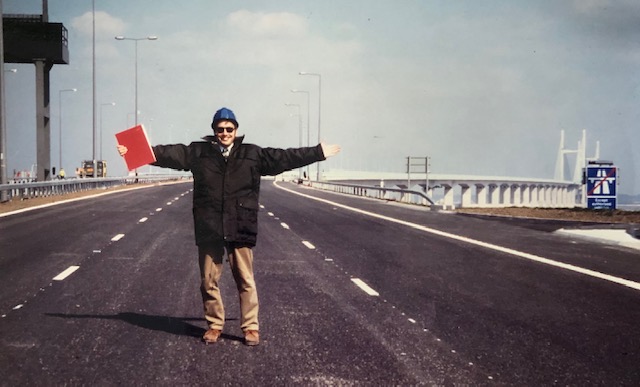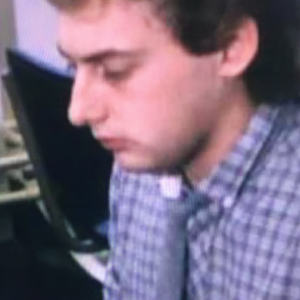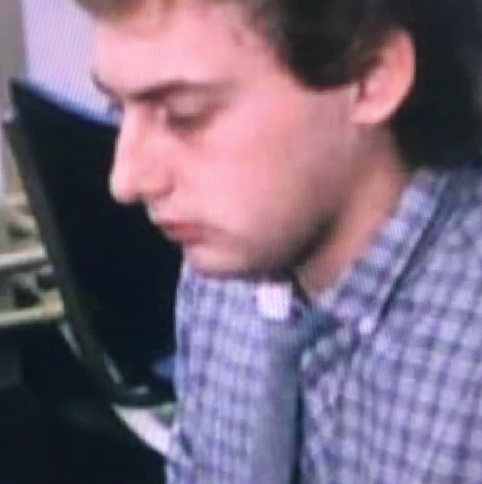 During a 23 year career with the BBC, and 39 years in journalism, (when he was trained to use clear and simple language, avoiding jargon), our Editor, Welshman Phil Parry, has always tried to hold true to certain principles, but these seem to be in short supply in China, where the leader has just been given rubber stamp approval to extend his rule, meaning he could be in place for the rest of his life, and it's been reported that media freedom there is declining at 'breakneck speed'.
Earlier he has described how he was assisted in breaking into the South Wales Echo office car when he was a cub reporter, recalled his early career as a journalist, the importance of experience in the job, and made clear that the 'calls' to emergency services as well as court cases are central to any media operation.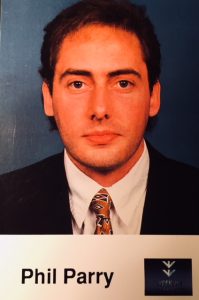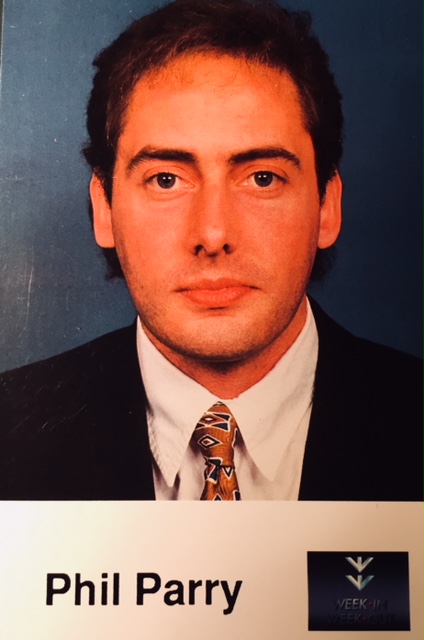 He has also explored how poorly paid most journalism is when trainee reporters had to live in squalid flats, the vital role of expenses, and about one of his most important stories on the now-scrapped 53 year-old BBC Wales TV Current Affairs series, Week In Week Out (WIWO), which won an award even after it was axed, long after his career really took off. 
Phil has explained too how crucial it is actually to speak to people, the virtue of speed as well as accuracy, why knowledge of 'history' is vital, how certain material was removed from TV Current Affairs programmes when secret cameras had to be used, and some of those he has interviewed.
He has disclosed as well why investigative journalism is needed now more than ever although others have different opinions, how the coronavirus (Covid-19) lockdownis playing havoc with media schedules, and the importance of the hugely lower average age of some political leaders compared with when he started reporting.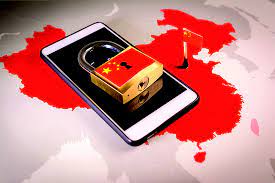 There is right, and there is wrong.
It is RIGHT to underpin a functioning society with: 1. Democracy. 2. An independent judiciary. 3. A free media. 4. A respect for human rights.
It is WRONG for an unelected group (of mainly men) to anoint a person in their number, as the most powerful leader that country has had in years.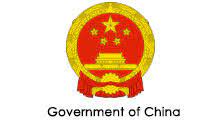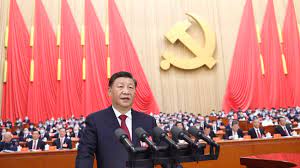 There is no 'other side', or 'counter-argument'. These are basics, and they are non-negotiable.
Exactly this, though, has just happened in China.
It is clear, however, that, for example, media scrutiny of state events is ABSOLUTELY VITAL, and as we have seen when things go wrong in a publicly-accountable body (which is thankfully rare in Wales), the result is catastrophic.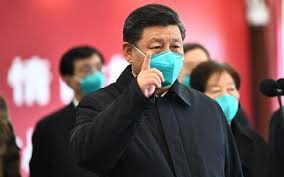 China is the world's biggest nation (it has a population of 1.4 billion), so this is even more central, yet those fundamentals of a functioning society are completely absent.
It has NO democracy, OR an independent judiciary, the media outside state control is EXTREMELY limited, and it does NOT respect human rights.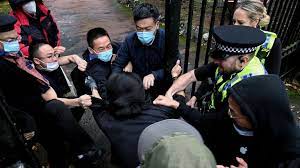 Even in the UK, protesters demanding democracy there are likely to be beaten up by state officials.
The deputy Chinese ambassador was summoned for urgent talks with the UK Government after a Hong Kong pro-democracy protester was dragged into the Chinese Consulate grounds in Manchester and violently attacked just over a week ago.
China's charge d'affaires to London, Yang Xiaoguang, was grilled by executives at the Foreign, Commonwealth and Development Office (FCDO), after civil servants from the department expressed "deep concern" to the Chinese embassy over the attack.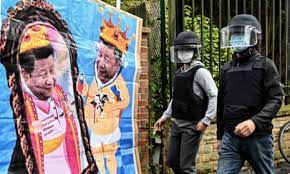 Footage from the incident shows unidentified men emerging from the consulate compound, tearing down a satirical portrait of Chinese President Xi Jinping erected by protesters outside, and then attacking one of them mainly inside the consulate grounds.
The Chinese Consul-General in Manchester said that he was 'doing his duty', although he was filmed pulling the hair of Bob Chan, and this may be seen as an odd way of fulfilling his job description.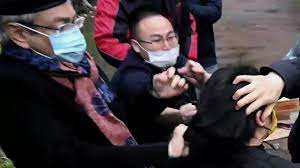 Meanwhile, Mr Chan has told how he was pulled into the consulate area and beaten by men, leaving him with injuries requiring hospital treatment.
"I did not attempt to enter the consulate", he said.
"I found myself being dragged into the grounds of the consulate. I held onto the gates where i was kicked and punched, I could not hold on for long. I was eventually pulled onto the ground of the consulate. I felt punches and kicks from several men. Other protestors were trying to get me out of this situation, but to no avail.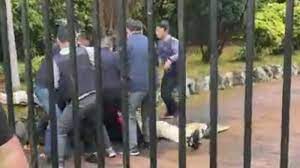 "The attack only stopped when a man who turned out to be a uniformed officer from the Greater Manchester Police pulled me outside the gates."
This assault came as a 'meeting' (where the Chinese officials concerned did not have a hair, which is usually dyed black, out of place, and protests, like the one in Manchester, were inaudible), of the 20th Congress of the ruling Chinese Communist Party (CCP) ended at the weekend, while conferring on the leader, Mr Xi (aged 69), almost unlimited power, and gave him a third term as party General Secretary and Head of the Armed Forces. This is unprecedented in the contemporary era.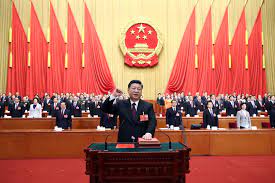 That controversial result of the party Congress was never in doubt, and he has taken the opportunity to fill key posts with loyalists
The men who were chosen have personal ties to Mr Xi, and for the first time in decades, no woman was chosen for the CCP's policymaking body, the Politburo.
There was, however, drama before this happened: the ejection of Mr Xi's predecessor Hu Jintao from the main stage, amid rumours that he'd been purged.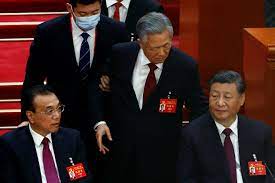 The 79-year-old was sitting next to his successor for the closing ceremony of the party gathering, when aides approached and, after some initial reluctance on Mr Hu's part, escorted him away.
As he left, the former president exchanged a word with Mr Xi, and party officials said he'd become 'confused' and 'unwell'.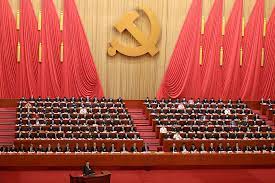 Days earlier, in his almost two hour plodding speech (a 'work report' in party jargon) to the faithful there, Mr Xi emphasised 'reuniting' China, with a possible invasion of Taiwan. 
Coded references were made to the perceived decadence and decline of America. The young should heed the CCP, he said, study diligently, keep fit, pursue realistic goals, and, in due course, make more babies for the motherland.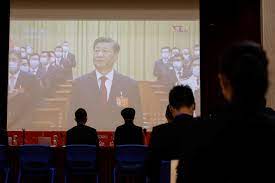 To progress up the ladder of Mr Xi's party, people must show that they have studied a number of courses, and the first four titles of them are:
1. Guide to Xi Jinping Thought on Socialism with Chinese Characters for a New Era. 2. The Belt and Road Initiative (which was begun by Mr Xi): Rebuilding China, Rebuilding the World. 3. The Fourteenth Five Year Plan for National Economic and Social Development of the People's Republic of China and an Outline of the Vision for 2035. 4. Xi Jinping Ecological Civilisation Thought.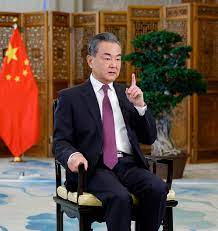 Mr Xi's speech and accumulation of powers, come even after he has continued to back Vladimir Putin (if nervously), as he pursued his unprovoked invasion of Ukraine, and in the face of appalling human rights abuses THERE.
Apart from being connected to the outlawing of an independent press, the Chinese Foreign Minister Wang Yi has also said that cooperation between China and Russia, is advantageous to the two peoples, and Mr Xi has stated their friendship "knows no limits".
The Foreign Correspondents Club (FCC) of China (which was deemed an "illegal organisation"), though, has highlighted the reality of what is actually happening inside the huge country.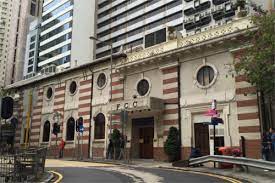 Their report in January, said that journalists faced physical assault, hacking, online trolling and visa denials, as media freedom in China declined at a "breakneck speed". Censorship has been implemented and mandated by the CCP.
Government officials censor content for largely political reasons, such as in order to curtail opposition, as well as to block information about events which are unfavourable to the CCP, like, for instance, the 1989 Tiananmen Square protests and massacre, but also so that officials can maintain control over the populace.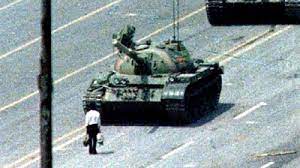 Since Mr Xi became General Secretary of the CCP (and has now secured a THIRD term against norms) in 2012 (which was the first complete orderly transition of leadership power since the revolution in 1949), censorship has been significantly tightened. The government today has control over all media capable of reaching a wide audience, including, television, print, radio, film, theatre, text messaging, instant messaging, video games, literature, and the internet.
Its grip is almost total, and there is only a semblance of defence for it. The Chinese Government assert they have the right to command what is said over the internet within the territory, and that their rules do not infringe on citizens' access to free speech (Ukraine and independent journalists might be intrigued by this!).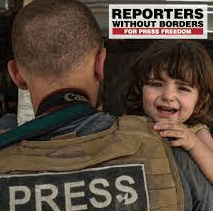 But Reporters Without Borders, have ranked China's freedom of the media situation as "very serious", the worst ranking on their five-point scale.
Even 10 years ago China's position was appalling. The 'OpenNet Initiative' classified internet censorship in China as "pervasive" in political and conflict/security areas, as well as "substantial" in those concerning social and internet tools, the two most extensive classifications of the five they use. Freedom House, a US-backed Non-Government Organisation (NGO), ranks the Chinese press as "not free", the worst possible ranking, declaring that "state control over the news media in China is achieved through a complex combination of party monitoring of news content, legal restrictions on journalists, and financial incentives for self-censorship".
Local journalists in mainland China and Hong Kong are also being targeted, and this term appears to be being bandied around even more strongly, as Mr Xi, exerts ever greater authority in China.
Journalists' attempts to report facts, such as in the persecution of the mostly-Muslim Uyghur people in the north-western region of Xinjiang, are being severely hampered. Human rights groups believe China has detained more than one million Uyghurs against their will over the past few years, in a large network of what the state calls "re-education camps", and that it has sentenced hundreds of thousands of them to prison terms. There is also evidence that Uyghurs are being used as slave labour, and of women being forcibly sterilised, as well as some former camp detainees alleging that they have been tortured and sexually abused.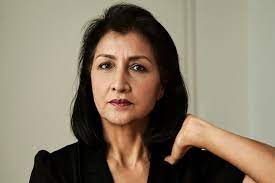 Two recent books have laid bare in horrifying detail what is happening inside China. 'In The Camps' by Darren Byler, describes how facial recognition and high-technologuy surveillance, make resistance impossible. The accounts from Gulbahar Haitiwaji in 'How I Survived a Chinese 'Reeducation' Camp' are just as disturbing. Internees are forced to stand motionless for hours, sit on plastic stools, day in day out, until their intestines prolapse, and are told to sing patriotic songs, giving thanks to Mr Xi. "We were eternal victims, bowed under the weight of threats", says Ms Haitiwaji.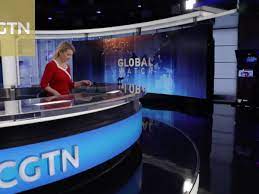 The state-controlled television and radio station CGTN, however, have a slightly different view of events surrounding the Uyghurs, and their journalists have 'reported' that: "Some anti-China forces in the West, including the United States, have concocted and disseminated plenty of false information about China's Xinjiang Uygur Autonomous Region".
Yet last year Ofcom said the company which possesses the UK licence for CGTN is not actually in charge, which is against its rules.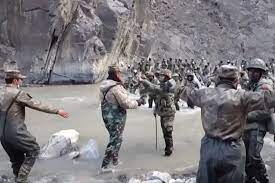 It seemed that Star China Media Limited (SCML), which owns the licence for CGTN, "did not have editorial responsibility". This judgement was made after accusations that CGTN repeatedly breached impartiality rules and aired forced confessions. Ofcom had also received a complaint stating that CGTN should not be allowed to broadcast at all because it was effectively controlled by the CCP.
The director of human rights group Safeguard Defenders, Peter Dahlin, said: "The best way forward is to revoke their (CGTN/SCML) licence to teach them that this is unacceptable".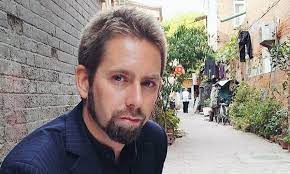 This has emerged after many years, during which worrying news has been revealed about what is occurring inside China. 10 years ago the FCC was forced to issue a warning to its members after three employees of European media companies were attacked. The reporters for the companies were covering land rights protests in the village of Panhe, in the eastern Zhejiang province, and in one incident, a French reporter had his car rammed, while a group of men beat up his Chinese assistant. In another, a Dutch correspondent was attacked by men who seemed to be plain-clothes police.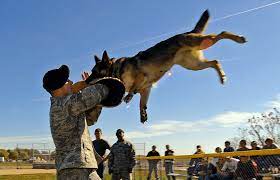 I, too, can expect to be attacked (online), for having the audacity to criticise a system, in which a group of unelected men, has given almost untrammelled powers to another unelected man within the group, who is in his sixties…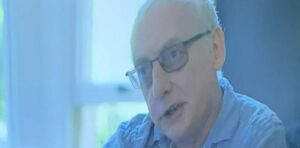 Tomorrow – why a huge accommodation crisis has thrown the spotlight on a nationalist party's controversial demand that rents in Wales should be frozen – which has been described as a "car crash policy".