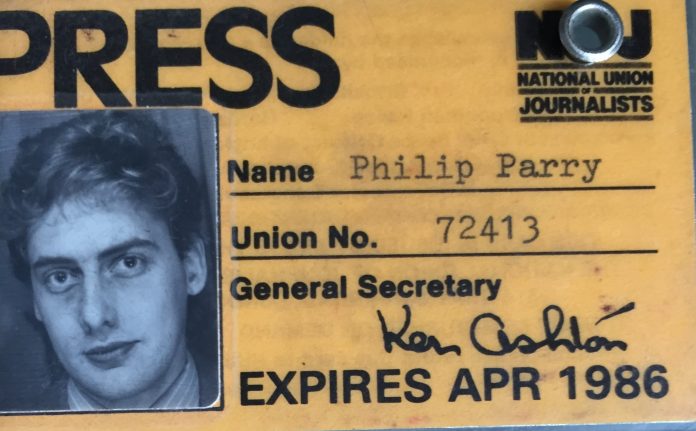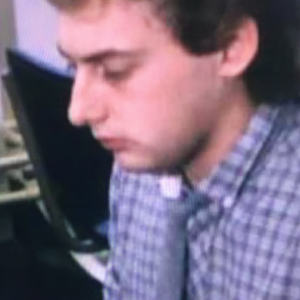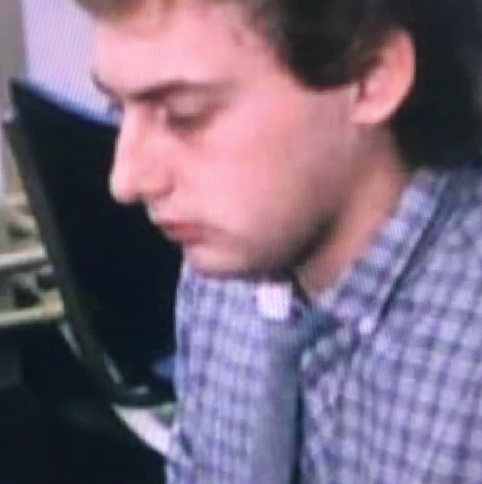 Here our Editor Phil Parry looks at the importance for all journalists of TRAINING. 
Earlier he has described how he was helped to break into the South Wales Echo office car when he was a cub reporter, recalled his early career as a journalist, the importance of experience in the job, and making clear that the 'calls' to emergency services as well as court cases are central to any media operation.
He has also explored how poorly paid most journalism is when trainee reporters had to live in squalid flats, the vital role of expenses, and about one of his most important stories on the now-scrapped 53 year-old BBC Cymru Wales TV Current Affairs series, Week In Week Out (WIWO), which won an award even after it was axed, long after his career really took off.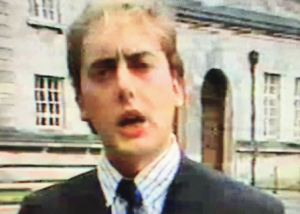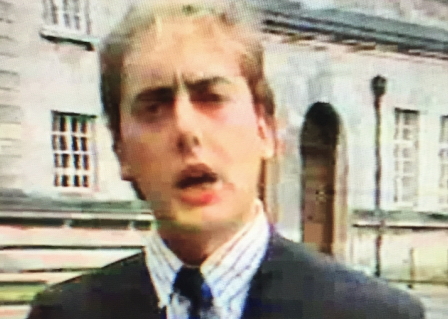 Phil has explained too how crucial it is actually to speak to people, the virtue of speed as well as accuracy, why knowledge of 'history' is vital, how certain material was removed from TV Current Affairs programmes when secret cameras had to be used, and some of those he has interviewed.
He has also disclosed why investigative journalism is needed now more than ever although others have different opinions, and how information from trusted sources is crucial at this time of crisis.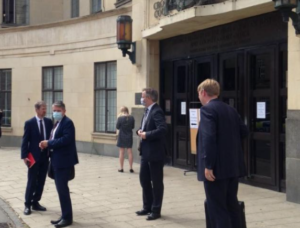 A legal case against The BBC when two teenagers were named unlawfully in court reports, flouting a judge's ruling, has underlined the importance of basic training for all journalists.
The identities of the youths charged with a murder in Oxford were revealed on TWO BBC news broadcasts and another judge has referred the case for further investigation after the legal rules were broken.
The mistake was made by BBC South television. One case like this would be bad enough, but TWO?! 
One of the boys was 15 while another was 17, and they're charged with a killing in the Oxford area last year, for which they are due to stand trial on January 18.
The youths appeared for a preliminary hearing of their case, and it was the reporting of that hearing which breached the restrictions put in place by the court.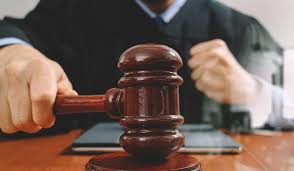 In news bulletins from BBC South at 6.30pm and 10.30pm, the defendants were named in full, with their ages given, as well as where they were from.
The Judge said it was a "clear breach" of the reporting restriction in place.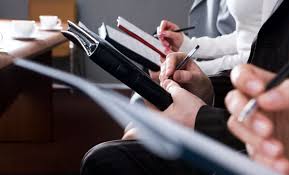 Breaching what is known as a 'Section 45 Order' could have been treated as 'contempt' of court, which every journalist worth his or her salt should be taught about, because it is a serious offence and can bring to a halt an extremely expensive trial.
In this case, though, it hasn't – but BBC officials can think themselves lucky that it hasn't been added to a catalogue of scandals to have hit the corporation recently (see story soon).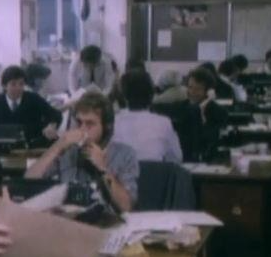 As a journalist since 1983 this sort of incident makes my blood boil.
During your period as a trainee reporter, it is drummed into you that you should NEVER ever breach a court order, and I have taken numerous exams in journalist law to know what can and cannot be reported.
But where was the training here?!
Some so-called 'journalists' of course celebrate the fact that they are 'untrained' and (perhaps inevitably) terrible mistakes are made.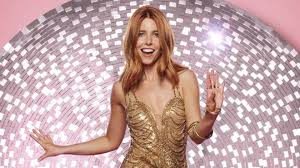 Stacey Dooley was preparing a BBC Three documentary on Covid-19 and, admitting that she was "desperate", stated on Instagram:  "Hi gang, hello, I'm sure you're sick of these videos that everyone is posting online. I'm working from home for obvious reasons, I'm making a documentary for BBC Three about coronavirus."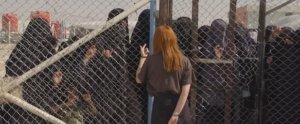 It seems The BBC may have forgotten that officials had to apologise and edit out Ms Dooley's inaccurate commentary in a Panorama programme which claimed to portray the truth about Islamic State's (IS) treatment of women.
In the past her programmes have been accused of being "poverty porn" and in one UK newspaper they were called "patronising and condescending to the people they're trying to help".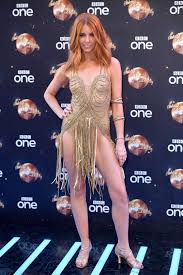 Before the transmission of Stacey Dooley Sleeps Over', Ms Dooley was in hot water over her lack of training or legal knowledge.
The programme in which a glaring error was made, was called 'Stacey Meets the IS Brides' and her voice-over had said: "We saw women raising their index finger in an IS salute".
But this was completely wrong and several viewers who had seen the trailer about it, criticised her comment on Twitter, explaining that Muslims often use this gesture while praying.
One said a complaint had been made to the broadcast regulator Ofcom.
BBC journalist Anisa Subedar tweeted: "Raising the finger is NOT an IS salute. Does #StaceyDooley know us Muslims raise it everytime we pray (that's 5 times a day) to remind us of the oneness of God?"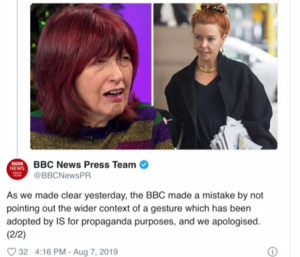 Writer Steve Rose said: "Skip to 1:35 to see Stacey Dooley perpetuate this ignorant falsehood, referring to the raised finger of Tawhid as an 'IS salute'".
The television 'Loose Women' star Janet Street Porter also condemned the programme, and the BBC News Press Team said the criticism was "disappointing".
After a deluge of complaints the BBC announced that the episode was to be re-edited before its broadcast.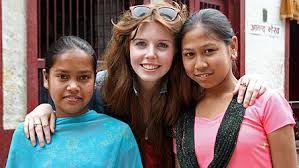 The News at Ten bulletin, which showed the trailer, was also removed from iPlayer.
The BBC finally admitted: "We wrongly described a gesture made by women filmed in a Kurdish controlled detention camp in Northern Syria as an 'IS salute'. While IS have attempted to adopt this for their own propaganda purposes, for accuracy we should have been clear that many people of Muslim faith use this gesture to signify the oneness of Allah. We apologise for this error and have removed this description from the footage".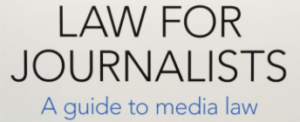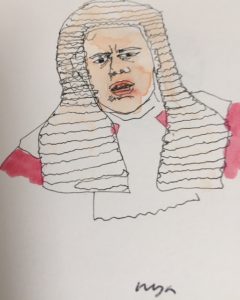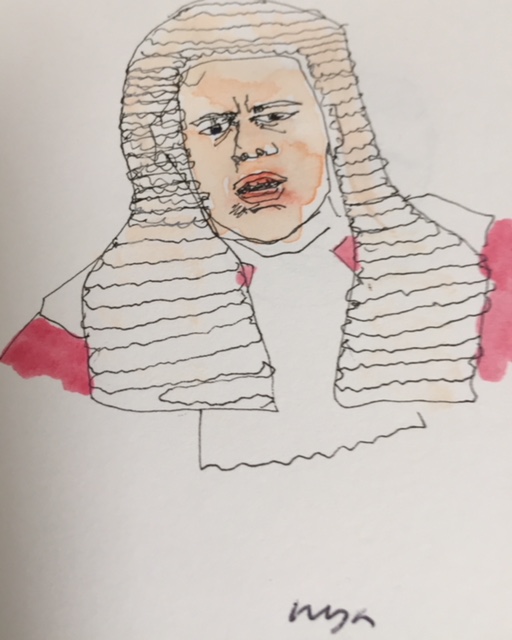 The BBC's error committed by Ms Dooley, was featured in most of the UK newspapers.
Mistakes like these may be committed in the future unless journalists are used who have training or legal knowledge.
It isn't simply accurate and safe court reporting which as at stake here either, but libel.
Knowing the legal rules is absolutely fundamental for all journalists. Broadly speaking in libel, being obnoxious does not defame someone, but undermining the reputation of that person, or the ability to earn a living, and it is published to a third party, may do.
Exactly the same rules apply to social media posts as with a page lead in the Western Mail or an item on BBC Wales Today.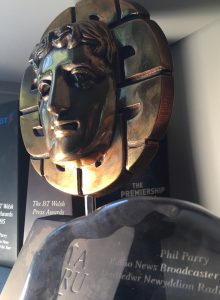 They are the bedrock of journalism, and luckily knowing them has earned me many awards.
You can say, for example, that the First Minister of Wales (FMW), Mark Drakeford, is a bastard (although he is not) because that could be defended as Fair Comment (or Honest Comment as it is now known), but you cannot say he is a cheating bastard unless you have very strong evidence (but there is none, because he is NOT a cheat – let me make that perfectly clear!).
I have been accused of committing 'criminal libel' in the past by a senior council official in Wales, displaying a distinct ignorance of the present legal playing field.
'Criminal libel' is quite different from ordinary 'defamatory' libel, and can involve a perceived attack on the monarch or state.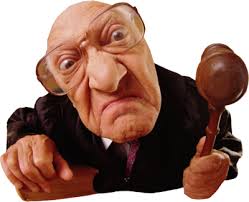 It is also used as a collective term for all offences which consist of the publication of some prohibited matter in a libel, namely defamatory libel, seditious libel, blasphemous libel and obscene libel.
The offences of seditious libel, and obscene libel were abolished in England and Wales and Northern Ireland on 12 January 2010 when section 73 of the Coroners and Justice Act 2009came into force.
Plainly this person had no idea.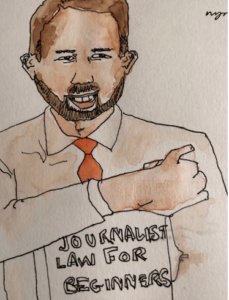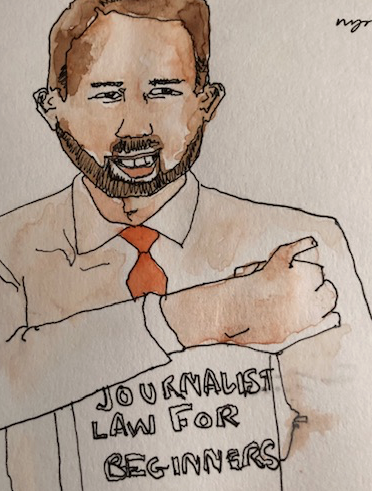 A major player in the Welsh media world is Media Wales. It has the newspaper Western Mail in its stable and the website WalesOnline, which appears to be obsessed with lists, celebrities, rugby, as well as the weather. After an accurate satirical piece that we wrote on The Eye about the number of 'stories' in WalesOnline on the Cardiff bar 'Coyote Ugly', the Editor of WalesOnline Paul Rowland, threatened to sue me, saying "I am placing it (the satirical piece) in the hands of our lawyers" adding the extraordinary words "satire is no defence against libel".
In fact, satire CAN be a defence against libel if it is wrong – you can say, 'yes it was inaccurate but it was meant to be funny'. In this case, though, it was accurate as well, so there were TWO defences! It infuriated me that ostensibly one of the most important journalists in Wales, plainly, on this evidence, knew NOTHING about journalist law!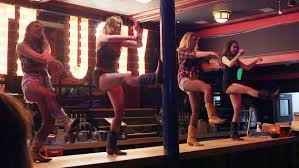 Mr Rowland also has an intriguing view of what constitutes journalism.
He advised a reader anxious to break into journalism to write lists about the best places to eat in Wales, but strongly denied this was 'clickbait'. He wrote on WalesOnline:   "You might not be interested in '19 mouth watering street food dishes and where to find them in Wales, and you might believe it's not something we should be writing (I wouldn't agree, but that's fine). That doesn't mean it's clickbait."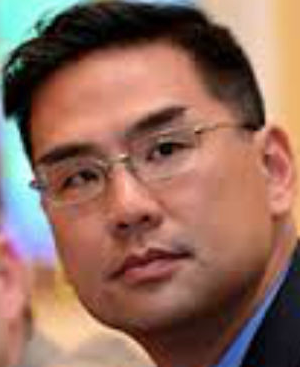 But real journalism (when training is fundamental) is much harder than just writing about '19 mouth watering street food dishes', and in pursuing it you also need to be aware that identity is another key fundamental in libel law.
On The Eye we have exposed a convicted fraudster called Steve Chan, who worked at the Swansea University School of Management, but it took many months of checking to do so. One Chan had been jailed for more than four years by a court in Boston after a massive fraud, while another was an academic at Swansea.
We needed to establish that the two people were in fact the same, and unfortunately pictures of Chan did not help as he had lost a lot of weight. In the end we were helped by The Boston Globe's investigation team Spotlight, and sources inside Swansea University (SU). We showed how the convicted fraudster and 'academic' WERE both Chan, and that he moved on to advise another company with an interesting history.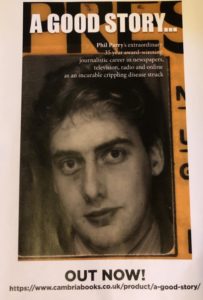 Clearly this sort of arduous work and legal training are in short supply among some journalists today.
As the appalling case in Oxford shows…
Tomorrow – more alarming information about a South Wales conman exclusively exposed by The Eye.
The memories of Phil's astonishing 37-year award-winning career in journalism (when training and knowledge of journalist law were paramount), as he was gripped by the rare crippling neurological condition, Hereditary Spastic Paraplegia (HSP), have been released in a major book 'A GOOD STORY'. Order the book now!