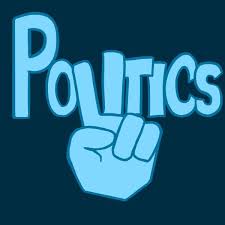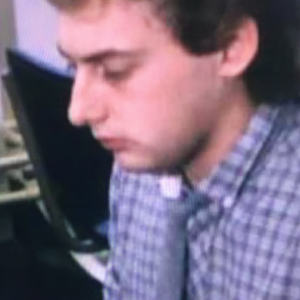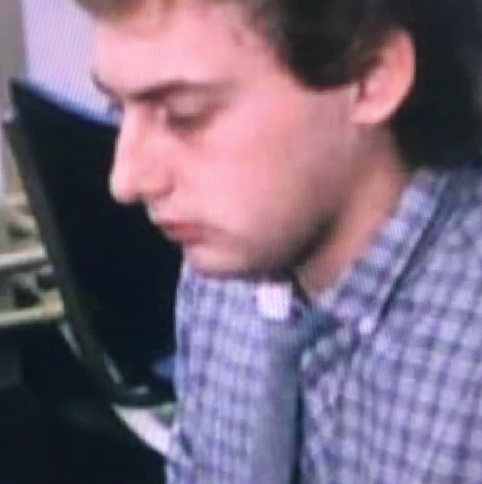 Here our Editor Phil Parry looks at the language of politics after one recently-elected councillor in Wales, called an opponent an 'arse', used the 'c' word and said 'fuck' several times on social media.
Earlier he has described how he was helped to break into the South Wales Echo office car when he was a cub reporter, recalled his early career as a journalist, the importance of experience in the job, and making clear that the 'calls' to emergency services as well as court cases are central to any media operation.
He has also explored how poorly paid most journalism is when trainee reporters had to live in squalid flats, the vital role of expenses, and about one of his most important stories on the now-scrapped 53 year-old BBC Cymru Wales TV Current Affairs series he presented for 10 years, Week In Week Out (WIWO), which won an award even after it was axed, long after his career really took off.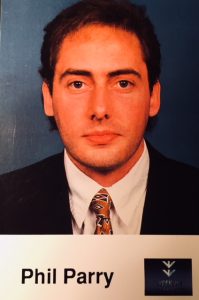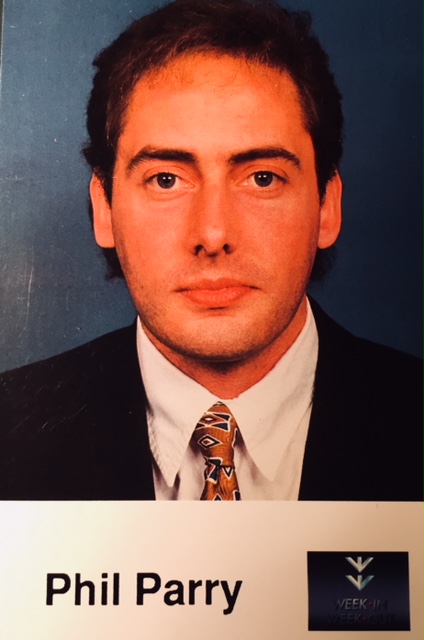 Phil has explained too how crucial it is actually to speak to people, the virtue of speed as well as accuracy, why knowledge of 'history' is vital, how certain material was removed from TV Current Affairs programmes when secret cameras had to be used, and some of those he has interviewed.
He has also disclosed why investigative journalism is needed now more than ever although others have different opinions, and how information from trusted sources is crucial at this time.
Politics can be a dirty business, and the language is often particularly strident.
I know these inalienable facts more than most, after a journalistic career of almost 38 years during which I have interviewed any number of politicians, and covered countless elections.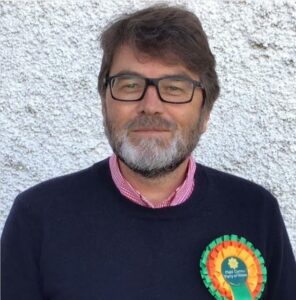 In fact one of my very first stories was interviewing the then Labour leader Neil Kinnock about his New Year message in December 1983.
But one elected representative in Wales may be pushing this truth to its limit with his utterances on Twitter, which could even have gone against his own party's constitution.
Gary Pritchard, who writes his tweets under the name 'Blogdroed' has publicly described a political leader as an 'arse', called a famous entertainer a 'twat', foully abused members of the media, when he incorrectly ascribed a motive to one (me), said 'fuck' many times, and has published the 'c' word.


Yet last month Mr Pritchard was elected a Plaid Cymru (PC) councillor for the Seiriol ward on Cyngor Sir Ynys Mon/Isle of Anglesey County Council (ACC). 
It could be suggested that the kind of language he publicly uses even contradicts his own party's constitution.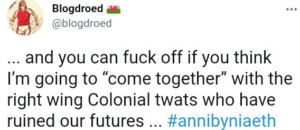 In paragraph 5.1 of the PC constitution, it states: "Disciplinary measures may be taken against a member by the appropriate body defined in Standing Orders… whose behaviour is… damaging to the party".
In 17.1iv, it declares that rules govern the: "Conduct of the party's elected members".

Last year Councillor Pritchard accused me (incorrectly) on Twitter of "rank hypocris (sic)" and said (wrongly) that I was an "anti-devolutionist", linking these comments to a story on The Eye.
In another tweet Councillor Pritchard targeted the Sunday Times columnist Rod Liddle, proclaiming: "Rod Liddle is stiil a twat. Who knew (shrug emoji)", and "Turns out John Cleese *is* an absolute twat …".
He openly uses the social media site to espouse the questionable cause of independence which the vast majority of Welsh people oppose, and in one public tweet on the same occasion he tweeted to a 'friend':  "What the actual fuck are you on about?".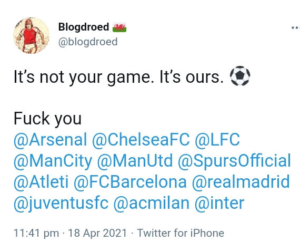 Councillor Pritchard worked for BBC Radio Cymru (BBC RC) based in Bangor and was a commentator on football, but this hasn't stopped his use of headline-grabbing language about the game on Twitter. 
At the time of the news of a disastrous break-away of top clubs to form a 'European Super League (ESL)', he said:  "It's not your game. it's ours. (football image) Fuck you @Arsenal @ChelseaFC @LFC @ManCity @ManUtd @SpursOfficial @Atleti @FCBarcelona @realmadrid @juventusfc @acmilan @inter".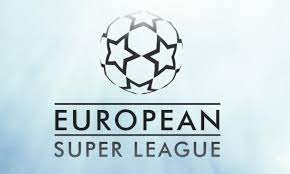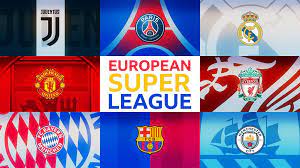 We can expect language in a similar vein from Councillor Pritchard, if the controversial project is ever revived.
Yesterday The Sunday Times reported that all six English football clubs which joined the ESL have failed to leave it formally, amid claims by organisers that the competition will "eventually relaunch in modified form".
Two senior sources close to the venture claim there is "no mechanism" for the clubs to withdraw, and that the league is waiting to be relaunched in modified form.
And perhaps we can expect more colourful language from Councillor Pritchard, now that Wales have qualified for the knockout stages of the Euros!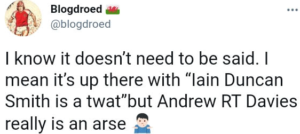 As well as football and people in the media, senior politicians also appear to be the target of his wrath on Twitter, making even more curious his selection to fight, and subsequently win the Anglesey seat for PC
He has publicly declared: "I know it doesn't need to be said. I mean it's up there with "(former UK Conservative leader) Iain Duncan Smith is a twat"but Andrew RT Davies (leader of the Welsh Conservatives in the Senedd Cymru/Welsh Parliament [SC/WP]) is an arse (shrug emoji)".

In perhaps his worst public outburst after reading a statement he opposed, Councillor Pritchard tweeted: "If you want to hear him, shut the fuck up you cunt (hashtag)hughhendry".
This sort of language might liven up ACC, but it's not the kind anyone would want to hear from an elected politician…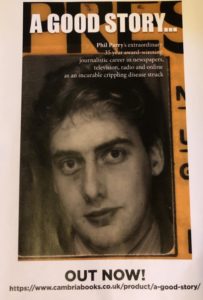 Soon – The Eye looks, as only it knows how, at the way Councillor Pritchard's language reflects on his party, Plaid Cymru. 
Tomorrow – another scandal confronting The BBC, as our journalists reveal why executives there are considering the future of a television star after he apologised for exposing himself on the set of 'Doctor Who', its spin-off programme, the hit BBC Cymru Wales series 'Torchwood', as well as the ITV show 'Dancing On Ice'.
The memories of Phil's remarkable decades-long award-winning career in journalism (including some of the political stories he has covered) as he was gripped by the rare disabling neurological condition Hereditary Spastic Paraplegia (HSP), have been released in a major book 'A GOOD STORY'. Order the book now! The picture doubles as a cut-and-paste poster!