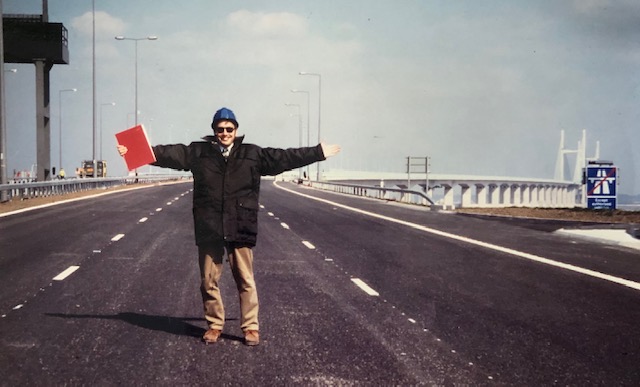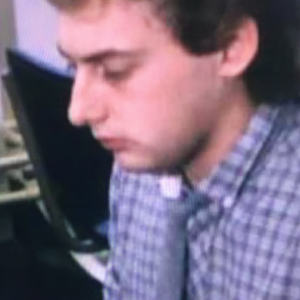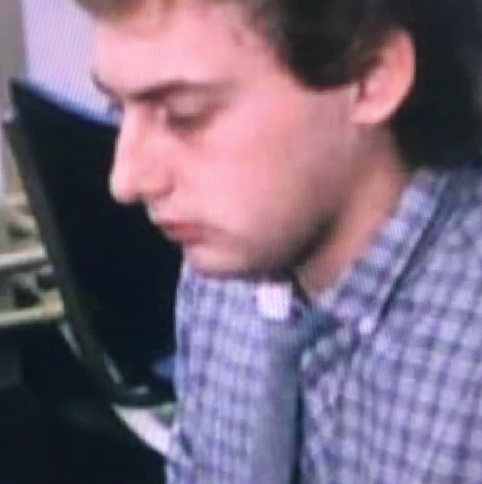 During 23 years with BBC Cymru Wales (BBC CW), and 38 years in journalism (when he was trained to use clear and simple language, avoiding jargon), impartiality has always been central, and here our Editor Phil Parry looks at how publishing a piece on a 'news' website supported by taxpayers' money, which ISN'T, undermines EVERYTHING that is then said.
In the past he has described how he was assisted in breaking into the South Wales Echo office car when he was a cub reporter, recalled his early career as a journalist, the importance of experience in the job, and made clear that the 'calls' to emergency services as well as court cases are central to any media operation.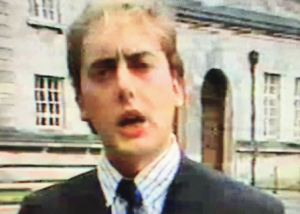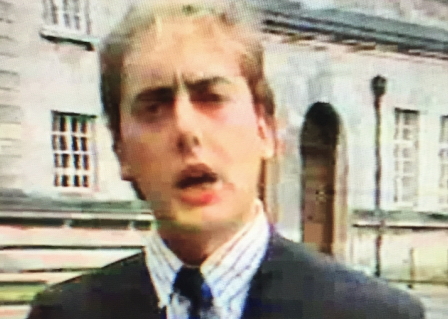 He has also explored how poorly paid most journalism is when trainee reporters had to live in squalid flats, the vital role of expenses, and about one of his most important stories on the now-scrapped 53 year-old BBC CW TV Current Affairs series, Week In Week Out (WIWO), which won an award even after it was axed, long after his career really took off. 
Phil has explained too how crucial it is actually to speak to people, the virtue of speed as well as accuracy, why knowledge of 'history' is vital, how certain material was removed from TV Current Affairs programmes when secret cameras had to be used, and some of those he has interviewed.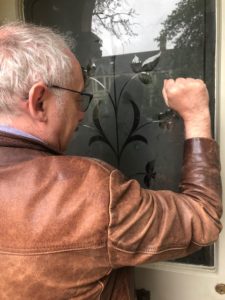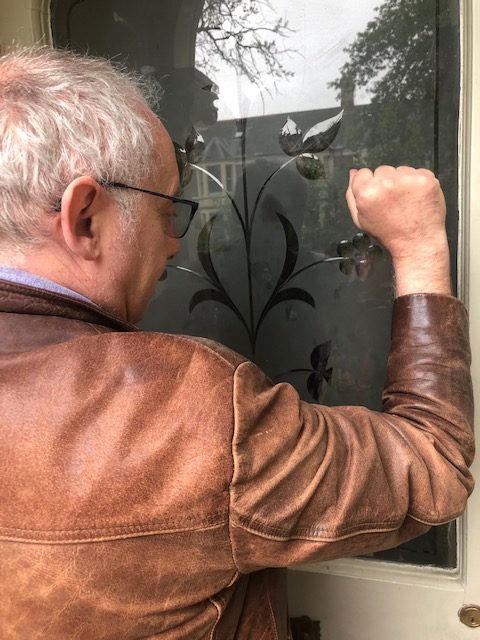 He has disclosed as well why investigative journalism is needed now more than ever although others have different opinions, how the pandemic played havoc with media schedules, and the importance of the hugely lower average age of some political leaders compared with when he started reporting.
One of the main problems about publishing an item on a news website which lacks neutrality, is that it undermines all that is said.
This is apart from the fact that unless you are seen as impartial, those with opposing views will not come to you with the the other side of the story.
In this case it is the 'news' website Nation.Cymru (NC) which has an enormous grant in public money.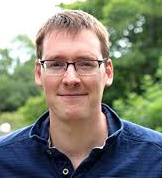 The founder and former Editor of NC (Ifan Morgan Jones), has lambasted Boris Johnson, over the current controversy which has engulfed him about attending a party during lockdown.
The 'opinion' piece by Dr Jones begins: "It looks like it's now over for Boris Johnson's premiership, whether he goes quickly or his demise is dragged on over months or even a year". It continues: "The Westminster Bubble has never seemed so much a barrier between the rulers and ruled, and ends: "We also need to ensure our media is as varied as possible".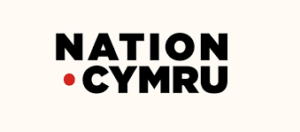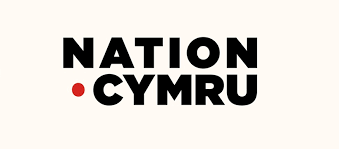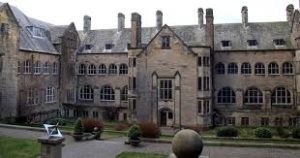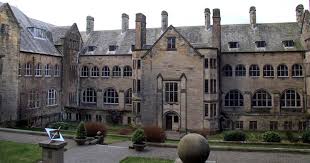 Dr Jones teaches journalism at Bangor University (BU) so he apparently has the credentials to pontificate in this way. His CV states:  "I am the BA Journalism Course Leader at the School of Creative Studies and Media at Bangor University, and lecture on the subject of practical journalism".
However there are other issues which tell a rather different story, and would appear to place a question mark over these comments, and the background of the person making them.

Nowhere in the details about him is mentioned qualifications by the National Council for the Training of Journalists (NCTJ), the accepted body for formally accrediting journalists, and Dr Jones' students could be concerned about the fact that one of the basic planks of good news journalism is neutrality, especially when his website claims it serves all "the people of Wales", as well as being backed by the taxpayer. But he is not, and neither is his website, so that truth might undermine any condemnation of a UK Prime Minister, with a large majority.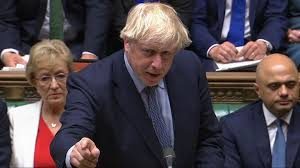 NC claims it is "A NEWS SERVICE BY THE PEOPLE OF WALES, FOR THE PEOPLE OF WALES", yet clearly those 'people' do not include the vast majority who are opposed to Welsh independence.
The combined total of opposition party seats in the UK Parliament is 288. This gives the Conservative Party a simple majority of 73 seats, but in practice, the UK Government has a larger 'working majority'. This differs from the simple majority because two groups of MPs do not vote in parliament – the speaker and his deputies as well as Sinn Fein.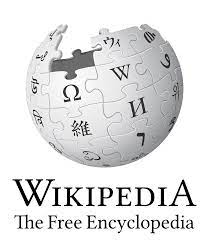 This 'opinion' of Dr Jones', is also undercut by other comments about NC where it was published.
An extremely worrying description about it on Wikipedia was that: "There is a wider feeling on social media sites where Nation articles are referenced that the website provides very narrow and subjective journalism. Many stories lack factual evidence and are regularly based on stretched concepts that seek to excite a perception of injustice to be directed at the wider UK Government and people of England". Perhaps for that "perception of injustice" and for doubts about its 'opinion' pieces, NC could look to its own Facebook (FB) page, where it was accused of "… becoming a battering ram for extreme misguided information (and included) articles (which were designed) to stir up hatred in all….. instead of making us proud to be welsh". Etc.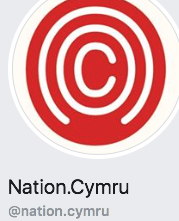 That's not all either. Another FB comment was: "It only takes a brief scan of this site to discover that it's not what it claims to be . It's Not a Welsh News outlet. This site is a biased Propaganda Outlet for Left Wing Independence activists and supporters.  It's not impartial or balanced in any way and it targets only a limited section of the Welsh public. An intolerant 'Echo Chamber' for Like minded people would be a far more accurate description". A further one was: "Nation.Cymru claims to be some sort of independent & impartial news service for the people of Wales.  It is clearly nothing of the sort. Judging by the articles it has published to date it is nothing more that (sic) another "echo chamber" for those on the left of Welsh politics who dream of an independent Wales. It clearly ticks all the boxes for Chairman Drakeford (the First Minister of Wales) Is that why NC has received public money from the Sennedd (sic) ????".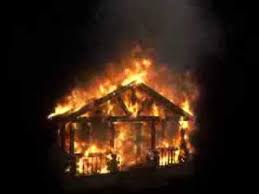 These announcements follow earlier criticism of NC on its FB site, with one detractor saying the site is "biased". It does, though, appear to attract support in extremist circles, with comments about burning down holiday homes, and it has been revealed that key workers property was targeted. One critical observation on NC's FB platform was:  "It's a biased online site for some of the people of Wales". A further outraged remark was: "If people are going to criticise one group they need to consider the actions of others, otherwise its called hypocrisy… we need to ensure all sides play by the rules".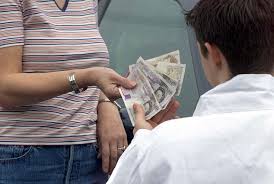 The point about the public money NC receives is correct, although it comes from the Welsh Government (WG) and not the Welsh Parliament/Senedd Cymru (WP/SC). NC is awarded a substantial grant of £20,000 a year from the Books Council of Wales (BCW), which is itself funded by the WG, so the money NC gets comes from the public purse.
This means that MY cash is backing a nationalist website, and I object to that MASSIVELY, which makes it even more disturbing that NC seems to be expanding.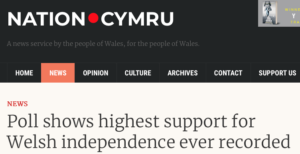 PC (the party Dr Jones supports) is in opposition to the larger governing Welsh Labour party (although in 'partnership' with them) in the WP/SC.
His website (NC) has boosted the Welsh independence movement by saying, for example, "Support for Welsh independence has risen again", because it was at 11 per cent whereas the previous year it was seven per cent, which could, again, raise doubts about the weight of his views, when he attacks a Conservative Prime Minister.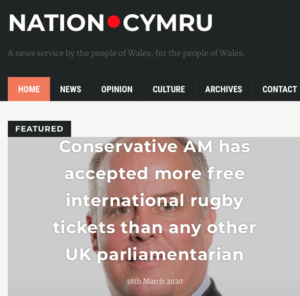 Those doubts may be confirmed, by NC's lack of journalistic neutrality which, among many things, has been shown by the fact that it failed to cover the astonishing news that PC did not declare large amounts of money, but DID publish a piece about the UK Tory party showing it in an extremely bad light, and another prominent item saying "Conservative AM has accepted more free international rugby tickets than any other UK politician".
One NC 'news' piece said that:  "The county of Gwynedd in the north-west has seen the largest collapse in consumer spending as a result of Covid-19 in both Wales and England, according to business data", while another attacked the whole idea of second homes, which is a policy plank of PC.


Yet one aggrieved writer hit back and said:  "I am genuinely concerned by the amount of vitriol that comes out in the comments on the Nation.Cymru posts, and it makes me feel that we are uncomfortably close to the political posturing of 1930s Berlin.
"We have had property damage (mostly to key workers cars) and threats and insults made to people (again, often keyworkers going about their legitimate business) because "they're not from round here.""

The article on NC criticising second homes, also appeared to have Covid-19 in its sights, and began:  "If it's 'coronavirus holiday' season in rural Wales, the forecast is frosty for second home owners", adding:  "From spreading the virus and skipping lockdown to unfairly claiming business relief, second home owners have had bad pandemic press".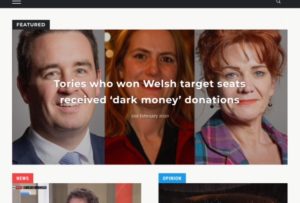 A lengthy 'report' about the Conservative Party on the website said:  "More than half of donations received by new Conservative MPs in Wales came from secretive fundraising clubs based in the south-east of England". However the story that NC omitted to cover, but received huge media attention in other outlets, was that PC had been fined tens of thousands of pounds after not declaring money from public coffers.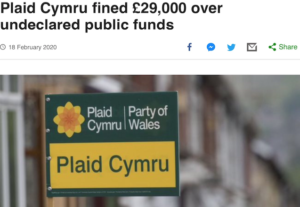 This was The BBC report:  "Plaid Cymru has been fined £29,000 for failing to report cash it received from taxpayers' funds worth nearly £500,000. The Electoral Commission said over a two-year period Plaid had omitted 36 separate sums from quarterly reports. Plaid had failed to declare cash from the House of Commons authorities, and some cash from the Electoral Commission."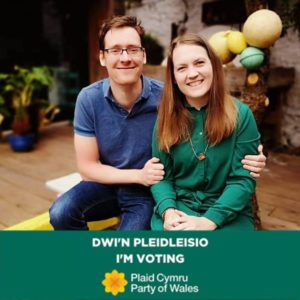 Dr Jones has attacked facts about him that have been raised on The Eye, but he should know as a lecturer in 'journalism', that everything published is supported by a raft of unseen evidence. In his 'journalist' lectures he presumably tells his students about the laws of libel as well as rules concerning accuracy, that all stories are governed by them, and that reporters have a large amount of evidence to back up each line.
On The Eye, journalists have many years of experience in journalism – I have more than 38 – and are very aware of what can and cannot be published.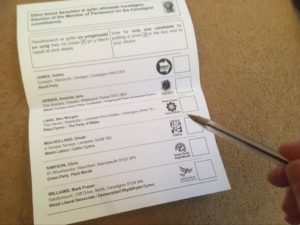 Dr Jones himself put on FB a picture of a postal ballot paper, with his pen pointing at the PC candidate, and has posted a photograph of himself and his partner above the slogan "I'm voting Plaid Cymru". In July 2016 he helped promote a rally for Welsh independence in Caernarfon and said that Wales:  "faced being part of a state which (is) being politically neglected".
Apart from the item attacking Mr Johnson, another opinion piece was published on NC in which he said:  "In an independent Wales (which the leader of PC Adam Price has described as a "necessity"), the future of our nation wouldn't be decided by politicians completely removed from our concerns, like gods playing dice with our fate on the summit of Mount Olympus".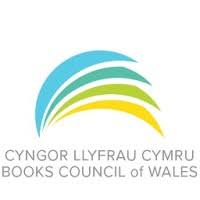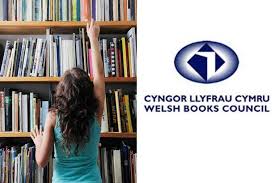 Meanwhile Dr Jones' website has been been put centre stage by earlier interesting headlines. He has stated about NC:  "Much of the current money we do have to spend is due to support through the kindness of the Welsh Books Council. But such public money is thin on the ground, and ideally, no news site should be dependent on grants that, in the current financial climate, may not last forever." The BCW declares: "The Books Council of Wales is a national body, funded by the Welsh Government, which provides a focus for the publishing industry in Wales."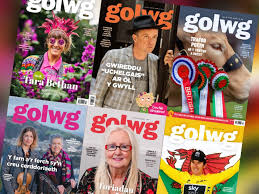 Dr Jones has worked as Deputy Editor for the Welsh-language magazine Golwg, and as an Editor of the news website Golwg 360. It is evident that he sees NC as a great success, and that is shown, now, by its apparent 'expansion'. He wrote earlier on the site: "… the success Nation.Cymru has enjoyed… was beyond my wildest dreams…" 
Even so Dr Jones has said in the past that he is keen to receive more money for NC than just public cash, as a tweet to the actor Michael Sheen has made transparent, and on his website he has urged readers: "If just everyone who had attended the Yes Cymru march (in support of Welsh independence) over the last year gave us £5 a month we would be raising over half a million pounds a year".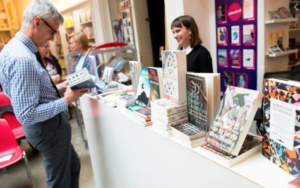 The BCW too has made headlines.  In 2013 it was published in the UK media, that over the five years before, the BCW had received £39 million of taxpayers' money, with another £3.85 million going to Literature Wales (LW).
In the same year a spokesman for the WG said funding for the BCW was £4.1 million, and added: "This funding is channelled towards supporting the publishing industry in both Welsh and English languages. Detailed monitoring arrangements are in place to ensure that this funding is spent appropriately. Book sales through the Welsh Books Council distribution centre saw an increase in the last financial year which is very encouraging given the current financial climate."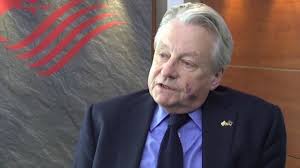 Meanwhile the WG divulged that £750,000 of additional funding for the BCW would be invested in a new digital system to manage the sale, supply and distribution of books, and the BCW was also to receive additional capital funding of £145,000.
The then Deputy Minister for Culture, Sport and Tourism (formerly a leading figure in PC), Dafydd Elis-Thomas, said that he was "delighted" to support the BCW to invest in the publishing sector of the Welsh economy. "This (the original additional funding) will be a significant boost to the Books Council of Wales but also the whole publishing industry in Wales," he said.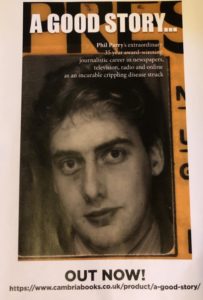 But a boost could be lacking in the independence of views of the founder of a Welsh nationalist website, when he attacks a Conservative UK Prime Minister, and has himself urged us to vote for a different party…
Details of Phil's astonishing award-winning journalistic career (when neutrality was essential, and 'opinion' pieces carried weight) as he was gripped by the rare neurological condition Hereditary Spastic Paraplegia (HSP), have been released in a major book 'A GOOD STORY'. Order it now!
Regrettably publication of another book, however, was refused, because it was to have included names.