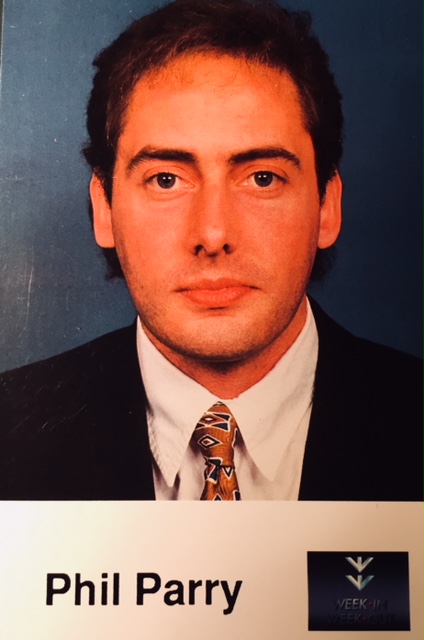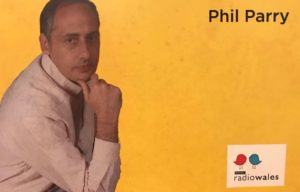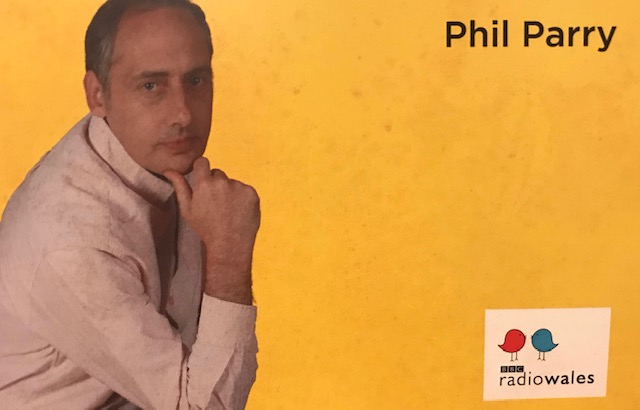 After 23 years with BBC Cymru Wales (BBC CW), and 38 years in journalism, our Editor Phil Parry has emphasised the centrality of impartiality in news, but a controversial senior appointment now as head of the corporation's coverage on the News Channel, is mired in a 'neutrality' row.  
Earlier he described how he was assisted in breaking into the South Wales Echo office car when he was a cub reporter, recalled his early career as a journalist, the importance of experience in the job, and made clear that the 'calls' to emergency services as well as court cases are central to any media operation.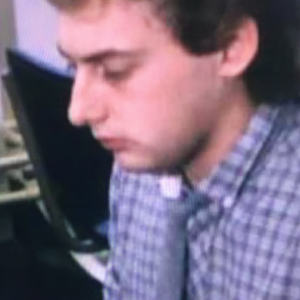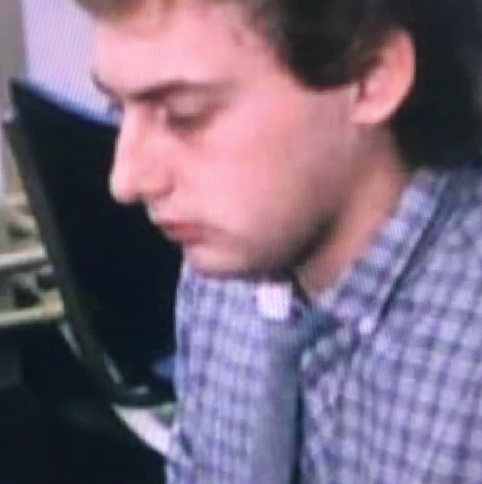 He has also explored how poorly paid most journalism is when trainee reporters had to live in squalid flats, the vital role of expenses, and about one of his most important stories on the now-scrapped 53 year-old BBC CW TV Current Affairs series, Week In Week Out (WIWO), which won an award even after it was axed, long after his career really took off. 
Phil has explained too how crucial it is actually to speak to people, the virtue of speed as well as accuracy, why knowledge of 'history' is vital, how certain material was removed from TV Current Affairs programmes when secret cameras had to be used, and some of those he has interviewed.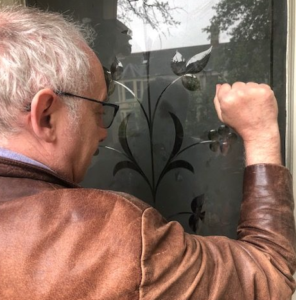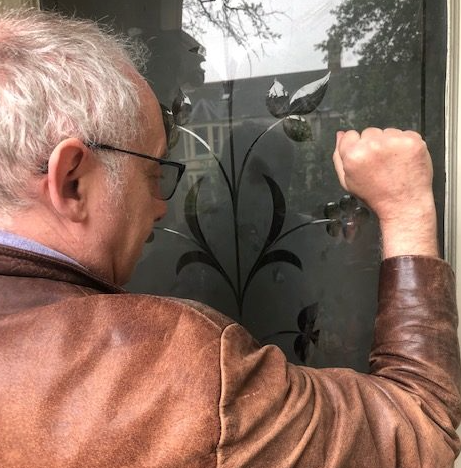 He has disclosed as well why investigative journalism is needed now more than ever although others have different opinions, how the pandemic played havoc with media schedules, and the importance of the hugely lower average age of some political leaders compared with when he started reporting.
Incredibly, on the very day that I stressed the importance of impartiality in news, a huge row was finally reported by the BBC over the neutrality of the corporation's new head of the News Channel.
You couldn't make it up!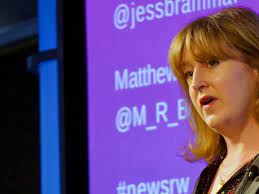 Jess Brammar (Editor-in-Chief of HuffPost UK) has just been appointed to a hugely-important role overseeing the channel, and its international equivalent, BBC World.
In announcing her appointment, the then director of News and Current Affairs, Fran Unsworth, said: "… BBC News has to be impartial and independent. BBC journalists are hired from a variety of different backgrounds, but while working at the BBC, they leave any personal opinions at the door."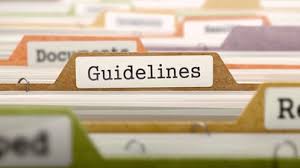 The BBC rules seem to underline this fine statement. They state clearly: "If your work requires you to maintain your impartiality, don't express a personal opinion on matters of public policy, politics, or 'controversial subjects'".
They also declare that staff should avoid using disclaimers such as 'My views, not the BBC's' in their biographies and profiles, as they provide no defence against personal expressions of opinion.
But enormous controversies have followed these words.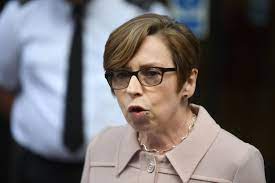 Ms Unsworth resigned soon after making this announcement, and it has been reported that her boss The Director General of the BBC, Tim Davie, was secretly delighted she was departing. According to a source, Mr Davie believed Ms Unsworth, was "stuck in her ways".
Meanwhile, the new executive she was so proud of, Ms Brammar, said she was "looking forward to cracking on with the (new) job".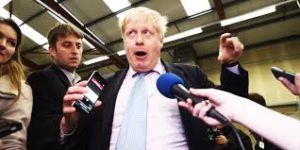 But critics of the BBC in the impartiality row, may be less impressed by her past behaviour on Twitter.
She accused the Prime Minister Boris Johnson, of lying in a television interview, and also compared Brexit to the TV comedy drama series Better Call Saul, but that it was "less funny or interesting or enjoyable".
In a since-deleted tweet she suggested that black people would leave the UK if Mr Johnson were re-elected in 2019. In another post she recommended buying a book about British imperialism by Sathnam Sanghera "to piss off all the racists having a go at him".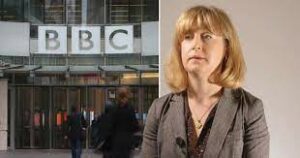 Ms Brammar also wrote about "how it's not even controversial to say there is racism in the British press".
Earlier this year, she criticised the Society of Editors' response to claims by Meghan Markle of racism in the British press. "I'm aware I won't make myself popular with my peers", Ms Brammar tweeted, "but I'm just going to stand up and say it: I don't agree with [the] statement from my industry body that it is 'untrue that sections of the UK press were bigoted'".
Ms Brammar is married to a senior executive of the left-leaning newspaper The Guardian, and BBC board member Sir Robbie Gibb was said to have objected to her appointment.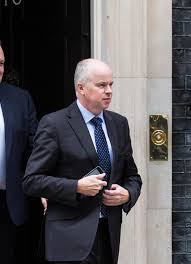 In July, the Financial Times (FT) reported Sir Robbie had warned Ms Unsworth, that the UK Government's "fragile trust in the BBC will be shattered" were Ms Brammar to be appointed. Sir Robbie, who previously worked as communications director to former prime minister Theresa May, was appointed to the BBC board in April.
Leader of the House of Commons and Lord President of the Council since 2019, Jacob Rees-Mogg agreed, commenting later that month that Ms Brammar's potential appointment "damages the whole perception of independence and impartiality at the BBC", adding: "They really do damage themselves".
But neutrality is all important because many viewers, readers, or listeners might not agree with one side of the argument, and they pay the wages of senior officials like Ms Brammar (as well as BBC presenters) through the licence fee.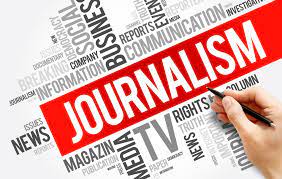 The vital importance of impartiality has been stressed in the Tribune with an article headlined:  "How the Media's Fake Neutrality Undermines Journalism", and the Centre for Freedom of the Media, at the University of Sheffield published an article which also emphasised it, stating:  "Confronted as we are with the current COVID-19 pandemic, the role of journalism that is guided by a commitment to the truth – and an absolute obligation not to deceive – is more important than ever".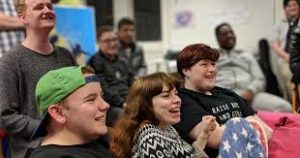 Young people, it seems, are aware of how central neutrality is in staying true to this obligation, but are worried that it is being eroded. In the student magazine and website Varsity, one piece declared: "Subjectivity – while perfectly appropriate for editorials, opinion pieces, columns, and blog entries, and occasionally for analyses and features, given that readers are informed that the ideas represented therein are not neutral – has no place in news reporting".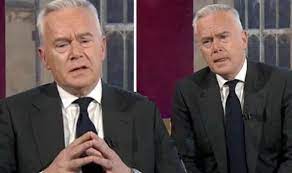 An American journalism teacher stated: "In my class, at least, student journalists are disappointed by what they see as a lack of neutrality in political reporting, particularly on social media".
Yet this 'lack of neutrality' continues at the BBC.
An article about contentious television news presenter Huw Edwards, on the Welsh nationalist website Nation.Cymru (NC) (which is backed by the taxpayer through the Books Council of Wales [BCW]) included details of those strengthened guidelines on neutrality masterminded by his overall superior, Mr Davie.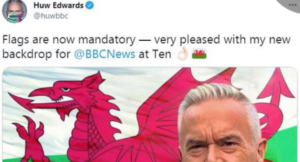 They may have led to Mr Edwards being ordered to drop a tweet of himself in front of a Welsh flag which he declared (supposedly humorously) was a "backdrop for @BBCNews at Ten", and 'liking' another proclaiming he should be "President of an Independent Cymru"
A fellow BBC presenter ('comedian' Mike Bubbins) uses social media to back openly the contentious political cause of Welsh independence, condemns people who voted Conservative, described a Prime Minister as an "arsewipe", has apologised sarcastically for his behaviour after Welsh sporting disasters, and said 'fuck' to a celebrated past corporation DJ.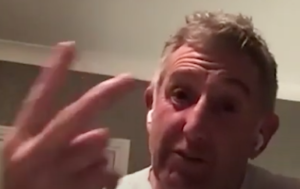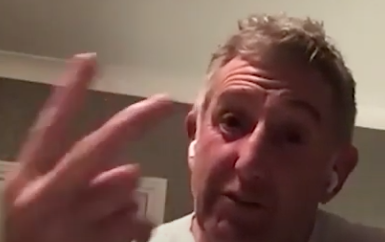 A further public face of the BBC, the controversial rugby pundit Jonathan Davies, used foul language to abuse a fan, called others "bell ends", and was filmed spraying a fire extinguisher into the face of a celebrity friend, but faced a barrage of criticism during an international game in which the referee was French highlighting a past broadcast comment that for him this meant "anything could happen".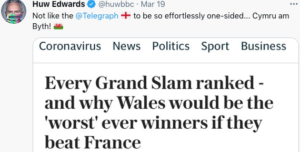 Mr Edwards (who as well as the news, presented, too, extensive television coverage of Prince Philip's funeral, the amount of which was publicly criticised) has also hit the headlines for the wrong reasons (perhaps he should present a news item about himself!).
The headline-grabbing 'flag' tweet by him came after a flurry of pro-Wales activity on his Twitter page before an international rugby match against France, when he stepped in following the performance of the Welsh rugby team being criticised in The Daily Telegraph. "Every Grand Slam ranked – and why Wales would be the 'worst' ever winners if they beat France", ran the newspaper's headline, to which Mr Edwards responded with heavy irony:"Not like the The Telegraph to be so effortlessly one-sided… Cymru am Byth!".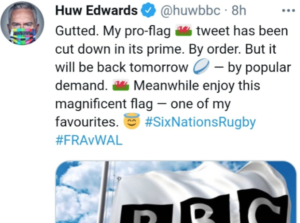 Using social media on the eve of the game (when during it, the rugby punditry of another of his BBC colleagues, Mr Davies, was attacked on social media), Mr Edwards proclaimed (presumably ironically):  "Gutted my pro-flag tweet has been cut down in its prime. By order. But it will be back tomorrow – by popular demand. Meanwhile enjoy this magnificent flag – one of my favourites. Hashtag SixNationsRugby Hastag FRAvWAL" – with a series of emojis included.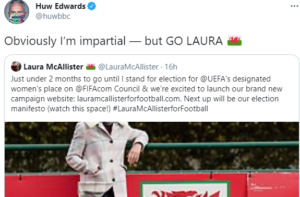 In an earlier post Mr Edwards had endorsed, too, an opinionated columnist who said she was a "Welsh woman" (Laura McAllister) and that the BBC Proms made her feel like a "foreign tourist".
Perhaps Ms Brammar might not want to have presenters like him on the BBC News Channel she now runs, especially when moves to get her were accused of damaging "the whole perception of independence and impartiality at the BBC".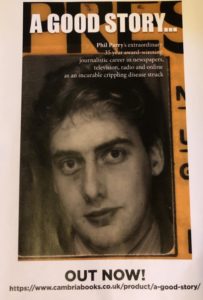 The memories of Phil's, astonishing decades long award-winning career in journalism (which involved sticking to key guidelines) as he was gripped by the rare neurological disabling condition Hereditary Spastic Paraplegia (HSP), have been released in the important book 'A GOOD STORY'. Order the book now!
Regrettably publication of another book, however, was refused, because it was to have included names.