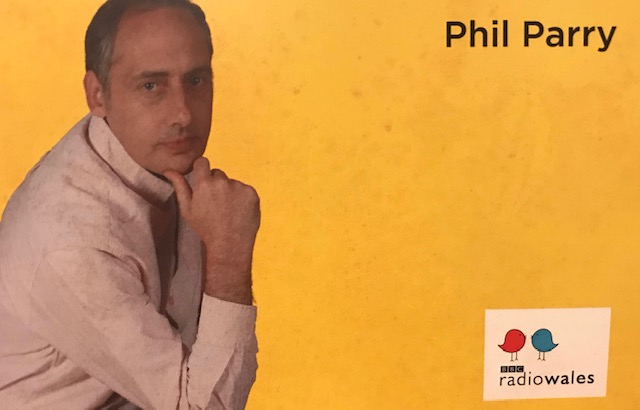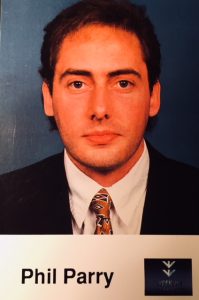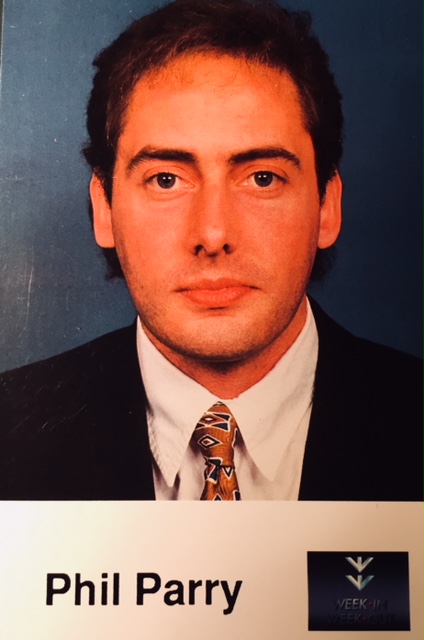 After 23 years with BBC Cymru Wales (BBC CW), and 38 years in journalism, here our Editor Phil Parry looks at fundamental rules for news, especially in the publicly-funded corporation. 
Earlier he described how he was assisted in breaking into the South Wales Echo office car when he was a cub reporter, recalled his early career as a journalist, the importance of experience in the job, and made clear that the 'calls' to emergency services as well as court cases are central to any media operation.
He has also explored how poorly paid most journalism is when trainee reporters had to live in squalid flats, the vital role of expenses, and about one of his most important stories on the now-scrapped 53 year-old BBC CW TV Current Affairs series, Week In Week Out (WIWO), which won an award even after it was axed, long after his career really took off. 
Phil has explained too how crucial it is actually to speak to people, the virtue of speed as well as accuracy, why knowledge of 'history' is vital, how certain material was removed from TV Current Affairs programmes when secret cameras had to be used, and some of those he has interviewed.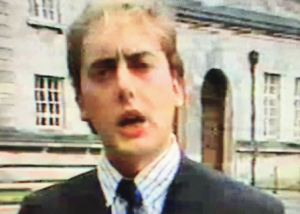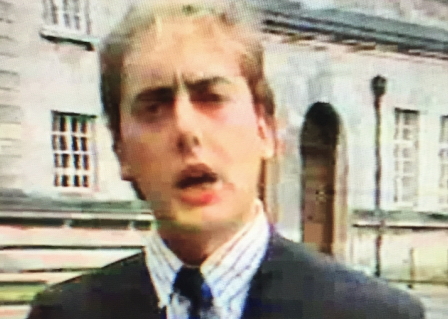 He has disclosed as well why investigative journalism is needed now more than ever although others have different opinions, how the pandemic played havoc with media schedules, and the importance of the hugely lower average age of some political leaders compared with when he started reporting.
During a long career in journalism – with 23 years at BBC Cymru Wales (BBC CW), first as a reporter then as a presenter – basic rules were always hammered into me:
As you represent your employer, never EVER make your own views public.
Maintain strict impartiality.
Do NOT engage in behaviour which could upset your potential audience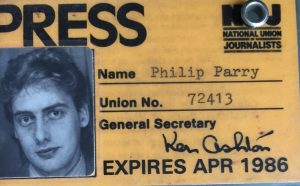 The first is important because your personal views may not be your employers'. The second is important because many viewers, readers, or listeners might not agree with one side of the argument, and they pay your wages (either through the licence fee, in the case of the BBC, or by buying your paper/online product, and supporting the advertising). The third is important because if your audience feels aggrieved or belittled they will not read your material, or watch and listen to your programmes.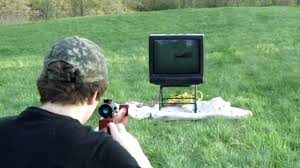 I am sorry to have to bang on about these rules (because they seem blindingly obvious to me), but it appears that they are being constantly flouted.
They are even more pertinent today, because with the publicly-funded BBC, the man in charge is trying to underline them.
The Director General of the BBC, Tim Davie, appears to feel (as well as me) that impartiality is important in news, which is an old-fashioned thing!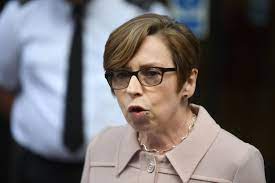 It has been reported that he was secretly delighted his director of News and Current Affairs, Fran Unsworth, was departing.
According to a source, Mr Davie believed Ms Unsworth, who resigned last week, was "stuck in her ways".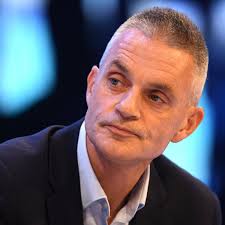 He had seemingly been clear earlier, too, in his guidance that issues of impartiality are paramount – especially when it is under attack worldwide. Mr Davie will be aware of the pressure he is under because of recent opinion polls, and that it is crucial his presenters are neutral.
The BBC rules declare: "If your work requires you to maintain your impartiality, don't express a personal opinion on matters of public policy, politics, or 'controversial subjects'". They also state that staff should avoid using disclaimers such as 'My views, not the BBC's' in their biographies and profiles, as they provide no defence against personal expressions of opinion.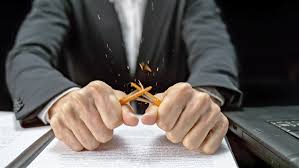 Yet recent events have flown in the face of these rules.
One prominent Welsh television newsreader, Huw Edwards, has been ordered to drop a post of himself in front of a Welsh flag which he declared (supposedly humorously) was a "backdrop for @BBCNews at Ten", and 'liked' a tweet proclaiming he should be "President of an Independent Cymru"
Another presenter ('comedian' Mike Bubbins) uses social media to back openly the contentious political cause of Welsh independence, condemns people who voted Conservative, described a Prime Minister as an "arsewipe", has apologised sarcastically for his behaviour after Welsh sporting disasters, and said 'fuck' to a celebrated past corporation DJ.
A further public face of the BBC, the controversial rugby pundit Jonathan Davies, used foul language to abuse a fan, called others "bell ends", and was filmed spraying a fire extinguisher into the face of a celebrity friend, but faced a barrage of criticism during an international game in which the referee was French highlighting a past broadcast comment that for him this meant "anything could happen".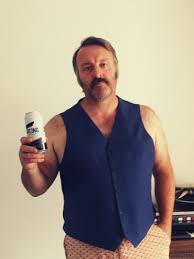 Let's look at the details of all these cases, starting with the activities of Mr Bubbins.
He presents a Saturday programme on controversial BBC Radio Wales (RW), about music in the 1970s, and recently declared on Twitter: "If I bumped in to any of you last night, I can only apologise. If you're wondering whether a covid jab, no food all day, and drinking in the sunshine is a potent mix, I can confirm that it is. Now I'm hungover, Wales got battered (in football against Demark during the UEFA Euros) and Alun Wyn and Tipuric are out of the Lions tour (after injuries in the rugby game against Japan).
In a tweeted reply to ex-RW DJ Mike Flynn (apparently not understanding the irony in the original statement from him), he also said: "… I can do fucking urbane". But Mr Flynn is a prominent figure, described on Wikipedia as one of the main presenters at RW for its launch.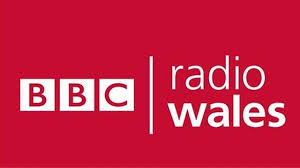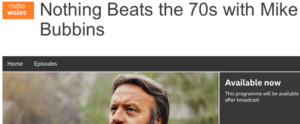 After seeing these comments, one former senior executive with the BBC told me: "This is outrageous. It is simply oafish & unacceptable behaviour when Covid social distancing guidelines remain in place. To think they (BBC CW) employ him. What kind of image does this give of the BBC?.
I turn now to his BBC colleague, Mr Edwards.
Mr Edwards (who as well as the news, presented, too, extensive television coverage of Prince Philip's funeral, the amount of which was publicly criticised) has also hit the headlines for the wrong reasons (perhaps he should present a news item about himself!).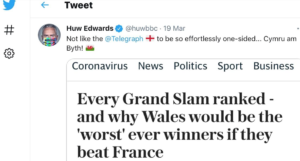 The headline-grabbing 'flag' tweet by him came after a flurry of pro-Wales activity on his Twitter page before an international rugby match against France, when he stepped in following the performance of the Welsh rugby team being criticised in The Daily Telegraph. "Every Grand Slam ranked – and why Wales would be the 'worst' ever winners if they beat France", ran the newspaper's headline, to which Mr Edwards responded with heavy irony:"Not like the The Telegraph to be so effortlessly one-sided… Cymru am Byth!".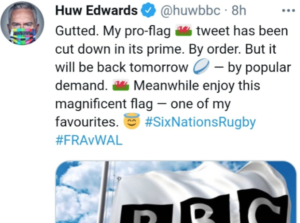 Using social media on the eve of the game (when during it, the rugby punditry of another of his BBC colleagues, Mr Davies, was attacked on social media), Mr Edwards proclaimed (presumably ironically):  "Gutted my pro-flag tweet has been cut down in its prime. By order. But it will be back tomorrow – by popular demand. Meanwhile enjoy this magnificent flag – one of my favourites. Hashtag SixNationsRugby Hastag FRAvWAL" – with a series of emojis included.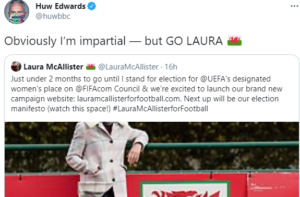 In an earlier post Mr Edwards had endorsed, too, an opinionated columnist who said she was a "Welsh woman" (Laura McAllister) and that the BBC Proms made her feel like a "foreign tourist".
That leads us nicely on to the activities of Mr Davies.
During a Wales v England rugby game he was described on Twitter as a "moron" a "total disgrace", "awful", and a fan said he wanted to rip his ears off "every time (he) opens his mouth". Another television viewer said:  "@BBCSport can you please stop Jonathan Davies from having an input into ANY rugby commentary! It's painful! I've had to turn the sound off and listen to Radio commentary of the game". In a Wales match against Ireland The Eye showed how Mr Davies had then been dubbed on Twitter, "awful", "biased", "insufferable", spouting "bullshit" and sounding as if he was "masturbating", with the BBC being urged to "get rid" of him.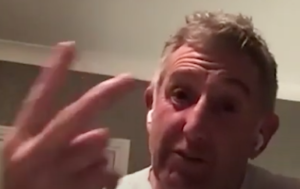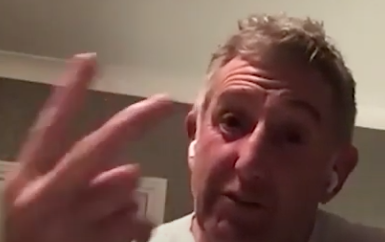 Recently he said on the YouTube podcast 'Jiffy and Stubbsy' that he was "saddened" another contributor was not using social media, adding:  "I don't give a monkey's about the bell ends…".
Warnings were also repeated about the hazards involved in the misuse of fire extinguishers after experts were shown shocking pictures from a video of Mr Davies using one several years ago, to spray into the face of his friend, former international rugby referee Nigel Owens, as he sat in his car while another person filming the dangerous stunt laughed. This too was posted on the internet.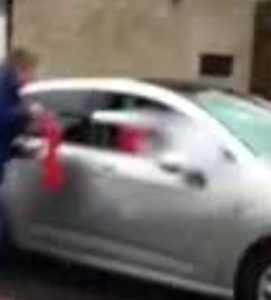 The escapade with a fire extinguisher was in the car park of an independent TV facilities house near what was then the headquarters of BBC CW in Llandaff, Cardiff, in 2014, and was condemned as "incredibly dangerous". It prompted a series of outraged comments at the time on a sports Facebook (FB) site.
One critic said:  "…did he give any thought to what injuries he may have caused?…We all like a good laugh sadly this isn't it". Another declared that Mr Davies was a "fucking prick", a further detractor stated that he didn't think "people realise how dangerous CO2 extinguishers are". In the clip on YouTube, Mr Owens escapes from the car running, but Mr Davies uses the fire extinguisher again, as the person filming it exclaims in Welsh "OH, NO!", and Mr Owens then shouts "IDIOT!" at him pointing.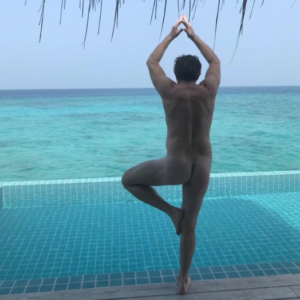 He has been publicly condemned by television viewers for talking "some shit", as well as being "so so thick". On social media Mr Davies has sent a picture of himself with no clothes on to TV and radio star Carol Vorderman. He has also faced huge criticism following statements which have included calling the Rhondda MP Chris Bryant a "knob" on Twitter, for asking about childcare during a House of Commons debate.
The fury of Mr Davies has too been directed at journalist Marcus Stead on social media after he had criticised what he views as the Welsh establishment. He engaged in an extraordinary spat with him, again using Twitter, in which he branded Mr Stead, an "attention seeking nobody", a "sad pathetic waste of time" and 'hashtagged' the words "absolute bell end".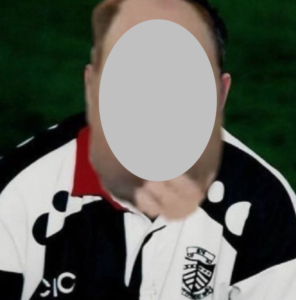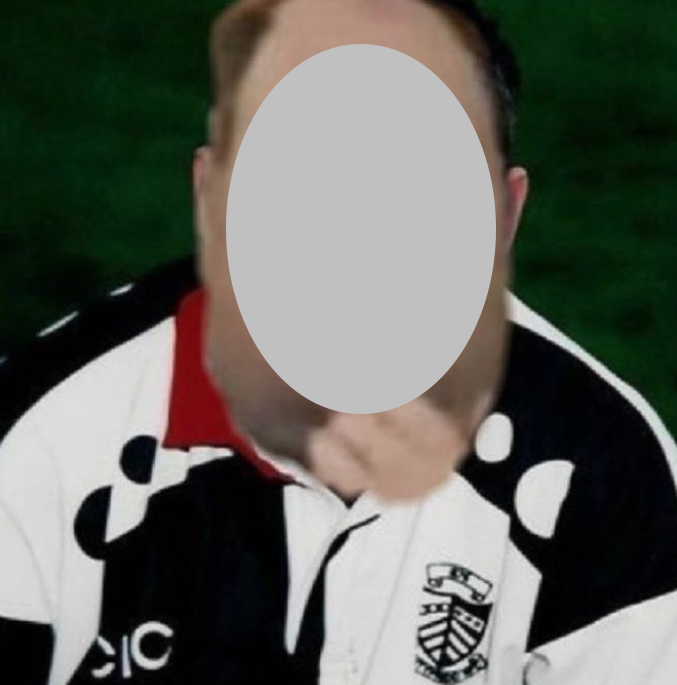 Mr Davies also posted on social media a fake picture of one rugby fan, a well-known Welsh supporter, wearing a Pontypridd RFC shirt but he was then slammed for "essentially fat shaming someone because they disagree with them", and the observer linked the comment to @BBCSport @BBCNews 5liveSport and @BBCWalesNews, saying they should be "embarrassed", and that it was a "Dick move".
But Mr Davies has said on social media that The Eye's reporting of all this was "negative journalism", and a supporter of his, Marc Winchester, wrote on the Twitter thread:  "I'll whack him (me)".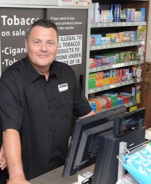 This threat was described as a 'joke' by Mr Winchester, who has proclaimed he was a multi-millionaire but ran a convenience store, yet it was still reported to the police who mounted an investigation.
It is certainly no joke that presenters are meant to abide by strict rules but are apparently ignoring them.
Perhaps Messrs Bubbins, Edwards and Davies need to have those rules emphasised to them, as happened to me…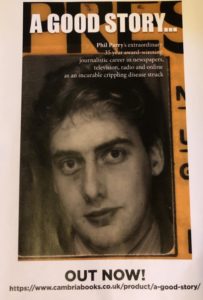 The memories of Phil's, astonishing decades long award-winning career in journalism (which involved sticking to key guidelines) as he was gripped by the rare neurological disabling condition Hereditary Spastic Paraplegia (HSP), have been released in the important book 'A GOOD STORY'. Order the book now!
Regrettably publication of another book, however, was refused, because it was to have included names.