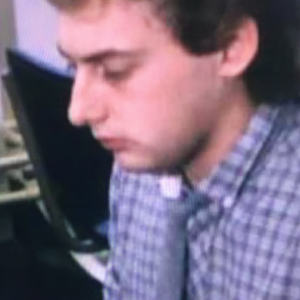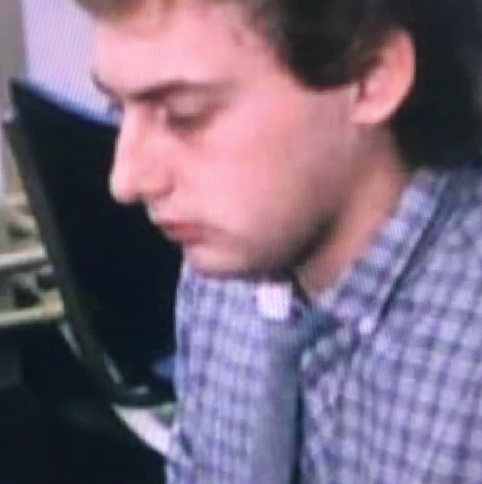 Here our Editor Phil Parry looks at how controversial figures endorse the output of THEIR OWN organisation.
Earlier he described how he was assisted in breaking into the South Wales Echo office car when he was a cub reporter, recalled his early career as a journalist, the importance of experience in the job, and making clear that the'calls' to emergency services as well as court cases are central to any media operation.
He has also explored how poorly paid most journalism is when trainee reporters had to live in squalid flats, the vital role of expenses, and about one of his most important stories on the now-scrapped 53 year-old BBC Wales TV Current Affairs series, Week In Week Out (WIWO), which won an award even after it was axed, long after his career really took off.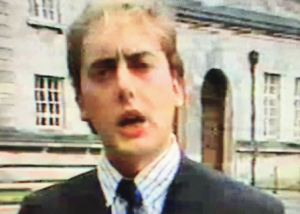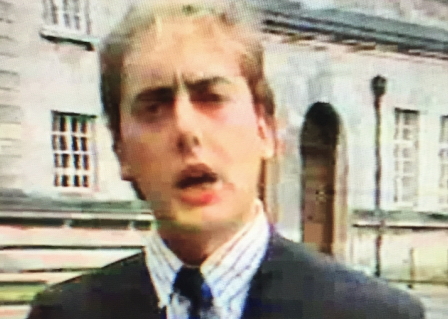 Phil has explained too how crucial it is actually to speak to people, the virtue of speed as well as accuracy, why knowledge of 'history' is vital, how certain material was removed from TV Current Affairs programmes when secret cameras had to be used, and some of those he has interviewed.
He has disclosed as well why investigative journalism is needed now more than ever although others have different opinions, how the current coronavirus (Covid-19) lockdown is playing havoc with media schedules, and the importance of the hugely lower average age of some political leaders compared with when he started reporting.

It has always seemed bizarre to me that personalities who have been in the news for all the wrong reasons emphasise the importance of output from their OWN broadcaster!
Perhaps the fact they have hit the headlines themselves has something to do with it.

Contentious BBC Cymru Wales Today (WT) newsreader Lucy Owen proclaimed in a tweet how she had had a "Great chat" with headline-grabbing rugby pundit Jonathan Davies, while the man she had conducted an affair with, the Editor of BBC Cymru Radio Wales (RW) Colin Paterson, shared in another message details of a programme hosted by Mr Davies, linking it to @BBCRadioWales.
But the activities of all three of them have been exposed by The Eye.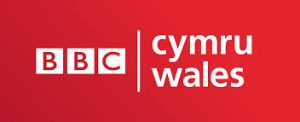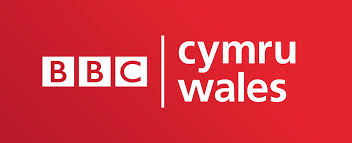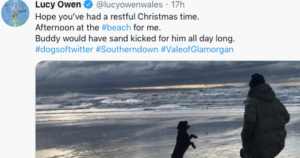 Let's start with Mrs Owen first.
She had tweeted over Christmas about how she had taken a trip to the beach at Southerndown in the Vale of Glamorgan, when everyone else was governed by lockdown rules.
When she was presenting WT, programme-makers used a picture of Brighton Pavilion during coverage of the start of the hugely important Muslim month of Ramadan instead of a mosque, and the mistake was then featured in the Brighton Argus.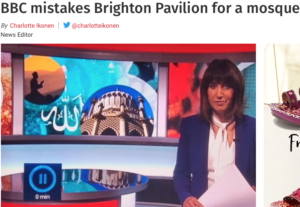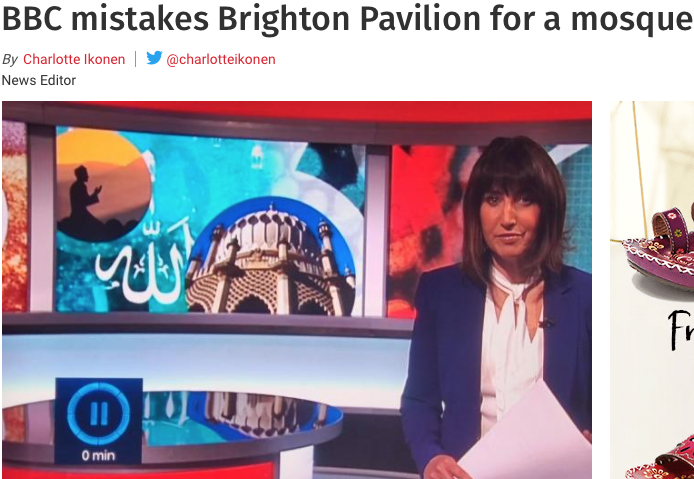 One Twitter user complained: "BBC Wales showing a picture of the Brighton Pavilion and getting it confused for a mosque when talking about Ramadan is kind of f****d?".
Another wrote furiously: "Not happy they've used a shot of Brighton Pavilion as though it's a mosque (presumably)".
Journalists on The Eye have been alone in showing that Mrs Owen had a liason with Mr Paterson, and for many staff at BBC CW the relationship represented a huge potential conflict of interest because a RW programme had been commissioned hosted by Mrs Owen called 'Sunday morning with Lucy Owen'. Media executives both inside as well as outside the corporation have told The Eye that they were worried about their partnership's possible impact on the process.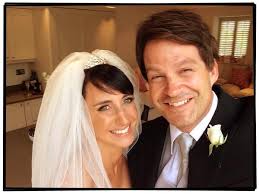 The 'predictive search results' in 'Google' for Mrs Owen and her husband Rhodri have been, perhaps, prescient. They have said "Lucy Owen Rhodri Owen split".
Mrs Owen evidently has a great passion for making announcements on social media.
Also over Christmas she treated everyone to a video of how she suffered a "turkey drama" by leaving plastic on the Christmas roast, but critics say this cannot compare to the crisis endured by the families to whom she broadcasts every night with the latest pandemic figures. Despite this, she declared as she showed us what had happened: "I left a bit of the plastic on it…"
In the past, she has also described as a 'crisis' wearing odd shoes into the office to broadcast the lunchtime bulletin, and asked whether anyone would notice. She even included for us a shocked face emoji after that comment, and following it Mrs Owen published on Twitter: "Crisis over!".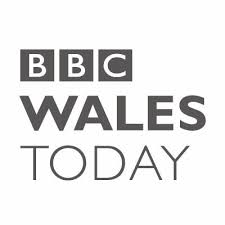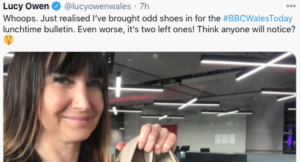 Yet detractors say that she could have focused on the BBC CW website saying the same day that coronavirus/Covid-19 was the biggest cause of death in Wales in November.
Apart from presenting WT, and the RW programme, she also hosts the BBC One Wales (BBCW) consumer affairs programme 'X-Ray' with her husband, Rhodri, who it's predicted she will split from.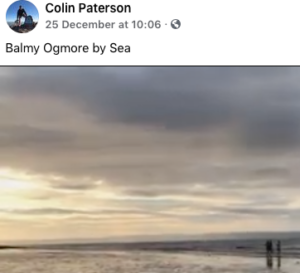 Meanwhile her former paramour, Mr Paterson (who has presided over record-breaking low audience figures at his station), posted a Facebook (FB) video on Christmas Day, about how, like Mrs Owen, he also went to the beach at nearby Ogmore, saying how "Balmy" it was.
The man they had both said was 'great', rugby pundit Mr Davies, is contentious too.
He has used foul language to abuse publicly a fan, called others "bell ends", and was filmed spraying a fire extinguisher into the face of a celebrity friend, while facing a barrage of criticism during the nail-biting Wales match against France.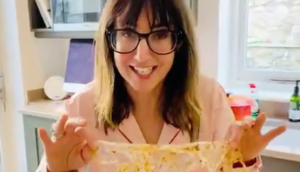 His antics have been the subject of mockery by The Eye's satirical writer Edwin Phillips.
Mr Davies' commentary style has come in for furious criticism during the Six Nations rugby Championship (which was won by Wales after Scotland beat France last night), that both Mrs Owen and Mr Paterson had praised in their tweets.
One fan said that Mr Davies "does my head in", and a further television viewer stated:  "Ffs that little irritant Jonathan Davies again ! Reaches for mute button". Another declared:  "oh fuck off jonathan davies your (sic) boring the fuck out of me now", and again it was asked why BBC Sport was employing him.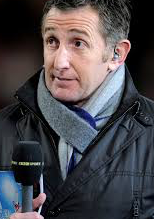 During the Wales v England game he was described on Twitter as a "moron" a "total disgrace", "awful", and a fan said he wanted to rip his ears off "every time (he) opens his mouth". In the Wales game against Ireland The Eye showed how Mr Davies had then been dubbed on Twitter, "awful", "biased", "insufferable", spouting "bullshit" and sounding as if he was "masturbating", with The BBC being urged to "get rid" of him. A further TV watcher said previously:  "@BBCSport can you please stop Jonathan Davies from having an input into ANY rugby commentary! It's painful! I've had to turn the sound off and listen to Radio commentary of the game Before a previous game Mr Davies had said live on air:  "…the referee's French, so anything could happen".
Yet Mr Davies had also hit the headlines earlier for other reasons, so he seems a strange choice to have been described as 'great' by two prominent figures in the Welsh media.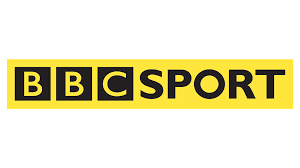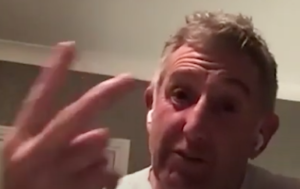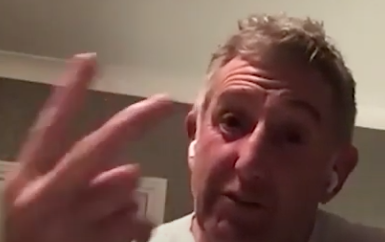 Recently he said on the YouTube podcast 'Jiffy and Stubbsy' that he was "saddened" another contributor was not using social media, adding:  "I don't give a monkey's about the bell ends…". In another episode of the podcast, Mr Davies said:  "If I say something, all of a sudden, people write a tweet and go 'he should be sacked' and copy in the BBC".
It has also emerged that earlier he had told a rugby fan on Twitter:  "fuck you and your lads' cock". After seeing Mr Davies' tweets and comment on YouTube, a leading sports journalist who supplies material for UK publications, told The Eye:  "He (Jonathan Davies) really is a disgusting individual".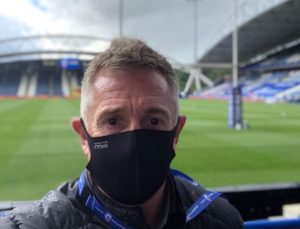 He has been publicly condemned by television viewers for talking "some shit", as well as being "so so thick". On social media Mr Davies has sent a picture of himself with no clothes on to TV and radio star Carol Vorderman.
He has also faced huge criticism following statements which have included calling the Rhondda MP Chris Bryant a "knob" on Twitter, for asking about childcare during a House of Commons debate.
The fury of Mr Davies has too been directed at journalist Marcus Stead on social media after he had criticised what he views as the Welsh establishment. He engaged in an extraordinary spat with him, again using Twitter, in which he branded Mr Stead, an "attention seeking nobody", a "sad pathetic waste of time" and 'hashtagged' the words "absolute bell end".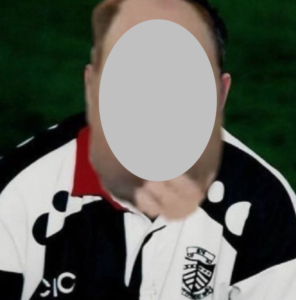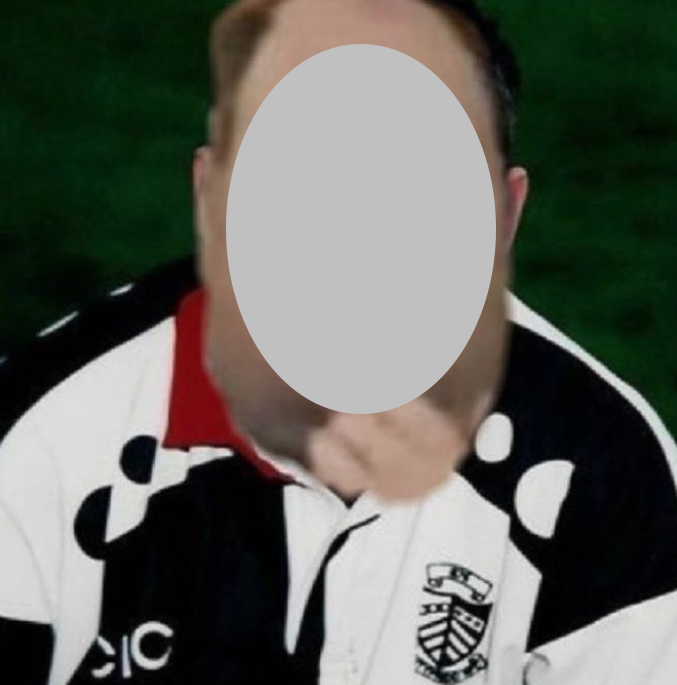 Mr Davies also posted on social media a fake picture of one rugby fan, a well-known Welsh supporter, wearing a Pontypridd RFC shirt but he was then slammed for "essentially fat shaming someone because they disagree with them", and the observer linked the comment to @BBCSport @BBCNews 5liveSport and @BBCWalesNews, saying they should be "embarrassed", and that it was a "Dick move".
All this controversy is set against a difficult backdrop as  the overall superiors at The BBC of Mr Davies, Mr Paterson and Mrs Owen, have come under fire as well, and when neutrality is being emphasised.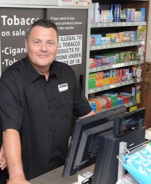 But Mr Davies, in his case, has continued, and said on social media that The Eye's reporting of all this was "negative journalism", while a supporter of his, Marc Winchester, wrote on the Twitter thread:  "I'll whack him (The Eye Editor Phil Parry)". This threat was described as a 'joke' by Mr Winchester, who has claimed he was a multi-millionaire but ran a convenience store, yet it was still reported to the police who mounted an investigation.
A further shocked viewer of another of Mr Davies' recent 're-tweets' of one message that "lockdowns are unnecessary" said:  "This seems close to being a Covid conspiracy theory now".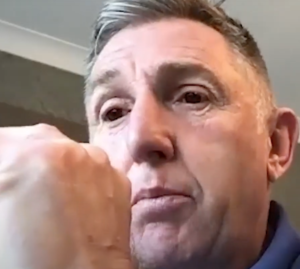 Apart from in Rugby Union, criticism has, too, been levelled at Mr Davies, during and after The Challenge Rugby League Cup final.
Earlier howls of outrage on Twitter had greeted news of his inclusion in rugby league presentation teams, including:  "Jonathan Davies ruins these games for me". There have been complaints on social media about Mr Davies' mispronunciation of 'Salford', he has been described as a "dipshit", and one rugby league fan said "Why do we have 2 have Jonathan Davies on rl 4BBC" with a picture of an upset emoji after the comment.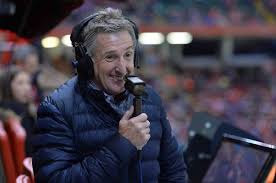 On this occasion a distraught supporter asked why sport executives could not have found someone: "more relevant than Jonathan Davies" with another upset emoji following the remark. A different fan said Mr Davies "chats so much shite" while another said it was "Time to hang the mic up!".
Mr Davies has also been accused of being 'misleading', publishing 'rubbish' and 'ranting', after stating on social media that controversial plans to re-develop a Cardiff cancer hospital (which have now been approved) would leave 60 per cent of a meadow available to walkers when campaigners say surveys have indicated all will be destroyed.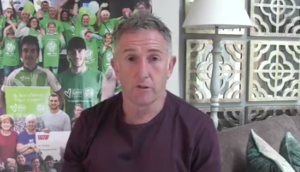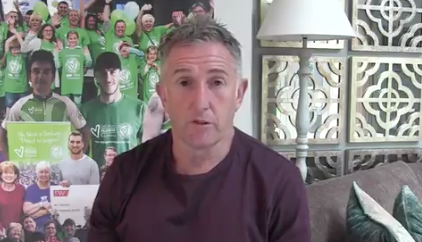 Contradicting him, one campaigner declared about the project to re-develop Velindre Hospital: "The whole area will be bulldozed, £27 million of public money just to access this unsuitable site…"  Another cautioned:  "Let's talk Jonathan, not rant."
Mr Davies (one of whose Twitter accounts is @JiffyRugby and includes 'OBE' after his name) is President of Velindre Fundraising, and demanded of one of the campaigners:  "Have you or anyone close to you ever been unfortunate enough to have cancer?". But the advocate for a green space in that part of the city hit back, and said:  "Absolutely yes, many of those opposing the site are current patients at Velindre".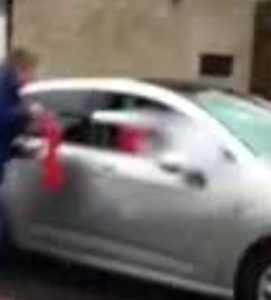 Warnings were also repeated about the hazards involved in the misuse of fire extinguishers after experts were shown shocking pictures from a video of Mr Davies using one to spray into the face of his friend, former international rugby referee Nigel Owens, as he sat in his car while another person filming the dangerous stunt laughed. This was also posted on the internet.
The escapade with a fire extinguisher was in the car park of an independent TV facilities house near what was then the headquarters of BBC Cymru Wales (BBC CW) in Llandaff, Cardiff, in 2014, and was condemned as "incredibly dangerous", and it prompted a series of angry comments at the time on a sports FB site.
Maybe this kind of behaviour would not be viewed as 'great' by Mrs Owen and her former lover Mr Paterson, as they promote programmes supplied by their own employer…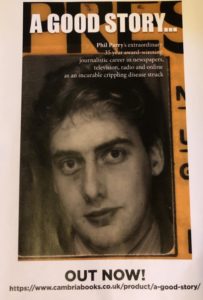 Also on The Eye – the contentious left-wing member of a controversial Welsh independence group which was accused by supporters online of being "mad", and "thick", for 're-tweeting' an article by a politician cautioned by the police for assaulting his wife, who has accused of being a "Scab" a senior Labour MP who defended the police at the recent Bristol 'Kill The Bill' riots
Phil's memories of his astonishing decades long award-winning career in journalism (including his 23 years at BBC Cymru Wales) as he was gripped by the rare neurological disabling condition Hereditary Spastic Paraplegia (HSP), have been released in a major book 'A GOOD STORY'. Order the book now!